What Happened To Ricky Fataar From The Beach Boys?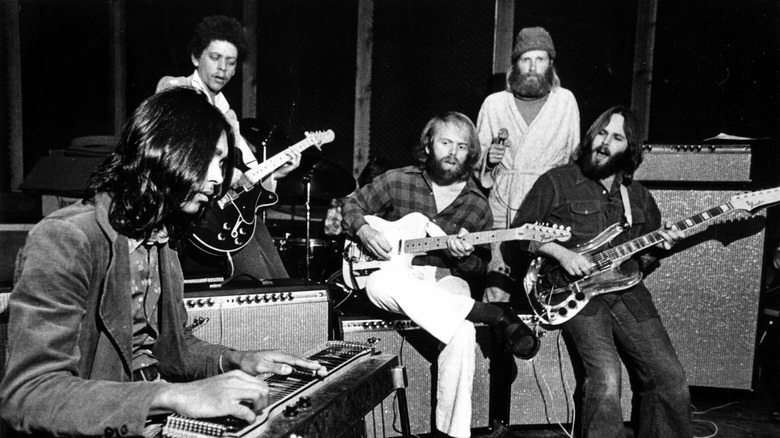 Michael Ochs Archives/Getty Images
South African-born Ricky Fataar has been a musical wonder from an early age and shows no signs of stopping now. He was still a teenager when Carl Wilson of The Beach Boys recruited Fataar's band, the Flames, for the Brother Records label in the late 1960s. Fataar later worked with The Beach Boys on such albums as 1972's "Carl and the Passions: So Tough" and 1973's "Holland" as a drummer, producer, and composer (via All Music). He even co-wrote "Hold on Dear Brother" with former Flames bandmate Blondie Chapman for the band as well. Since leaving The Beach Boys, Fataar has continued to tackle an interesting array of musical projects.
Demonstrating his great sense of humor, Fataar joined with Monty Python comedian Eric Idle, John Halsey, and Neil Innes for the Beatles spoof band called the Rutles (via Discogs). He used the name Stig O'Hara for his comedic persona for this "Prefab Four" group. They put out a self-titled album in 1977, which featured such quirky tunes as "Ouch!" and "Cheese and Onions." Fataar also starred in the band's 1978 mockumentary TV movie "The Rutles: All You Need Is Cash" (via IMDb). He later reunited with Neil Innes for 1996's "Archaelogy," another satirical album.
Ricky Fataar makes music his life
Fataar first met singer Bonnie Raitt in 1979, and the pair hit it off. She asked him to work on her 1982 album "Green Light." He played drums and percussion for Raitt's record and became a part of her touring band. Fataar then went to Australia where he found work in the music industry there as well. He provided his producing skills and musical talents to the likes of Crowded House and others (via Bonnie Raitt). A gifted composer, Fataar wrote and performed for films. He contributed music to the 1985 film "The Coca-Cola Kid" starring Eric Roberts. He went on to create much of the music for the 1992 Australian drama "Spotswood" (also known as "The Efficiency Expert"), which starred Anthony Hopkins, Russell Crowe, and Toni Collette.
More recently, Fataar joined Bonnie Raitt on her 2016 tour to support her album, "Dig In Deep." He also reunited with some of his old bandmates from his Beach Boys days around this time. Fataar performed with Al Jardine, Blondie Chapman, and Brian Wilson at the 2014 concert "Brian Wilson & Friends," which was made into a PBS television special (via Rolling Stone).