A Look At Cher And Gregg Allman's Relationship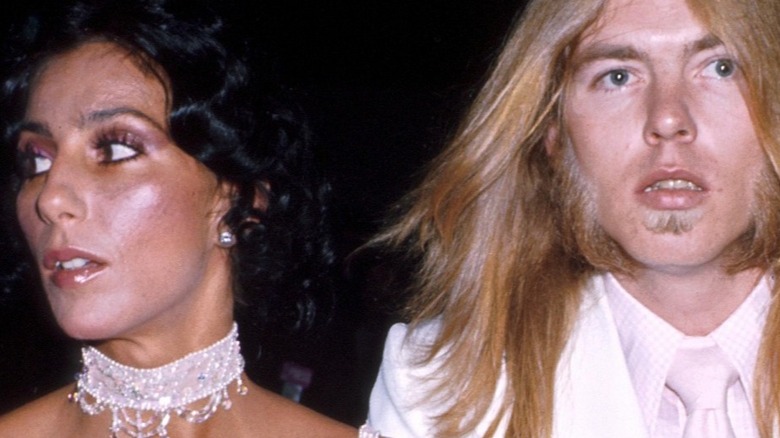 Michael Ochs Archives/Getty Images
We may receive a commission on purchases made from links.
Cher and Gregg Allman made an unlikely pair — she was a pop icon while he was a southern rock superstar. And the combination proved to be a volatile mix, largely on account of Allman's issues with substance abuse. The pair met in January 1975 after Cher watched Allman perform solo in Los Angeles, according to a Rolling Stone excerpt from Allman's 2012 memoir, "My Cross to Bear."  Allman wrote that he was "so blinded by her" when he saw her, and their relationship soon took off. Cher later told People magazine that "nobody ever made me feel as happy as Gregory did."
The couple faced a huge obstacle from the beginning, however. As Allman writes in his memoir, Cher "didn't realize that I was a hophead," referring to his drug problem. On June 30, 1975, Cher and Allman tied the knot in Los Vegas, but the honeymoon didn't last long. The wedding came only days after Cher's divorce from her first husband and TV show co-star, Sonny Bono, was finalized, according to Entertainment Weekly. Cher thought she had helped Allman to get clean, but she soon discovered that he was still using drugs, according to his memoir. She filed for divorce on July 9, 1975, but she declined to move forward with it after Allman agreed to go to rehab.
Allman's drug use wrecks relationship with Cher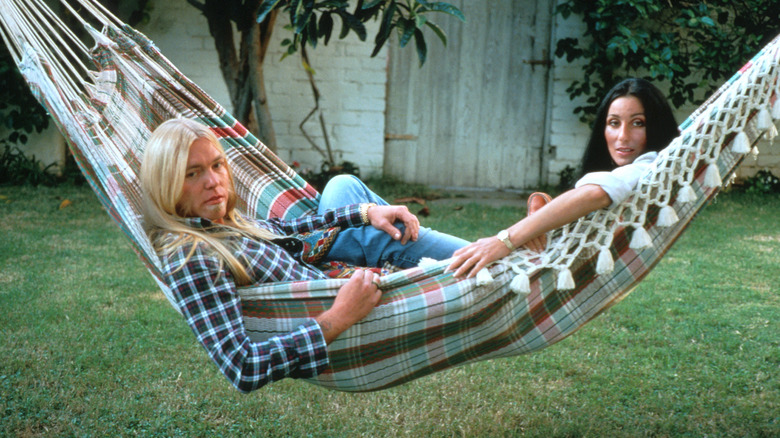 Michael Ochs Archives/Getty Images
Cher and Allman faced another hurdle when Cher reteamed with her ex-husband in 1976 for "The Sonny and Cher Show." Watching his wife with her ex was nearly too much for Allman, according to Entertainment Weekly, and he filed for divorce. He changed his mind when he learned that Cher was expecting his child. Son Elijah Blue was born in 1976 (via Allmusic). Cher and Allman joined creative forces to make the 1977 album "Two the Hard Way," which they released under the name Allman and Woman. The record proved to be a commercial failure. Even Allman wasn't a fan, writing in his memoir, "that record sucked, man."
In the end, Cher couldn't deal with Allman's problems with drugs and drinking. "I just didn't have the juice anymore" to keep the relationship going, she explained to People magazine. She filed for divorce in January 1978. Despite how short-lived their marriage was, Cher always remembered Allman fondly. She told the Guardian newspaper that he was one of the loves of her life, calling him "a special man." After Allman died May 29, 2017, she traveled to Macon, Georgia, for his funeral, according an Associated Press report (via The Los Angeles Times). Cher said her goodbyes to her second husband as he was laid to rest next to his late brother, Duane Allman.