Fans Think This '80s Band Should Have Retired A Long Time Ago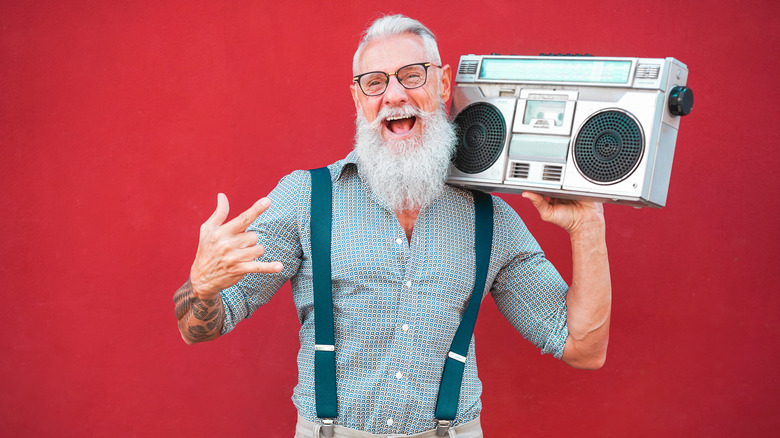 Shutterstock
The music in the '80s was an era! Older styles of music, like disco, were slowly dying out. But new ones also emerged and started picking up ground. Some of those fresh genres were new wave and rap music, which were two styles that started to become popular that decade. And rock music obviously was a consistently growing style and that genre never had a shortage of bands producing the guitar and electric sound. Several of these bands that were popular in the '80s have been around for a very long time.
As time went on, a few of them found longevity in the music business and continued to find success with music sounds evolving. A few others though never found the same level of popularity they once had, but remained together as a group. But let's face it. In an industry where musical groups commonly split up and change members due to behind-the-scenes drama or personality clashes, it's an admirable quality if a band managed to stand the test of time. But not everyone thinks so. Some music fans think there are several bands who should have stopped making music ages ago. What bands are those?
Fans say these bands are past their primes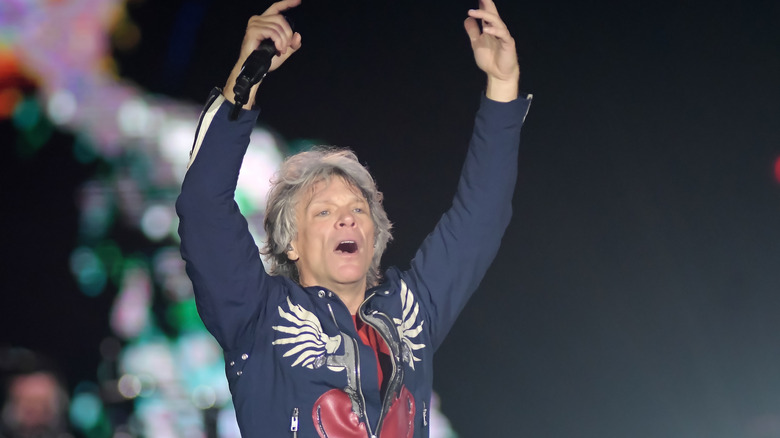 Shutterstock
We polled 598 readers on which six '80s bands they think should have retired a long time ago, and the responses were extremely close across the board. In sixth place, 12.21% of voters said that Bon Jovi should have retired. The Grammy-winning band had the least amount of votes, and it makes sense. Compared to all the other groups in our survey, Bon Jovi has had more hit songs, their music has more airplay, especially their hit song "Livin' on a Prayer," (which is an unofficial graduation song), and they continue to show up on Billboard charts.
For the fifth and fourth place spots, 16.05% of respondents chose Def Leppard and 16.39% of them said Duran Duran. But coming in third place was The Cure. Roughly 18.06% of our survey-takers chose the English band as a late retiree. This band has only one original member standing, and of course, it's frontman Robert Smith.
In second place was The B-52s. The group known for their hit song "Love Shack" earned 18.56% of our voters' picks. They never had a No. 1 hit, and the last time the new wave band had a song chart was in 1994, says Billboard. And that was 27 years ago, so it's no wonder why people think they need to hang it up. But who came at No. 1?
This heavy metal band should've retired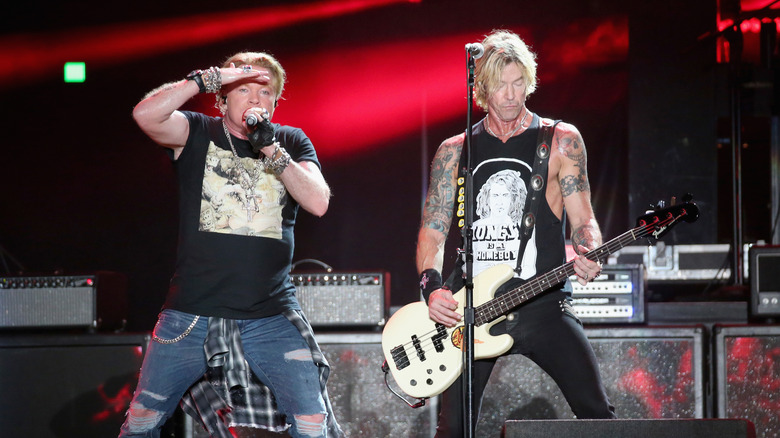 Gary Miller/Getty Images
Even with the close percentages, there was still one band in particular that had a little more votes than others, and our readers gave that No. 1 spot to Guns N' Roses (GNR). Voters said GNR is the group that should've closed up shop years back. 
Out of the 598 people we surveyed, 18.73% said the Axl Rose-led band should not only stop making music, but should've probably done so in 2008 (the last time they scored a top hit, per Billboard). The likely reason people went with GNR could have something to do with the fact that Axl Rose (pictured left, with former member Duff McKagan) is also the only original member left in the band. When the band's famed lead guitarist, Slash, left the crew in the mid-'90s, he took a lot of fans with him and started his own band called Velvet Revolver. But more importantly, GNR also went a decade and a half of inactivity (via Discogs). It took them 15 years to release another project after "The Spaghetti Incident?" and it was almost like they didn't exist at one point. So our voters were being generous.