The Real Reason Franz Stahl Left The Foo Fighters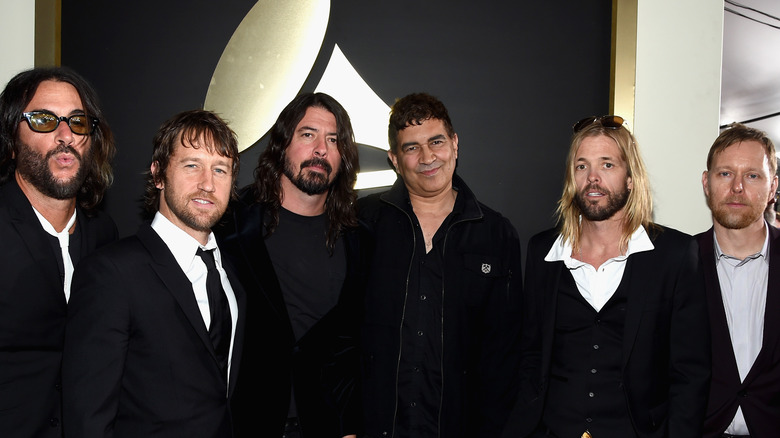 Larry Busacca/Getty Images
Franz Stahl came aboard the Foo Fighters as their second guitarist, taking over from departing original guitarist Pat Smear in 1997. Stahl and Dave Grohl previously played together in the hardcore punk band Scream, which also featured Peter Stahl and Skeeter Thompson (via AllMusic). "I think my brightest moments playing music were with Dave," Stahl said in a statement at the time, per Rolling Stone. But this happy reunion of Grohl and Stahl quickly turned sour.
According to Far Out Magazine, Stahl and Grohl had a falling out during the songwriting process. Stahl was reportedly fired on a conference call in 1999 (via NME). He had only made a few contributions to Foo Fighters' music history during his short time with the band. His guitar work can be heard on the song "A302," which appeared on the 1998 soundtrack for "Godzilla." 
Grohl told Kerrang! that it was really a matter of creative differences and that Stahl took the news hard. Stahl went to Texas to challenge his bandmates about their decision, and the confrontation led Stahl to break "down in tears, I couldn't believe it" (via Kerrang!).
Stahl's rift with Grohl heals
Franz Stahl's firing from the Foo Fighters shattered his friendship with Grohl for quite some time. Professionally, however, he quickly moved on. He explained to Alex Obert of Journey of a Frontman that he started "playing with this Japanese guy in Japan named J," and he spent the next seven years in Japan. Despite continuing with his musical career, Stahl remained perplexed and upset about being ejected from the Foo Fighters. He told Mick Wall, author of the Foo Fighters' biography "Learning to Fly," that he never got "any sort of closure on any of it" (via NME).
Stahl and Grohl eventually reconnected, with Stahl rejoining Scream to open a few shows for the Foo Fighters (via Far Out Magazine). Scream also used Grohl's recording studio, Studio 606, to make their 2011 EP "Complete Control Recording Sessions." In 2018, Scream put out a reissue of its "No More Censorship" album, which featured some of Grohl's work with the legendary punk group (via Alternative Nation). The new version, called "NMC17 (No More Censorship)," was remixed at Studio 606.