How Charles Dickens' Last Wishes Were Ignored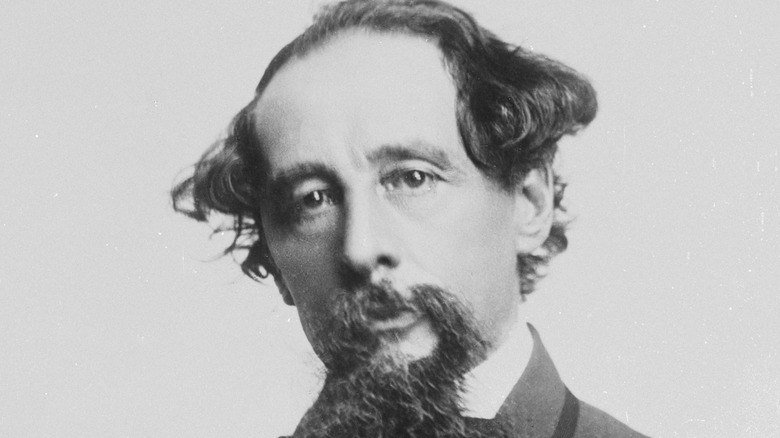 Rischgitz/Getty Images
Charles Dickens, born in 1812, is considered one of the greatest English novelists of the Victorian era. Dickens wrote such classics such as "Great Expectations," "A Tale of Two Cities," "David Copperfield," and "A Christmas Carol." His life of writing literature started in the 1830s, submitting essays and stories to various newspapers and magazines. Later on, he published novels, completing 14 of them. The ending of his last novel, "The Mystery of Edwin Drood," remains a mystery, as he died before its completion, according to Dickens Fellowship.
On June 9, 1865, Dickens was in a brutal railway accident that left 10 people dead and 40 injured. At that time, he was working on his novel "Our Mutual Friend," and he wrote about the accident in the novel's postscript, saying, "I remember with devout thankfulness that I can never be much nearer parting company with my readers for ever, that I was then," (via Charles Dickens Info.) Five years to the day after the accident — on June 9, 1870 — the author died at the age of 58 after suffering a stroke the day before. Leon Litvak, Associate Professor of Queen's University Belfast and principal editor of the Charles Dickens Letters Project, wrote (posted at The Conversation) that Dickens was so prominent in English society that Queen Victoria herself sent condolences to Dickens' widow, Catherine.
Charles Dickens' last will and testament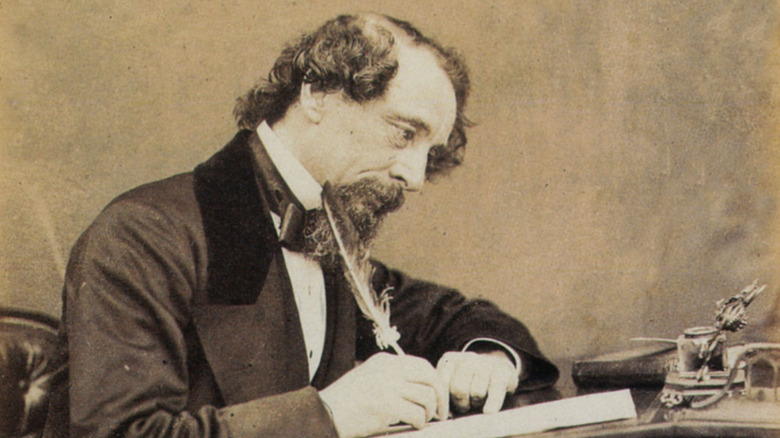 Apic/Getty Images
In Dickens' last will and testament, he left specific instructions on how to allocate his wealth and where and how he wanted to be buried. For his burial, he wanted something "inexpensive, unostentatious." He also wanted privacy, saying that the place and time of his burial shouldn't be announced to the public. Additionally, he requested that those who attend his funeral "wear no scarf, cloak, black bow, long hatband, or other such revolting absurdity," according to a copy of his last will posted on Trove. Last, he wanted his name to be written in "plain English letters" on his tomb, foregoing the titles "Mr." or "Esquire."
At the time of his death, Dickens was beloved by many, but he was known to keep his personal life private. That may be the reason why he wanted a small funeral. His instructions, however, were not followed. According to The Conversation, John Forster, Dickens' close friend and author of his authorized biography, had a hand in his burial. Forster claimed that upon hearing of Dickens' death, the media responded by saying that Charles Dickens deserved to be laid to rest at Westminster Abbey's Poets' Corner, where other distinguished individuals were buried. Arthur Stanley, the dean of Westminster, then went to Dickens' family and Forster to plan the burial.
Exploiting a death for personal gain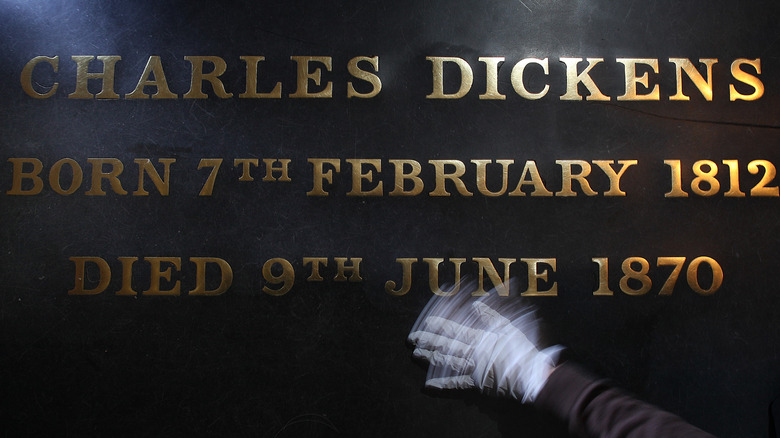 Peter Macdiarmid/Getty Images
Charles Dickens was buried on June 14, 1870, in a private affair attended by 14 people. Afterward, his grave was left open for three days in order for the public to visit and mourn.
It was later revealed that the act of ignoring Charles Dickens' last will and testament regarding his funeral was done for the personal gain of John Forster and Arthur Stanley. As The Conversation reported, Dickens' close friend thought that Charles being buried at the Poets' Corner meant plenty of visitors, which would spread his reputation. For Stanley, on the other hand, being in charge of Dickens' funeral would add another famous person to the list of burials he managed. In the end, the act of not following Dickens' last will improved the reputations of both Stanley and Forster.
According to Westminster Abbey, Charles Dickens' grave has a simple inscription — his name, together with his date of birth and date of death. He is buried at the Poets' Corner alongside other notable figures, including composer George Frederick Handel, fellow novelists Rudyard Kipling and Thomas Hardy, and dramatist Richard Cumberland.