Evita's Body Was Stolen. Here's What Happened
Central Press/Getty Images
María Eva Duarte de Perón, who is most commonly referred to as Evita, was the wife of Argentinian president Juan Perón. Although first ladies often have their own "pet projects," Houston Chronicle reports that Evita was much more than a figurehead, calling her "the most influential first lady" in the history of Argentina.
In addition to founding and running her own charitable organization, Evita also headed Argentina's Ministries of Health and Labor, and founded the Female Peronist Party which, as reported by Timeline Index, became Argentina's first female-only political party. As a member of the Female Peronist Party, Evita Perón announced her candidacy for vice president of Argentina in 1951. However, she faced strong opposition from the country's elite and military officials. As she was also diagnosed with cervical cancer, and her health began to decline, Evita was forced to withdraw her candidacy.
Although she was unable to run for office, Evita remained an influential figure and an inspiration for women throughout the nation and the world. Her unwavering strength and passion for human rights secured her position as one of history's most beloved figures. Timeline Index reports the Argentinian Congress bestowed María Eva Duarte de Perón with the title of "Spiritual Leader of the Nation" only months before she died at the age of 33. Although she was never a head of state, she was also honored with a traditional state funeral. As reported by BBC, Evita Perón's death was made even more tragic when her corpse apparently disappeared.
What happened to Evita's body?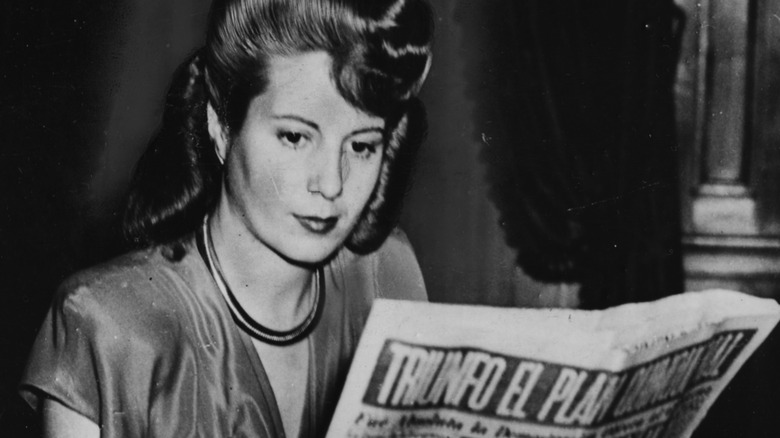 Keystone/Getty Images
Mirror reports Spanish embalmer Dr. Pedro Ara was hired to preserve María Eva Duarte de Perón's body prior to its placement in a custom-made mausoleum. The tedious process took more than two years to complete. Less than one year later, President Juan Perón was overthrown and was forced to flee the country. Amid the coup, Evita's body was confiscated and its location was unknown for several years.
As reported by BBC, Evita Perón's body was likely secured in the offices of Military Intelligence until 1957, when it was moved to a cemetery in Milan, Italy, and buried under the name Maria Maggi. Although some officials knew the location of Evita's body, her supporters and her husband were unsure of its specific location for nearly 20 years. In 1971, Evita's body was exhumed and transported to Madrid, Spain, where it was returned to Juan Perón. Close friends of the family removed the body from the coffin and painstakingly cleaned decades worth of dirt from the remains.
BBC reports Evita's body was damaged through the years. However, it is unknown whether any of the damage was intentional. Restoration expert Domingo Tellechea said a majority of the flaws were only superficial, because Dr. Pedro Ara's work was "very well done."
Evita Perón's body reached its final resting place in 1976, when it was secured in the family's mausoleum in the Recoleta Cemetery in Buenos Aires.