Courtney Love Comes For Olivia Rodrigo After 'Theft'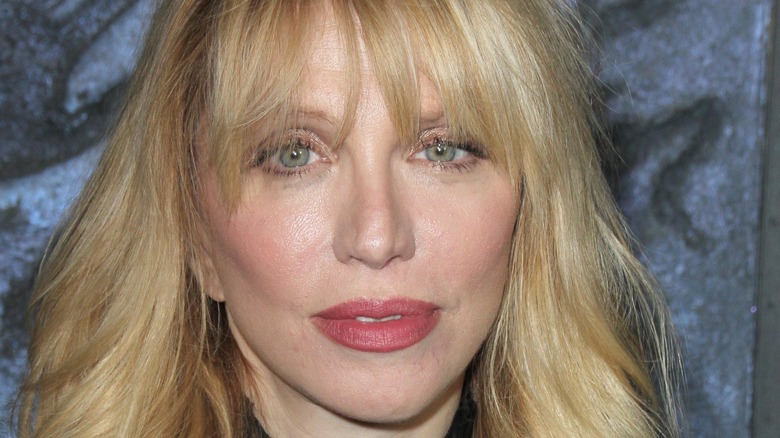 Shutterstock
Courtney Love, widow of Kurt Cobain and herself a key figure in the grunge music scene as the singer and rhythm guitarist for the band Hole, has been no stranger to controversy in her career. For example, as ABC News reported, she publicly carried out a legal feud with Dave Grohl and Krist Novoselic, the two surviving members of Nirvana, and only buried the hatchet with the two men at their Rock & Roll Hall of Fame induction ceremony. Similarly, according to Pitchfork, she carried out a public grudge against punk band Bikini Kill, apparently over a dispute that began at a music festival in 1995.
In June 2021, the 56-year-old Love announced a new public beef, this time with an up-and-coming musician a third of her age. Specifically, as Pitchfork reported, Love accused teen sensation Olivia Rodrigo of "theft" after the younger woman announced artwork for an upcoming project that, to Love anyway, appeared too similar to artwork from one of her (Love's) own albums.
Courtney Love thought she wasn't given the right credit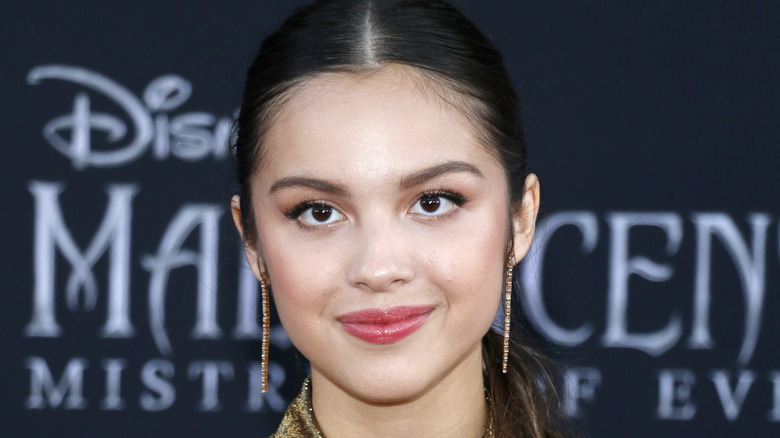 Shutterstock
Olivia Rodrigo came seemingly out of nowhere in 2021 with her single, "Driver's License," which broke multiple streaming records when it was released in January of that year, according to Billboard, and was even spoofed on "Saturday Night Live." The sweet ballad by a young woman straddling the line between her teen years and her adulthood is pretty much the opposite of everything Courtney Love ever wrote or performed.
As Pitchfork reported, Rodrigo announced the cover artwork for an upcoming concert film, and the imagery, which can be seen here via YouTube, shows a young woman dressed in a prom dress holding a bouquet, while her streaking makeup stains reveal that she'd been crying. In response, Love took to Instagram to show Rodrigo's cover art, and captioned it, "Spot the difference! #twinning! @oliviarodrigo." For those missing what Love was hinting at, the album cover art for Hole's 1994 album "Live Through This," which can be seen here via Wikimedia Commons, also shows a prom attendee wearing a dress, holding a bouquet, and sporting tear-stained makeup.
Love was clear, in a later statement, that she thought Rodrigo's team failed to take the proper steps. "it was rude of her, and [Rodrigo's label] geffen not to ask myself or [Live Through This cover photographer] Ellen von unwerth ... manners is manners!" she said.
Olivia Rodrigo isn't having it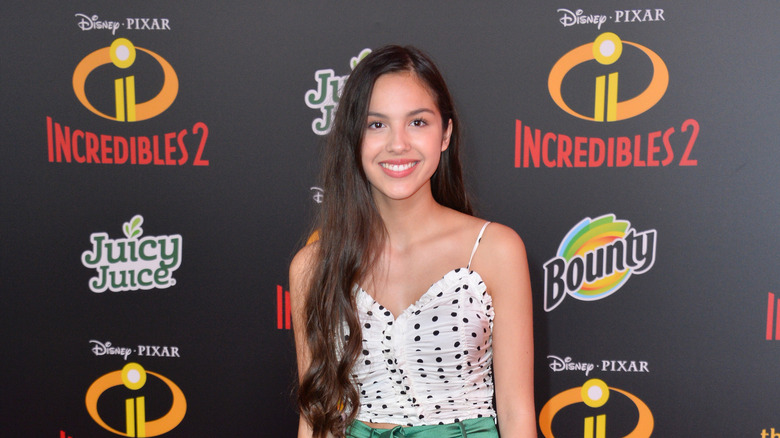 Shutterstock
Rodrigo, for her part, at first tried to brush off Love's complaints with a bit of mild snark. "[L]ove u and live through this sooooo much," Rodrigo responded on Love's Instagram post, referencing the title of Love's album that sat at the heart of the controversy.
Love, however, wasn't prepared to let things go, providing her young adversary with the location of her favorite florist, and making it clear that she (Love) expects an apology. "I've informed her I await her flowers and note," Love said.
Whether or not Rodrigo is going to apologize remains to be seen, but as Daily Dot notes, Love may not have the moral high ground when it comes to accusations of theft of artwork. Rodrigo's fans were quick to point out that both bits of art are themselves similar to earlier imagery, one released decades before Rodrigo was born and while Love was still a pre-teen. Specifically, they pointed out that both women appeared to have taken inspiration from the cover art for the 1976 film "Carrie," which also features a prom attendee holding a bouquet.