A Look At Billy Preston's Time Working With The Rolling Stones
Michael Putland/Getty Images
Billy Preston was a musician's musician. A session player who could also sing and write songs, he was considered a child prodigy, playing the organ with Mahalia Jackson while still a kid, and appearing on the Nat King Cole Show at only 10 years old, even doing a duet with Cole, according to the Rock and Roll Hall of Fame. 
He went on to play with Little Richard and Sam Cooke in the early 1960s and as rock 'n' roll evolved, Preston found himself playing with The Beatles, who made the unprecedented move of crediting him on their songs "Get Back" and "Don't Let me Down."
But according to Jam Base, the prolific keys player spent more time as the Rolling Stones touring keyboardist and contributor to their records than he did with The Beatles. Preston was such a coveted player because as the Rock and Roll Hall of Fame explains it, he was essential to the history of rock 'n' roll and could take a good song and make it great.
The Rolling Stones must have understood that, as they had Preston play on all of their albums spanning from 1971 to 1976, per New Directions in Music. Preston can be heard playing piano, organ, singing back up, or even playing the clavinet on Stones' albums "Sticky Fingers," "Exile on Main Street," "Goat's Head Soup," "It's Only Rock 'N' Roll," and "Black and Blue." He's also on "Tattoo You" which was released in 1981 but incorporated older tracks.
Billy Preston came up with the idea for the bass line on "Miss You"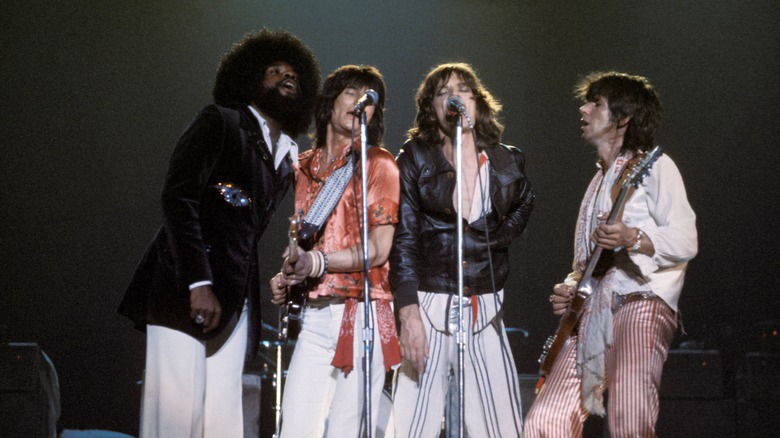 Fin Costello/Getty Images
Billy Preston didn't just collaborate and play on Rolling Stones records, he also joined them on a couple of tours, even getting his own solo during concerts, according to Ultimate Classic Rock. Preston is awesomely credited with coming up with the bass line for one of the Stones' most well-known songs, "Miss You." According to Far Out Magazine, Rolling Stones bassist Bill Wyman said that the track came about in 1976 while Preston was on tour with the band. Wyman had gone home, so Preston picked up his bass and started going through the song. 
Wyman said, "The idea for those bass lines came from Billy Preston ... He started doing that bit because it seemed to be the style of his left hand. So when we finally came to do the tune, the boys said, 'Why don't you work around Billy's idea?' [...] So I listened to it once and heard that basic run and took it from there. It took some changing and polishing, but the basic idea was Billy's."
Preston died in 2006 at the age of 59 after a combination of health issues left him in a coma for several months, according to The New York Times. When he died, The Guardian reported that Rolling Stones frontman Mick Jagger said, "Billy was a fantastic and gifted musician. He was great fun to be with ... and I will miss him a lot."