Where Is Convicted Murderer Chris Watts Today?
On August 13, 2018, Nickole Atkinson contacted authorities to report her friend, Shan'ann Watts, missing. As reported by Biography, Shan'ann, who was pregnant, missed a doctor's appointment and was not answering her phone. Atkinson was specifically concerned because Shan'ann's keys, phone, and purse were left inside her house. Yet she and her two young daughters had seemingly vanished.
Shan'ann's husband Chris Watts insisted his wife "said she was going to a friend's house with the kids," but he could not explain why she left her personal belongings behind. Biography reports Chris later admitted the disappearance was suspicious, and publicly pleaded for their return. But he became a person of interest due to his demeanor and the inconsistencies between his story and evidence found in the home.
Two days after his wife and children were reported missing, Chris failed a polygraph test and confessed to killing Shan'ann. As reported by Biography, Chris initially said he killed his wife in retaliation for her smothering his daughters to death. However, he later confessed to killing all three.
On August 16, 2018, the bodies of Shan'ann, Bella, and Celeste were found at Chris' worksite, and he was arrested and charged with first-degree murder. Chris ultimately pleaded guilty, and he was sentenced to life in prison without the possibility of parole. Biography reports that Chris was initially assigned to a prison in Colorado, but was later transferred to Wisconsin amid safety concerns.
Where is Chris Watts now?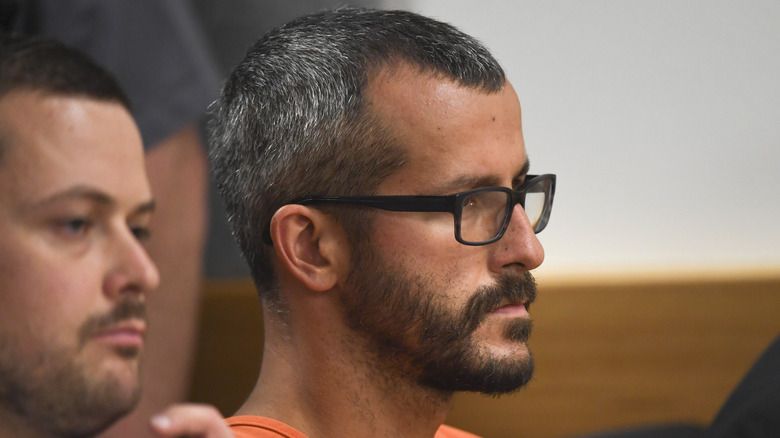 Pool/Getty Images
In February 2019, Chris Watts granted an extensive interview from prison that revealed the disturbing details surrounding his crimes. As reported by Biography, Chris said it "was like the epitome of being angry, the epitome of showing a rage, the epitome of losing your mind."
Chris is currently serving his life term in Dodge Correctional Institution in Waupun, Wisconsin, and People reports that he remains in protective custody for his own safety. A source inside the prison said if he was placed in the general population, he would "be in real danger," because "he is an outcast, even among criminals." The source explained that there is a specific "pecking order" in prison, and "someone who hurts or kills kids is at the very bottom."
The source said Chris has a Bible and photos of his family on the walls of his cell. In addition to reading, he spends his time writing letters to a number of pen pals, who started communicating with him after he was incarcerated.
As reported by Distractify, Chris is largely isolated and spends the majority of his time alone — the correspondence with his pen pals is essentially his only form of social interaction. But while socialization is undoubtedly essential for human mental health, the reported identity of one of his pen pals is definitely disturbing. In an interview with Daily Mail, fellow inmate David Carter said Chris is still in communication with Nichol Kessinger — the woman he was reportedly having an affair with when he killed his wife and children.