How Genesis Made That Odd Sound In No Son Of Mine
Brian Rasic/Getty Images
Of course you're familiar with Genesis (the band — this article is not about The Bible); the driving, woozy groove of "Abacab," the unsettling-if-puppets-give-you-the-heebie-jeebies video they did with the Spitting Image folks for "Land of Confusion," and maybe even their earlier, arty period with costume maven Peter Gabriel. Today, we've got their 1991 single "No Son of Mine" on repeat, and got to wondering about a couple things.
It's an interesting song, especially in the way that the lyrics, chord progressions, and vocal styling convey contrasting emotions. The song (posted on YouTube) starts with a sonic layering of sounds. In addition to the familiar lush synthesizers and guitars, there's also a garbled, mournful-sounding wail, or perhaps a primal scream, setting the tormented mood of the narrator, who begins his tale thusly:
"Well the key to my survival / Was never in much doubt / The question was how I could keep sane / Trying to find a way out..." (via Musixmatch). It's soon established that the narrator is looking back on his time as a boy in an abusive household, who eventually finds his way out. The bridge and chorus focus on the time he went back after he left, with hopes of making amends with his father. As the title suggests, the trip back home does not go well, and amends are not granted. There are no hugs, no apologies, no closure.
But let's go back to that mood-setting wail. What exactly is it? And how did they create it?
'Sounds like an elephant being sick'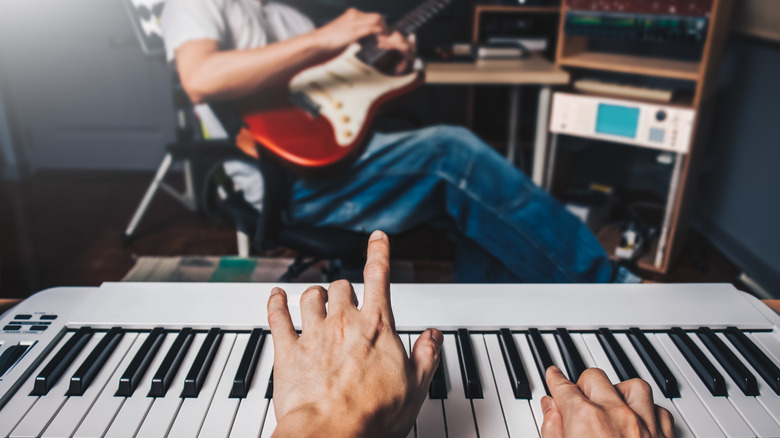 PrinceOfLove/Shutterstock
As with many great things, it was basically a happy accident. In an interview also posted YouTube, bassist and guitarist Mike Rutherford said, "I was playing a guitar phrase and [keyboardist Tony Banks] sampled it and turned it upside down and slowed it down. Which is that kind of strange elephant noise which starts the track."
Banks elaborated in another interview (also on YouTube), "Sounds like an elephant being sick. It's just a very distinctive sound, you know? ... And it was just Mike, actually ... sort of thrashing around and I just cut out this little bit in the middle of it. And then slowed it right down and just used the front end of it, and stuck it with this E-minor chord. The effect was fantastic." Timing, noodling, and playing around — that's how they created that doleful mood-setter.
As drummer and singer Phil Collins repeats the bridge and chorus throughout, it becomes clear that the narrator in the song will have to give himself closure, as his father refuses to give it to him. The "sickly elephant" part drops out about halfway through the song, and as Collins sings "You're no son, you're no son of mine," his voice actually soars in an almost-joyful way, despite the heavy lyrics, suggesting that maybe he can accept this disowning and move on from that unhealthy, unhappy chapter of his life.
'It is very, very special to come up with a song like that out of thin air'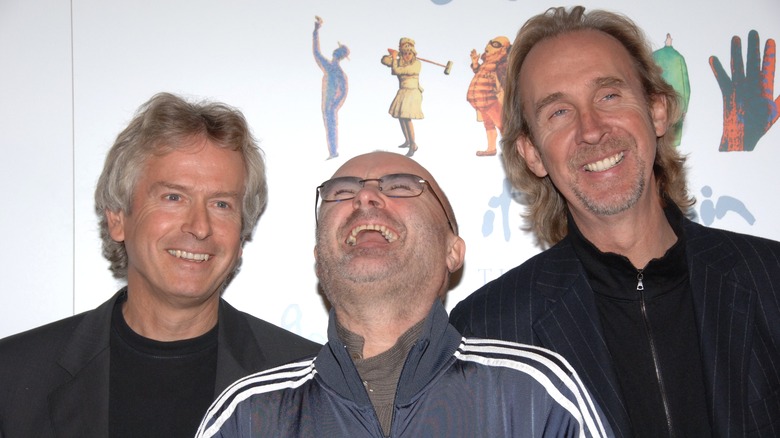 Brian Rasic/Getty Images
Collins would go on to a superbly successful solo career, Rutherford would stay in the charts with his side-project, Mike and the Mechanics, and Banks also kept making music, including a recent foray into orchestral music, and prefers to fly under the public radar as much as possible (per Louder Sound). Despite the trio's split in 1996, they have toured again and remain close friends (per Rolling Stone). In "Genesis: Chapter & Verse," a book about the band and its history, Collins said of "No Son of Mine" specifically, and his time with the band in general, "...it is very, very special to come up with a song like that out of thin air, sitting in a room with nothing written and Tony playing something, me singing something that goes with that, and Mike reacting to what I'm singing. Something fantastic emerges from the fog for a minute, and that minute becomes the nucleus. It's very difficult to achieve that kind of chemistry."
According to the band's official website, they'll be touring North America this coming November and December for the first time since 2007, and a new compilation, titled "The Last Domino? — The Hits" is due out September 17, reports Louder Sound.