Here's What Hunter S. Thompson Stole From Ernest Hemingway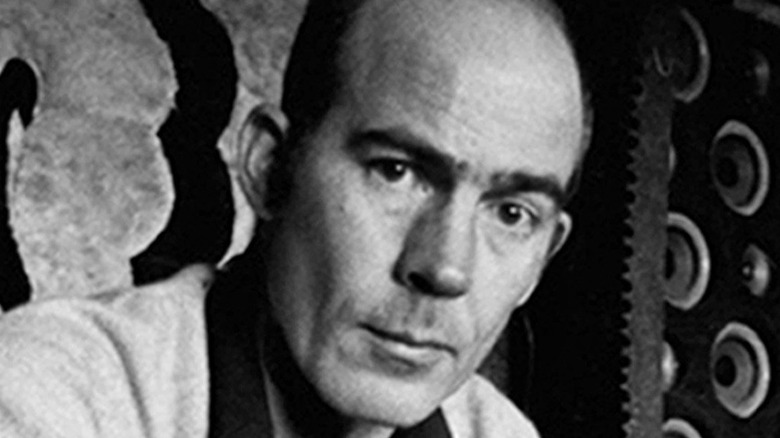 Michael Ochs Archives/Getty Images
At one time, legendary gonzo journalist Hunter S. Thompson was like any young aspiring writer. He didn't know if his natural inclination to be a working writer was something that was realistically attainable, especially because he likely knew his approach to storytelling was unorthodox. But another American writer had already proven that it was possible to write prose in a new way and be successful. That writer was Ernest Hemingway. 
According to Cliffs Notes, Hemingway was a pioneer of modern literature, ditching the commonly used British styles that were wordy and filled with adjectives, adverbs, colons, and semi-colons. He simplified the language yet maintained the impact in his stories. When Hemingway won the Nobel Prize in Literature in 1954, the committee singled out his "forceful and style-making mastery of the art of modern narration." According to Lit Hub, a 1934 Vanity Fair described Hemingway as "hard-drinking, hard-fighting, hard-loving — all for art's sake," and this appealed to Thompson.
Thompson would later say that Hemingway was the writer who taught him the most. Per The Narrative Art, Thompson said when he was a young, hopeful writer, Hemingway's work showed him that, "You can want to be a writer and get away with it. You can be a writer. And that was very important at the time ... it was nice to find out that somebody had gotten away with it." 
Hunter S. Thompson stole elk antlers from Ernest Hemingway's cabin
It was because of his great appreciation for Ernest Hemingway that Hunter S. Thompson traveled to Ketchum, Idaho, in 1964 — three years after Hemingway died in the small ski town — to write an article about what prompted his idol to go there to commit suicide at the age of 61, CBS News reported. Thompson would've been about 27 at the time, and his impulses got the better of him when he took a set of elk antlers from the cabin where Hemingway killed himself. 
According to what Thompson's wife, Anita, told BroBible, "He got caught up in the moment. He had so much respect for Hemingway. He was actually very embarrassed by it." Yet until the end of his life in 2005 — when Thompson took his own life just like Hemingway did — he never returned the antlers, which hung in his garage. Finally, Anita returned the elk antlers to the Hemingway family in 2016. She said the family, who didn't know Thompson had stolen the antlers, "were warm and kind of tickled... they were so open and grateful, there was no weirdness."
If you or anyone you know is having suicidal thoughts, please call the National Suicide Prevention Lifeline​ at​ 1-800-273-TALK (8255)​.