The Surprising Thing Ronnie Van Zant Is Buried With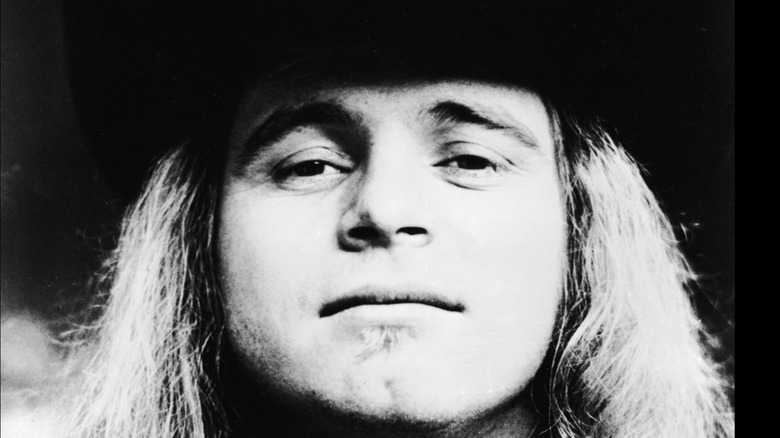 Hulton Archive/Getty Images
On October 17, 1977, Southern rock band Lynyrd Skynyrd released their fifth studio album titled "Street Survivors." Only three days later on October 20, tragedy struck when the plane carrying the band crashed in a Mississippi countryside, leaving vocalists Ronnie Van Zant and Cassie Gaines, as well as guitarist Steve Gaines, dead. Other fatalities included the band's road manager Dean Kilpatrick, and the pilot, and co-pilot of the aircraft. Others sustained grave injuries but otherwise survived the accident (via Taste of Country).
Lynyrd Skynyrd was on tour when the accident happened, and in an interview with Orlando Sentinel, guitarist Gary Rossington recalled Allen Collins' concerns about the flames he saw coming from the plane's engine on their previous flight. Ronnie Van Zant, however, brushed it off and said: "Hey if the Lord wants you to die on this plane, when it's your time, it's your time. Let's go, man. We've got a gig to do." Drummer Artimus Pyle said that it seemed Ronnie was aware of his imminent death when they were about to go down. Everyone stayed calm when the plane was about to go down. Ronnie grabbed a pillow from the back of the plane, walked back to his seat, and smiled at Pyle. "Ronnie knew that he was going to die," he said.
Ronnie Van Zant's burial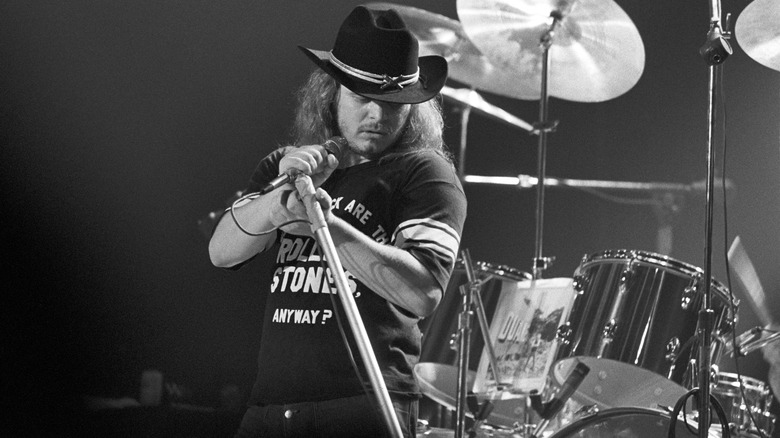 Tom Hill/Getty Images
When the plane crashed, Ronnie Van Zant instantly died due to blunt force trauma to his head. Per Rolling Stone, the surviving members of the band weren't immediately told about Van Zant's death to allow them to heal from their grave injuries before hearing the devastating news. Van Zant was buried in Jacksonville, Florida, with his signature Texas Hatters hat and his favorite fishing pole (via Mental Floss). Van Zant was passionate about fishing, and he used it to relax and escape his busy life as a rock star. When Lynyrd Skynyrd wasn't busy with their music, Van Zant's go-to activity was fishing.
Many in Florida believe that Ronnie's spirit is just roaming the swamps Florida while enjoying his favorite hobby. According to Louder Sound, a lot of people claimed to have seen a figure dressed in black holding a yellow fishing pole — the same color that Ronnie was buried with. These alleged sightings also happened at Lake Delancy, one of Ronnie's favored fishing spots.