Here's Who Inherited Elvis' Fortune After His Death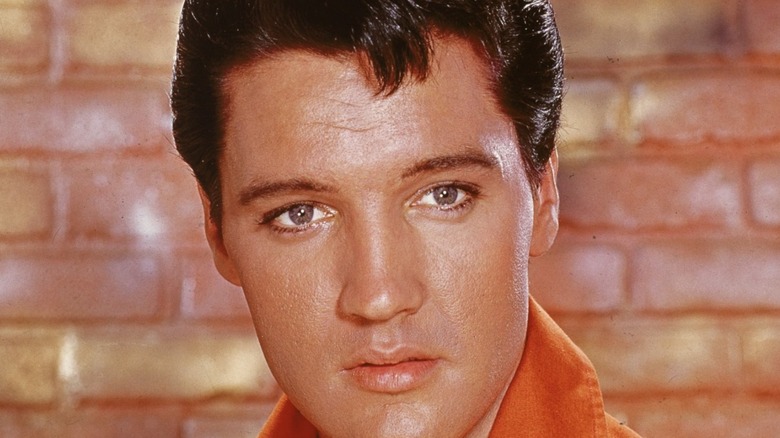 Hulton Archive/Getty Images
Elvis Presley was a superstar from the 1950s to the 1970s, not only having top hits on the radio but also appearing in a number of films throughout his career. He came from humble beginnings and worked his way up to become one of the most successful musicians in rock 'n' roll. In the last years of his life, Presley was heavily dependent on prescription drugs, including sedatives, opiates, and barbiturates. On August 16, 1977, his girlfriend found him unconscious on the floor of his bathroom. He was taken to a hospital, but attempts to revive him were futile, and he was pronounced dead at 3:30 p.m., via Town and Country Magazine. His official cause of death was heart failure.
Elvis Presley had amassed a huge fortune during his career, but the King of Rock 'n' Roll was also known for his lavish spending. Graceland, his home in Memphis, Tennessee, was one of his major investments. He also showered his only daughter, Lisa Marie Presley, with extravagant gifts fit for a princess, according to Meaww. At the time of his death, Presley was worth only $5 million ($22.5 million in today's money), a meager sum for a musician of his caliber.
Elvis Presley's last will
Virrage Images/Shutterstock
Elvis Presley prepared a will well before his death. His father Vernon Presley was appointed as the trustee and executor of his will, and the beneficiaries were his grandmother, Minnie Mae; his only child, Lisa Marie; and Vernon, according to Graceland. The will also stated that Vernon was free to offer financial help to Elvis' other family members when needed. Vernon died just two years after Elvis' death, and Minnie Mae died in 1980. With their deaths, Lisa Marie Presley was the remaining heir of Elvis Presley's estate. However, the will stated that she will only have access to her inheritance on her 25th birthday on February 1, 1993.
Vernon Presley also left a will that named three co-executors of Elvis' estate upon his death: Elvis' ex-wife Priscilla Presley, accountant Joseph Hanks, and the National Bank of Commerce in Memphis. Priscilla established the Elvis Presley Enterprise to manage her ex-husband's royalties and rights, and she also turned Graceland into a tourist attraction, per The Things. By the time Lisa Marie gained access to her inheritance, it had reportedly ballooned to $100 million. Instead of receiving the fortune, Lisa Marie chose to establish a revocable living trust which placed her inheritance in a trust that will be distributed to her beneficiaries upon her death. Today, as reported by The Wealth Record, Elvis Presley's estate is worth $350 million, making him one of the highest-earning dead celebrities.