This Is Who Inherited Whitney Houston's Fortune After Her Death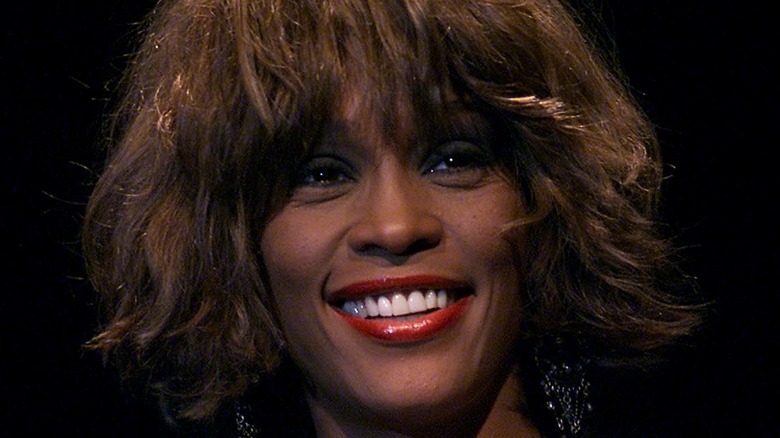 Scott Gries/Getty Images
The world was stunned on February 11, 2012, when the news of 48-year-old Whitney Houston's death came to light. According to BET, she had a career that one could only dream about. Indeed, Houston sold over 170 million albums and singles worldwide and was the most awarded female artist of all time. Her rendition of Dolly Parton's "I Will Always Love You" remains iconic to this day. Of course, some might say that is viewing Houston's life through rose-colored glasses, as she was said to have struggled with substance abuse issues for years (via People).
Per USA Today, Houston was found face down and dead in the bathtub of her Beverly Hills hotel room, hours before she was supposed to attend the annual Clive Davis pre-Grammy party. An autopsy later found that the long-time cocaine user had been the victim of accidental drowning and heart disease, with that former in part causing the latter (via ABC News). She had mild emphysema, and drug paraphernalia was found in her room. The report concluded that Houston was intoxicated from cocaine when she died.
If you or anyone you know is struggling with addiction issues, help is available. Visit the Substance Abuse and Mental Health Services Administration website or contact SAMHSA's National Helpline at 1-800-662-HELP (4357).
Whitney Houston was a long-time drug user
Robin Platzer/twin Images/Getty Images
Many believe Whitney Houston's drug issues began when she married singer Bobby Brown. However, this does not seem to be true. According to The Irish Times, both of her brothers admitted that they all had begun to dabble in drugs when they were in their teens. Nonetheless, it's well documented that her substance abuse issues came to a head after the marriage. In his memoir "Every Little Step," Brown admits to being shocked when he viewed Houston snorting cocaine on their 1992 wedding day.
Per Vanity Fair, Houston's drug use escalated in 1993 after the birth of Bobbi Kristina. By 1996, she was using cocaine every day, and it ultimately affected her career. Houston was canceling sold-out shows and was even fired from an Oscar performance after showing up to the rehearsal disoriented. In a 2002 interview, Houston famously said "crack is whack," although she admitted to doing marijuana, cocaine, and pills (via Biography). And her erratic behavior on her and Brown's 2005 reality TV show, "Being Bobby Brown," only seemed to worsen her reputation. She went to rehab twice, but this did little as Houston's addictions raged on.
Towards the end of Houston's marriage, both her career and her voice were badly damaged. In 2009, Houston was working on getting her act together for a comeback. Likewise, she ultimately regained much of her vocal prowess. However, reviews for her 2010 tour were less than stellar. In the days leading up to her death, Houston was allegedly acting belligerent and disruptive around Los Angeles (per ABC News). She ultimately spent her final day alone until she slipped away in the bathtub of her hotel room.
At the time of her death, Houston was worth around $20 million. Undoubtedly, that amount increased due to music sales as news of her death spread. Houston had only one daughter, Bobbi Kristina Brown — from her tumultuous marriage to Brown — who became sole heir to the singer's estate when she was just a teen.
Bobbi Kristina Brown inherited her millions first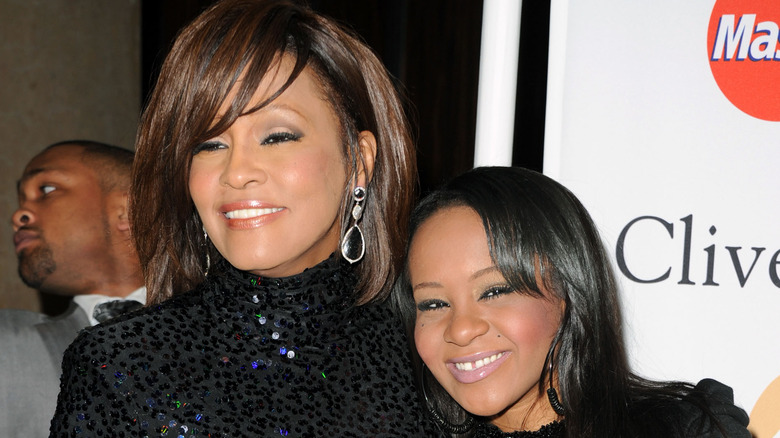 Jason Merritt/Getty Images
When her mother died, Bobbi Kristina Brown was only 18-years-old (via ABC News). Despite her young age, she was the sole beneficiary of Whitney Houston's estate. But Brown did not immediately receive all of her millions. Instead, her inheritance would be doled out every few years until she would receive it all at age 30, according to Forbes. After Houston's death, Brown was said to have been focusing on her burgeoning music career and following in the footsteps of both of her parents. Sadly, she never got the chance.
In a grim twist of fate, Brown would end up dying in a nearly identical way as her mother. In January 2015, she was found unresponsive in a bathtub in her Georgia home (per USA Today). She never regained consciousness and died months later at the young age of 22. Per the BBC, her death was due to immersion in water and drug intoxication.
It could not be determined if this was accidental or intentional. However, Brown's ex-boyfriend, Nick Gordon, was later found legally responsible for her death in 2016 (via CNN). Interestingly, Gordon was an adoptive brother of sorts to Brown (per The Sun). Houston took the boy in when he was 12-years-old after his parent's death and had said that he was like a son to her.
Who would inherit Houston's millions now? If Brown died before the age of 30, childless and unmarried, Houston's will stipulated that her estate would go to her mother, Cissy Houston, and her two brothers. Nonetheless, it's a tragic ending for a mother-daughter bond that was said to be unbreakable, per Biography.