Where Elvis Presley Is Actually Buried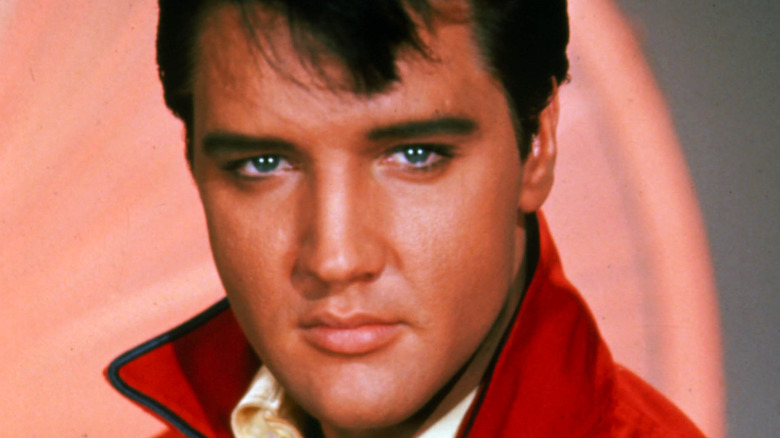 Getty Images/Getty Images
Elvis and Priscilla Presley's only daughter, Lisa Marie Presley, died in mid-January 2023. She had been briefly hospitalized after an apparent cardiac arrest, according to CNN. Shortly after she died, it was announced that Lisa Marie, age 54, would be buried at Graceland, near her son, Benjamin Keough, who died in 2020, as the Associated Press reports. Also buried at Graceland is Elvis himself, according to TIME. Though like much else related to Presley's life and death, some unfounded myths persist about whether or not the King of Rock 'n' Roll's final resting place is really where it's said to be, as E! News writes.
Graceland, in Memphis, Tennessee, is where the "Blue Suede Shoes" singer died in 1977 at the age of 42 from a heart attack, with drug use a possible factor, as USA Today explains. (Others believe it might have been due to Elvis' maternal grandparents being first cousins per the New York Post.) Elvis' daughter, Lisa Marie, took over Graceland and the rest of her father's fortune in 1993 at the age of 25, per The New York Times. Today, hundreds of thousands of Elvis fans visit Graceland to pay homage to the late singer and view his tombstone — but are his remains really there? According to some conspiracy theorists, that's not the case. If Elvis lived beyond 1977, then who knows where he's buried, those theories claim. Still, with no reason to think the official story of Elvis' death is anything but the truth, the path that his remains took to get to where they are today suits a legend of his stature.
Graceland is not the first place Elvis was buried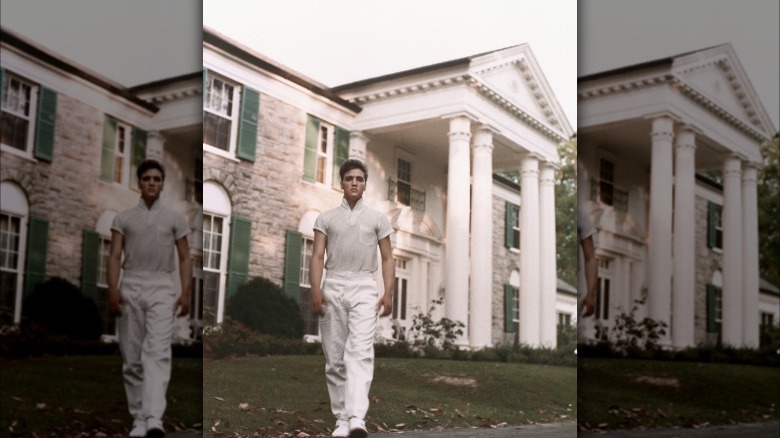 Michael Ochs Archives/Getty Images
Conspiracies aside, what's for certain is that Graceland was not the first place Elvis Presley was buried — or to put it most accurately, entombed, as TIME notes. The King of Rock 'n' Roll's first resting place was in a mausoleum in Forest Hill Cemetery — also in Memphis, Tennessee — next to his mother, Gladys Presley, with whom Elvis was close. Gladys died in 1958, age 46, from heart failure, with liver damage a contributing factor, as Smooth Radio writes. After her death, Elvis reportedly said (via Smooth Radio), "It broke my heart. She was always my best girl," and some say he never fully recovered from the grief. Following the burial, he said (per Express): "Goodbye, darling. I love you so much. I lived my whole life just for you. Oh, God, everything I have is gone!"
At first, Gladys was buried at Forest Hill, but her remains were exhumed and transferred to the mausoleum near her son (per Memphis Magazine). Presley's father, Vernon Presley, also died two years after his son of a heart attack in 1979, age 63, as Smooth Radio elsewhere notes. Vernon is now buried near his family at Graceland, according to Louisiana news outlet Fox 8.
Vandalism sparked the move to Graceland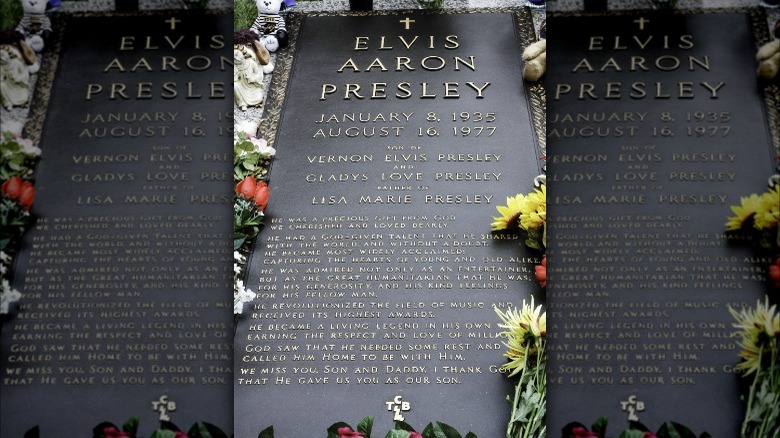 Gerry Matthews/Shutterstock
To address the vandalism and crowds of people swarming to Forest Hill to see Elvis Presley's grave, Vernon Presley — who early on was the executor of the Presley estate — planned to move both Elvis and his mother Gladys' remains to Graceland. The Forest Hill monument is also now on the property, as Memphis Magazine writes. Per Elvis Biography, an alleged plot to steal Elvis' body was one particular catalyst for Vernon moving Gladys' and his son's remains to Graceland (though Gladys' gravestone with the Star of David is no longer on display as it was at Forest Hill)/
Today, Elvis, Gladys, and Vernon Presley are buried in the Meditation Gardens on the grounds. Reportedly, the remains of Elvis and his mother, Gladys, both reside in matching copper coffins. In the immediate aftermath of Elvis' death, tens of thousands of fans gathered outside the palatial estate, as Express writes. There was a public viewing, the first time fans were allowed inside the house. Some 30,000 fans attended.
Before he was buried, Elvis was dressed in a white suit. His hair, including those iconic sideburns, were cut and dyed at Vernon's request. Today, with only the price of admission, hundreds of thousands of fans file past Elvis' gravestone alongside Vernon, Gladys, and Presley's grandmother, Minnie Mae. As E! News reports, some say Elvis' body is not where it's said to be, or that he faked his death and lived longer than reported, but no evidence exists to support such unfounded claims. There's no proof that the hundreds of thousands of fans who view Elvis' tombstone each year at Graceland see anything but the real thing.