Disturbing Details Found In John Lennon's Autopsy Report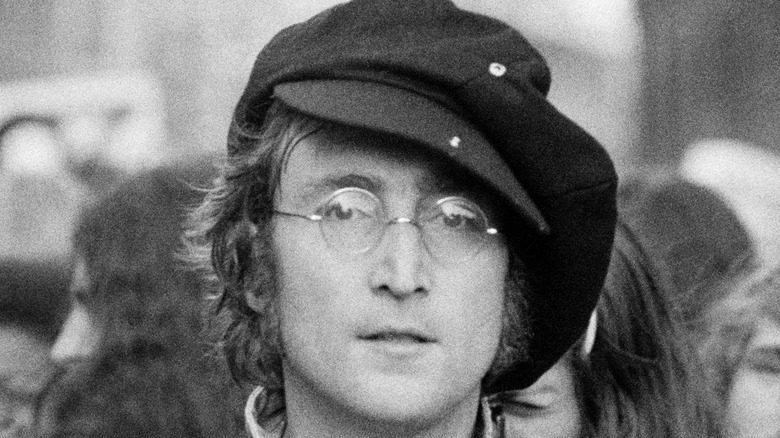 Rowland Scherman/Getty Images
On the evening of December 8, 1980, John Lennon and his wife Yoko Ono were returning home to The Dakota, their New York apartment, when a man called out to Lennon. Soon after, a few gunshots were heard and Lennon fell down and was covered in blood. The shooter was later identified as 25-year-old Mark David Chapman, who stood by as his target bled out, per Heavy.
Earlier that day, Chapman was outside Lennon's building with a copy of the album "Double Fantasy," which he wanted Lennon to autograph. Chapman was a huge Beatles fan and was also deeply religious, but his opinion changed upon hearing his idol refer to his band the Beatles as being "more popular than Jesus." Chapman later revealed that he had been planning to kill Lennon for a few months. He has since been incarcerated and admitted that he committed the crime for "self-glory," according to The Scotsman. "He was very, very, very famous and that's the only reason and I was very, very, very, very much seeking self-glory, very selfish," he said.
Lennon was taken to the hospital several minutes after the shooting took place, and doctors attempted to resuscitate him for several minutes. However, he had lost too much blood due to the gunshot wounds he sustained and was pronounced dead soon after (via Biography). He was just 40 years old.
Before and after the shooting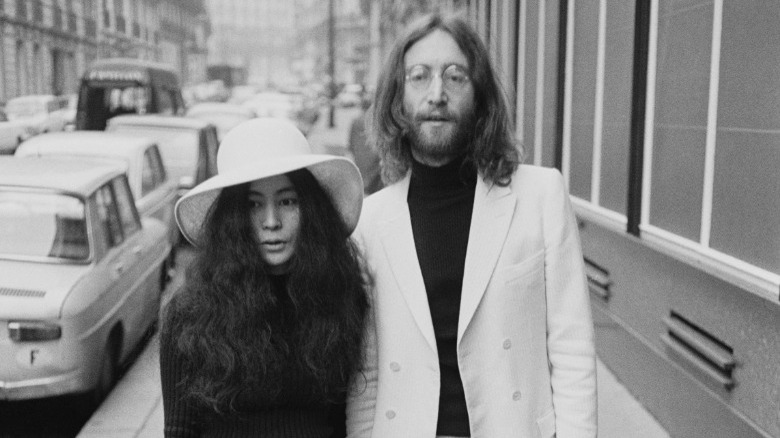 Reg Lancaster/Getty Images
Just hours before the shooting, John Lennon was at a recording studio where he was working on a song with his wife, Yoko Ono. In the days leading up to his death, Lennon sat down for several interviews where he talked about his career with The Beatles, the music he was listening to, and the recent release of the album he did with Ono, as reported by Mental Floss. One of the interviews was with radio personality Dave Sholin, and during their conversation, Lennon said that he hopes he dies before his wife. "If Yoko died, I wouldn't know how to survive. I couldn't carry on," he stated. He would be dead just hours later (via Smithsonian Magazine).
The news of Lennon's death was soon reported by the media. A television producer named Alan Weiss was in the hospital after getting into a motorcycle accident, and it just so happened that it was the same hospital that Lennon was brought to after the shooting. In an interview with Newsday, Weiss said that he overheard police talking about Lennon and afterward witnessed a doctor tell Ono that her husband had died. He then called the information to the news team. Soon, ABC News caught wind of Lennon's death, and "Monday Night Football" was interrupted to report the news. The days that followed consisted of fans mourning the death of a legend. About 100,000 people held a vigil at the spot where Lennon was shot, and 20,000 people gathered in his hometown of Liverpool.
John Lennon was shot four times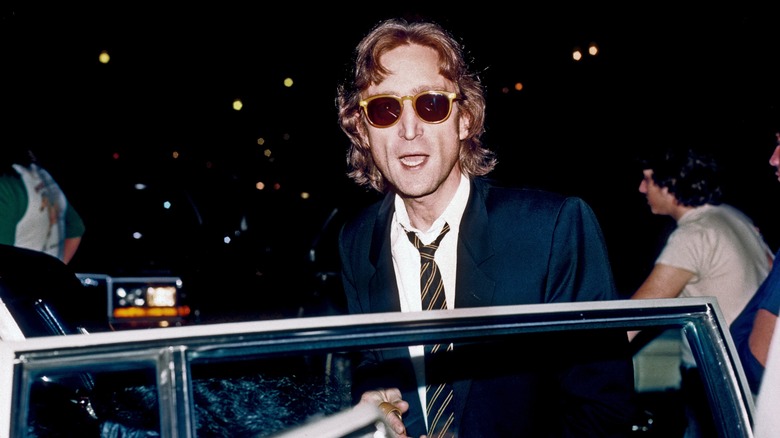 Michael Ochs Archives/Getty Images
Mark David Chapman fired several shots that night, and four bullets hit John Lennon. Dr. David Halleran was on duty at the hospital and was the surgeon who gave Lennon a cardiac massage, hoping to get his heart beating. The heart itself wasn't hit by the bullets, but the vessels near the organ were damaged. The singer had already lost a lot of blood before even being brought to the hospital (via CNY Central). "We weren't getting a pulse back, we weren't getting blood pressure back, we weren't getting pupil response back. He was very much gone," Dr. Halleran told Inside Edition. He was declared dead at 11:15 p.m.
Dr. Elliot Gross was the medical examiner who conducted Lennon's autopsy. Based on his report, two bullets penetrated the shoulder and two bullets went into Lennon's back. Dr. Gross said that he died of shock and massive blood loss, and added that the death was almost immediate. One of the bullets that went into Lennon's back passed through the chest and his left lung before it exited the body. Another bullet also hit the left lung and was lodged in his neck, as reported by the Washington Post. By the time Lennon arrived at the hospital, he had no pulse.
Chapman was charged with second-degree murder and was sentenced to 20 years to life after entering a guilty plea. He has been denied parole 11 times as of 2020, per Distractify, and will most likely spend the remainder of his life at the Wende Correctional Facility, a maximum-security prison in New York.