Carole Baskin Reveals The Real Reason She Closed Her Big Cat Rescue Sanctuary
For Carole Baskin, ever since she opened her Big Cat Rescue sanctuary on November 4, 1992, it has always been about the cats. Despite seemingly insurmountable problems, including a missing husband (still not found), a feud with former Big Cat zoo owner, Joe Maldonado-Passage (also known as Joe Exotic), over his treatment of the animals that subsequently landed him in prison for not only abusing the cats but also for hiring a hitman to kill her, and enduring all that comes with the fame of being involved with the Netflix docu-series, "Tiger King," Baskin's first priority is still protecting big cats. 
That's why she closed her sanctuary, Big Cat Rescue, to the public on March 15, 2020, indefinitely. Initially, the closure was prompted by a combination of COVID-19 concerns and not wanting to "risk one deranged person who saw "Tiger King" and is from the #FreeJoeExotic clan to gain access," she wrote on Big Cat Rescue's website. 
In a Grunge email interview with Baskin, she elaborated on the current situation with COVID-19 still being a risk — even to the cats — her expectations of "Tiger King 2" to spread more misinformation, and her ongoing efforts to federally pass the Big Cat Public Safety Act. 
Two of Baskin's big cats got COVID-19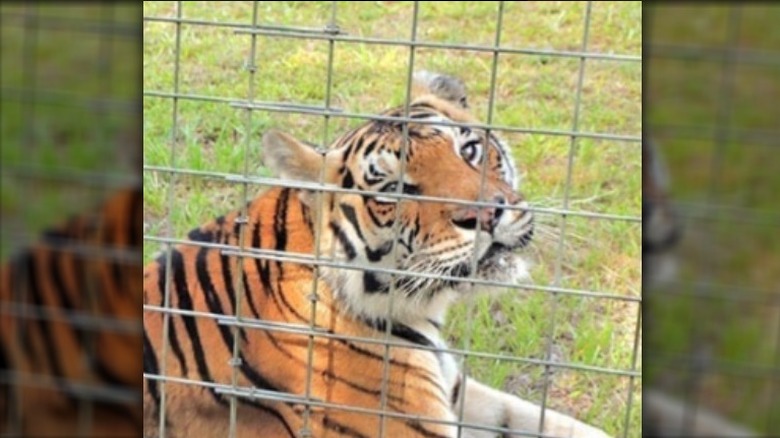 Jamie Veronica Murdock
According to Baskin, even though Big Cat Rescue closed 19 months ago, re-opening the sanctuary is still too risky, especially in light of another season of "Tiger King" coming out soon. Baskin called the narrative in the original docu-series "wrong," and expects the second version will also mislead viewers. She is still contending with both keeping her cats safe from COVID-19 and dealing with fans of the show who may show up with malintent. 
"Even with all of our precautions, of preventing public access, our keepers being vaccinated and wearing masks when around the cats or their food, we still have had two confirmed cases," Baskin told Grunge. "With 'Tiger King 2' coming out mid-November, we expect the public will be misled yet again since that proved to be such a lucrative model for the producers, so we just can't risk the safety of our cats or our keepers."
Baskin says considering the "situation regarding COVID ... we can't even think about reopening until that threat is gone." 
And while Baskin told Grunge via email that there are COVID-19 vaccines for big cats, she has to weigh the risks vs. the benefits.
"Our cats are mostly older than their species is known to live, so chasing them down or restraining them for the vaccine is more of a threat to them than the other methods we are using to protect them from infection," Baskin said. 
Closing has meant less revenue and opportunities to educate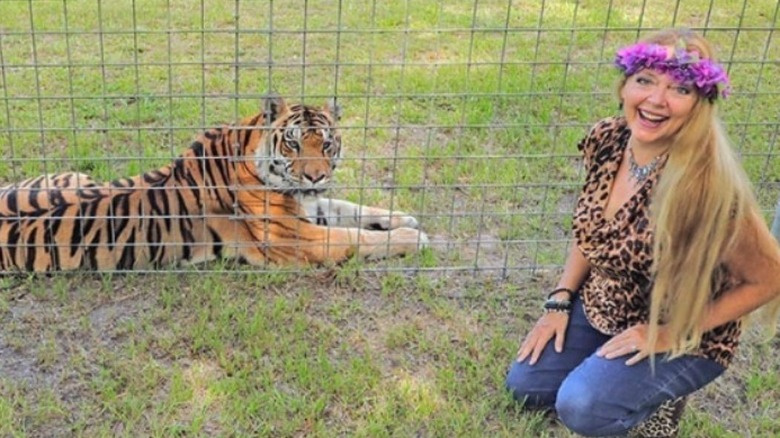 Jamie Veronica Murdock
Still, the closures have been a financial hardship for the sanctuary. According to Baskin, Big Cat Rescue has lost about a million dollars per year in revenue. She also said it has negatively affected "our ability to educate and motivate our 27,000 annual visitors to call their members of Congress in support of the Big Cat Public Safety Act which bans cub handling and phases out private ownership of big cats."
Even with the difficulties that Baskin and Big Cat Rescue have faced since "Tiger King" came out in March 2020, some good has come of it. For one, Baskin told Grunge that she thinks "government agencies and law enforcement were embarrassed to have allowed such rampant big cat abuse to continue and now they are taking action."
And as far as those who she says were misled by the hit show, others "were amused enough by the wrongdoings of so many animal abusers, that it generated interest in legitimate documentaries and fact-based programs," Baskin said, adding, "'The Conservation Game's launch resulted in faux TV conservationists being outed for dealing with backyard breeders, which resulted in AZA zoos publicly distancing themselves from using animals as 'ambassadors' on TV and their promise to stop exchanging animals with these horrible road side zoos and private collectors."
Baskin also said she "has no doubt" the Big Cat Public Safety Act will pass soon, a bill she said she and others have been working on since 1998.