Disturbing Details Found In Whitney Houston's Autopsy Report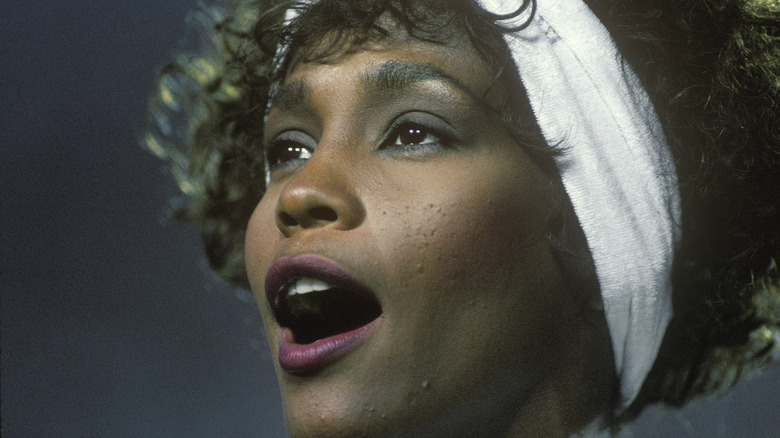 George Rose/Getty Images
It was February 11, 2012, in Beverly Hills, and a night of glitz and glamour was ahead for Whitney Houston. According to USA Today, she was expected at record industry legend Clive Davis' pre-Grammy party the night before the award ceremony and was working on a comeback. The singer — whose powerful voice and classic beauty had brought her stratospheric success in the 1980s and 1990s — had been somewhat out of the spotlight over the last decade. 
Houston released her debut album in 1985 when she was 22 years old, per Biography, and between that year and 1992, she sold more than 86 million records. Hers quickly became a household name and her early songs like "Saving All My Love For You," "Greatest Love of All," and "I Wanna Dance With Somebody (Who Loves Me)" were ubiquitous on late 80s radio. In 1992 she married fellow pop star Bobby Brown, and slowly rumors of her rocky marriage to Bobby Brown and issues with substance abuse replaced new hit songs from Houston on the radio.
On the night she died, the singer was staying at a Beverly Hills hotel ahead of the Grammys. According to the coroner's investigative narrative in Houston's autopsy report, she'd had a sore throat for a few days, and it wasn't going away. Her assistant suggested the singer take a bath and then headed out to run some errands. By the time she was back, Houston was lying facedown in the water in the bathtub. Efforts to save Houston were futile — she was dead at just 48 years old. 
Heart disease and cocaine were factors — drowning was the cause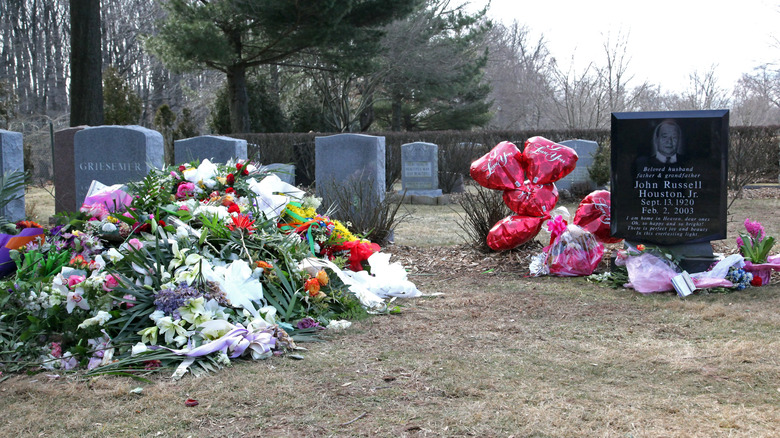 Paul Zimmerman/Getty Images
Whitney Houston's sudden death was sad and shocking, and speculation was rampant due to her known substance abuse issues and her relatively young age. Still, how did she end up facedown in a bathtub? Eventually, the medical examiner would release his findings, which were something like the perfect storm — a three-fold reason for her death. 
The Los Angeles coroner report said Houston's death was caused by "drowning due to effects of atherosclerotic heart disease and cocaine use." Though the drowning seemed to have been brought on by a heart incident, Houston's death was ruled an accident. According to the report, investigators initially found various signs of drug use around Houston's hotel room, including white powdery substances, a rolled-up piece of paper, a spoon with a "crystal-like substance" on it, lots of prescription bottles, loose capsules, and blister packs of pills. There was also an open bottle of champagne and a couple of beers laying around, as well as an ashtray full of cigarette butts. 
Toxicology results found several substances in Houston's system: cocaine, the anti-anxiety medication alprazolam (Xanax), the muscle relaxer Flexeril, Benadryl, marijuana, and cocaethylene, which is a substance created in the liver from combining alcohol with cocaine, according to American Addiction Centers. Benzoylecgonine was also found in Houston's toxicology report, which is the "major metabolite of cocaine," per the National Library of Medicine.
If you or anyone you know is struggling with addiction issues, help is available. Visit the Substance Abuse and Mental Health Services Administration website or contact SAMHSA's National Helpline at 1-800-662-HELP (4357).
Whitney Houston's autopsy revealed secrets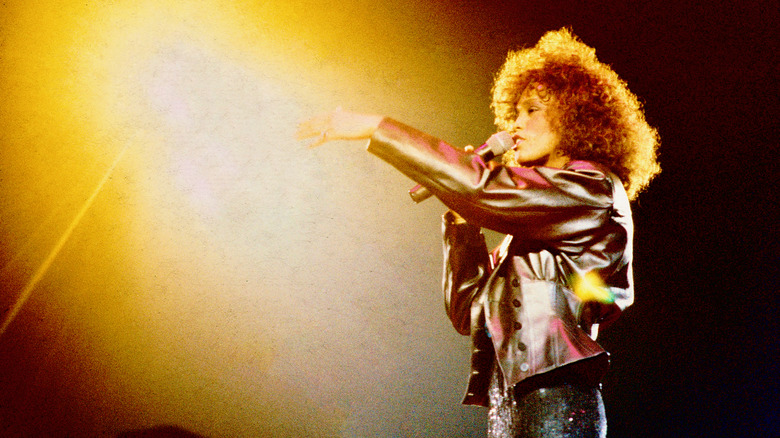 Steve Rapport/Getty Images
To look at someone's autopsy report is to see some of their secrets. If death is the great equalizer, autopsy reports are humanizers. It's where we are reminded that regardless of our stardom or lack thereof, we are all working within the limits and gifts of our bodies. In some cases — like Houston's — we see in her autopsy report how her cocaine use took its toll. It contributed to her early death, but also, according to the report, she had a hole in her septum, which can be caused by heavy cocaine use. Still, there are other causes, too, according to the University of Michigan Health. 
Houston, whose wide vocal range and pristine singing voice earned her fans around the globe, had mild emphysema. For reasons that are unclear, her autopsy report also said she had "an extensive maxillary dental prosthesis" with 11 dental implants. Houston also had breast implants and wore a wig, underscoring another way autopsy reports illuminate the common humanity between people as we strive to present our physically best selves to the world. In Houston's 48 years of life, her body had been through a lot, and her autopsy report showed it. Yet she left behind a beloved catalog of music and is still considered one of the best singers in modern history. 
According to BBC, after hearing of Houston's death, Clive Davis said at his pre-Grammy party: "Whitney was a beautiful person and a talent beyond compare. ... Simply put, Whitney would have wanted the music to go on, and her family asked that we carry on."