The Truth About Joe Exotic And John Finlay's Relationship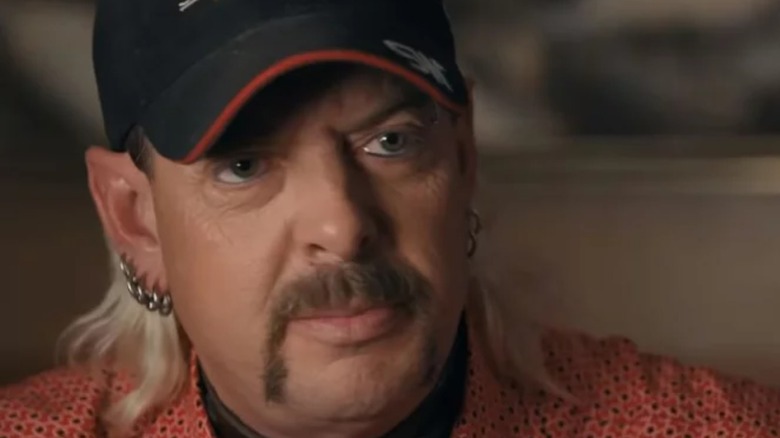 Netflix
In 2020, the documentary series "Tiger King" became a huge hit with viewers for its impressive wildlife and the unusual people who cared for them. Perhaps the most striking figure on the show was Joe Exotic, better known as Joe Maldonado-Passage (via The Sun). A lot of airtime was devoted to Exotic and all of his personal drama. But how real was his relationship to John Finlay and their three-way marriage with Travis Maldonado?
According to Esquire magazine, Exotic and Finlay met in 2003 when Finlay started working at Greater Wynnewood Exotic Animal Park. Before long, the 19-year-old Finlay moved in with Exotic, and the pair became a couple. Finlay even got a tattoo that read "Private Property of Joe Exotic." Exotic encouraged Finlay to take steroids to improve his physique, but the drugs also made Finlay prone to episodes of rage (via New York Magazine). And the situation was probably made more complicated by Finlay's other substance abuse issues. He was in the throes of a crystal meth addiction while living with Exotic. Despite how open Exotic was about his own sexuality, Finlay never identified as being gay. Their relationship took another interesting turn in 2013 when Exotic brought a third person into the mix.
If you or anyone you know is struggling with addiction issues, help is available. Visit the Substance Abuse and Mental Health Services Administration website or contact SAMHSA's National Helpline at 1-800-662-HELP (4357).
The relationship ended because of a woman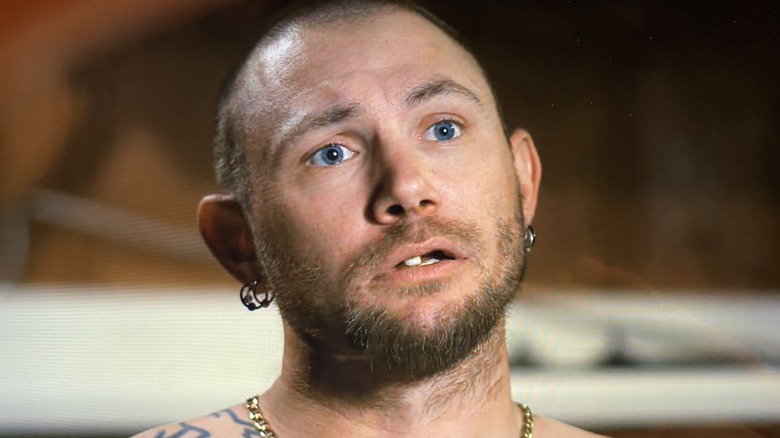 Netflix
In 2013, Joe Exotic and John Finlay became a throuple with Travis Maldonado. Their three-way marriage ceremony, which took place the next year, was featured on the "Tiger King" series. It may have seemed sincere on the show, but John Finlay has recently spoken out about this commitment ceremony and claimed that appearances were deceiving.
Finlay told The Sun newspaper that his 2014 wedding to Joe Exotic and Travis Maldonado was "a fake wedding." The event "was basically a publicity stunt, so Joe could get his own reality TV series." Around this time, Finlay's relationship with Exotic started to crumble. He had begun a relationship with a woman who worked at the park's front desk (via Oxygen). When she became pregnant, Finlay left Exotic. In the documentary series, Exotic mentioned Finlay's 2014 exit, saying that "he left me for a girl. I can't compete with that." Exotic and Maldonado stayed together until Maldonado's untimely death in 2017.
Since leaving Exotic, Finlay has cleaned up his act and got new teeth. He also worked on getting his famous tattoo about Exotic changed. He went to marry his current wife, Stormey, who he met on a dating app (via The Sun). "My wedding was the happiest day of my life," he explained. "I had no idea what it is like to marry your rock, your soulmate." He now works as a welder and no longer has any contact with Joe Exotic. Exotic is currently in prison on a 22-year sentence.