The Scary Truth About Tina Fey's Facial Scar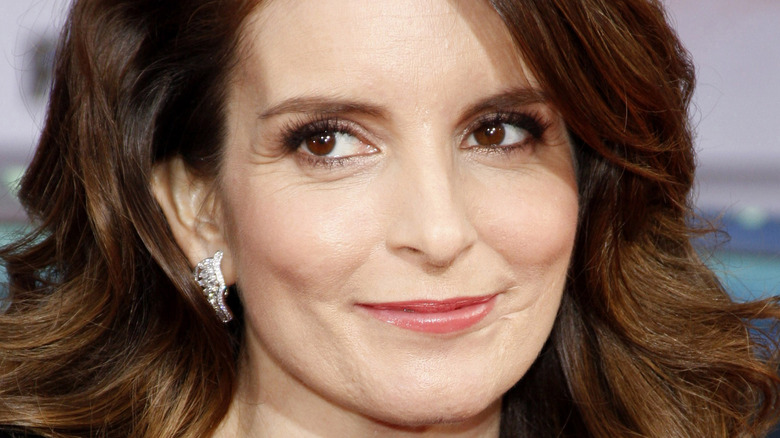 Tinseltown/Shutterstock
Tina Fey has been one of the top names in comedy for the past 20 years, having made a name for herself first by being head writer at "Saturday Night Live," and then by showing off her comedy chops performing on the show. She later co-hosted the show's spoof news segment, "Weekend Update," first with co-host Jimmy Fallon, then with co-host Amy Poehler. Following her stellar career on the NBC late-night comedy staple, Fey went on to win critical acclaim via her sitcom "30 Rock," based loosely on aspects of her old "SNL" job. These days, Fey is still writing, making movies, and leaving her mark on the comedy world.
Born as Elizabeth Stamatina Fey, Biography writes, the Pennsylvania native has always considered herself a nerd. She went on to study drama at the University of Virginia and moved to Chicago after graduating. Fey then joined The Second City, a well-known comedy training center. There, she perfected her comedic skills and was eventually scouted by SNL. By 1999, Britannica states that Fey had become the first female head writer in "SNL" history. Soon after, she joined the show's onscreen cast.
Britannica explains that Fey left "SNL" in 2006 to work on "30 Rock." However, she briefly returned in 2008 to impersonate vice presidential candidate Sarah Palin. Beyond her television work, Fey has starred in several popular films, including "Mean Girls," "Baby Mama," and "Date Night." In 2011, she published her autobiography, "Bossypants," in which she discussed the story behind her noticeable facial scar (excerpted at The Real Story Behind Tina Fey's Scar).
A stranger attacked Tina Fey when she was a little girl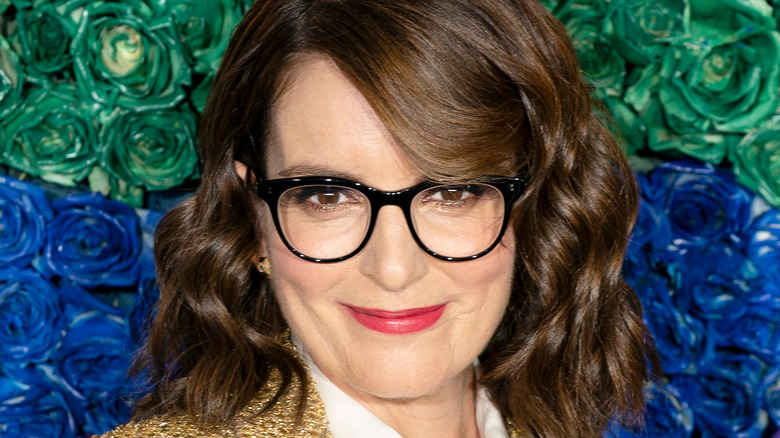 Ovidiu Hrubaru/Shutterstock
Throughout her career, Fey has borne a scar on her face, barely visible to anyone not looking for it. And though at first she steadfastly refused to discuss it with anyone for any reason, as Vanity Fair reports, she did finally open up about the injury in 2009 and later in "Bossypants." As it turns out, the comedian was a victim of a random act of violence as a small child, and she still bears the literal scar from it. When she was in kindergarten, a then-5-year-old Tina Fey was playing in the alley behind her Upper Darby, Pennsylvania home when a random stranger attacked her and sliced her face (via People).
At the time, she didn't think much of it, as her husband, Jeff Richmond, later explained. "She just thought somebody marked her with a pen," he noted — though, of course, it was far worse. Fey's parents, however, got their daughter into therapy — not unexpected when a child is a victim of a violent crime — but Fey, who described herself as a "very confident little kid," failed to "go crazy," as her therapist predicted might happen.
She forgot about the injury until she started appearing on camera. As Rare notes, Fey wrote in "Bossypants" that her assailant has never been found or arrested. More than four decades after the incident took place, police have no suspects. As for Fey, the only way in which the scar seems to affect her is in her preference for the camera to photograph her from her right side.
Tina Fey felt like her scar made her special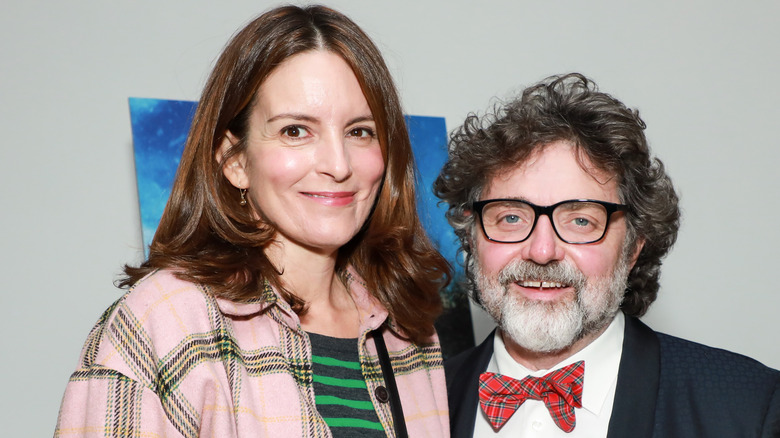 Jason Mendez/Getty Images
According to Rare, Fey never brought up her scar or the traumatic story behind it simply because she did not want to publicize the incident. However, she did write in "BossyPants" that the scar made her a minor celebrity in her hometown of Upper Darby. Fey wrote that the neighborhood kids knew who she was because of it and that adults treated her kindly. She added that she didn't realize until later that this was more because they pitied her and less because they believed she was an exceptional child. Nonetheless, Fey feels like the scar boosted her self esteem instead of deflating it.
Her husband, Jeff Richmond, added to this sentiment and praised his wife. He told Vanity Fair, "I think it really informs the way she thinks about her life. When you have that kind of thing happen to you, that makes you scared of certain things, that makes you frightened of different things, your comedy comes out in a different kind of way, and it also makes you feel for people." In "Bossypants," Fey also wrote about how people constantly ask her about the scar and that she doesn't mind telling the story except when they tell her that its "beautiful" or if they ask if it resulted from a cat scratch.
Fey is not the only celebrity with a notable scar. Glamour reports that Queen Latifah, Carrie Underwood, and Padma Lakshmi all have visible scars. While Latifah and Underwood's are located on their face, Lakshmi's runs down her arm.