What Gypsy Rose Blanchard's Life In Prison Is Like
In June 2015, Dee Dee Blanchard was found stabbed to death in her home (via Buzzfeed). Authorities quickly turned their attention to finding her daughter, Gypsy Rose Blanchard, who was nowhere to be found. According to All That's Interesting, this was not an ordinary missing person case. Gypsy Rose was wheelchair-bound, had cancer, and a variety of other life-threatening illnesses that rendered her defenseless. Dee Dee had dedicated her life to being Gypsy Rose's sole caretaker and provider. Who could have possibly done this to a disabled person and their mother? To everyone's relief, Gypsy Rose was found shortly after. She was fine. In fact, she was more than ok. 
Gypsy Rose was walking — and shockingly — appeared to be healthy. It's then that she made a disturbing confession; her mother had feigned everything and she wasn't ill, not even a little bit. Even more distressing? Biography reports that Gypsy Rose had joined a dating site and met Nicholas Godejohn. She told him the truth about her mother's deception and they soon devised a sinister plan — she asked Godejohn to kill her mother for her so that the pair could be together. He agreed, and Godejohn traveled from Wisconsin to the Blanchards' home in Springfield, Missouri to commit the act. For her role in her mother's murder, the then 24-year-old received a 10-year sentence in 2016. Godejohn was sentenced to life in prison after being convicted of first-degree murder. 
Gypsy Rose Blanchard gained freedom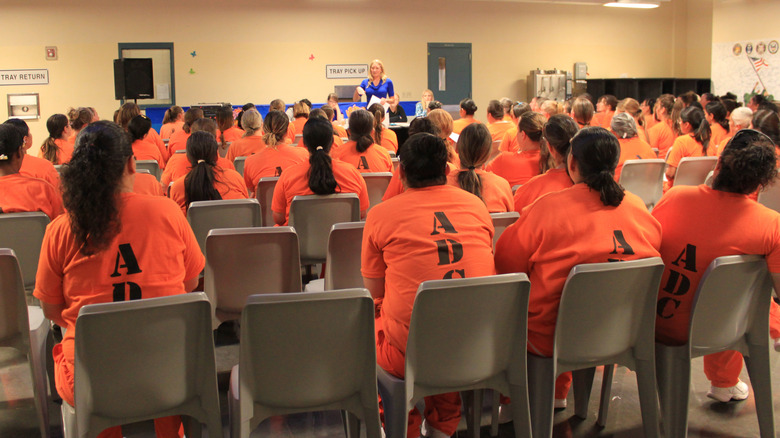 Rebekah Zemansky/Shutterstock
According to Buzzfeed, it became clear to investigators that Dee Dee was suffering from Munchausen by proxy. In other words, she had falsified her daughter's illnesses and disabilities for "attention and sympathy." Gypsy Rose was a victim of abuse. 
Per, All That's Interesting, she and everyone else, including her father, were led to believe that Gypsy Rose had a chromosomal disorder, muscular dystrophy, and was mentally challenged. Biography states that it was also believed she had seizures, needed a feeding tube, and much more. Gypsy Rose's mother had essentially held her hostage for her entire life.
Now in prison at the Chillicothe Correctional Center in Missouri, Distractify reports that Gypsy Rose Blanchard is living her best life. She has been making friends and working towards her GED. She famously said that 10 years in prison was better than 10 more years with her mother (via E! Online). Ironically, Gypsy Rose feels that prison has given her the freedom she has always wanted and she can live what she calls as a "normal woman." 
In addition, she has formed a stable relationship with her father and stepmother (per A&E). In 2019, People announced that she was engaged to a pen pal she had communicated with for over a year. They plan to get married when Gypsy Rose is released from prison. She will be eligible for parole in 2024 when she is 33 years old.