1887 Time Capsule Unearthed Below Robert E. Lee Statue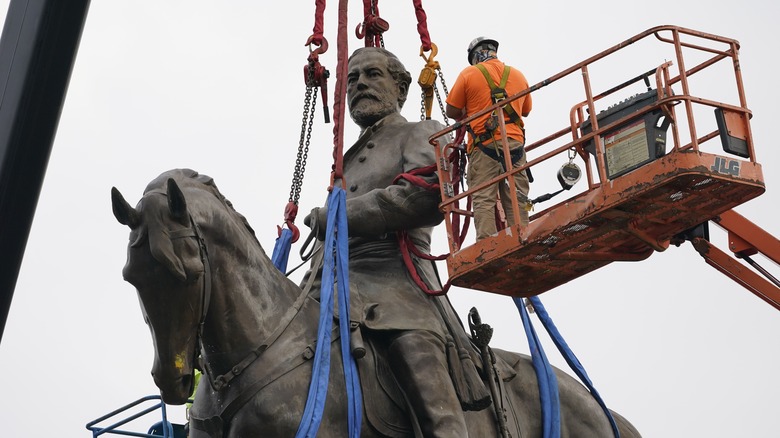 Pool/Getty Images
In Richmond, Virginia, a tremendous discovery has been made beneath a statue of Confederate General Robert E. Lee. A time capsule from 1887 had been lodged in the statue's pedestal, according to an Associated Press report (via ABC News). The statue had become the focus of controversy, as General Lee is seen by many as a symbol of the Confederacy and the inherent racism of that era. According to National Public Radio, the statue was the largest Confederate monument in the country. A legal battle ensued over removing it, and the Virginia Supreme Court finally cleared the way in September 2021 to take it down.
Once approval was given to remove the statue, work on its removal began quickly. And the search for this time capsule was on. The capsule is likely to contain 60 items contributed by 37 local residents (via CNN). From newspaper reports dating back to the time of its creation, many donated items may be some form of Civil War or Confederacy memorabilia. While the statue was removed in September, workers weren't even able to find it on their first attempt at searching the 40-foot-tall pedestal made of granite block (via ABC News). 
The time capsule took weeks to uncover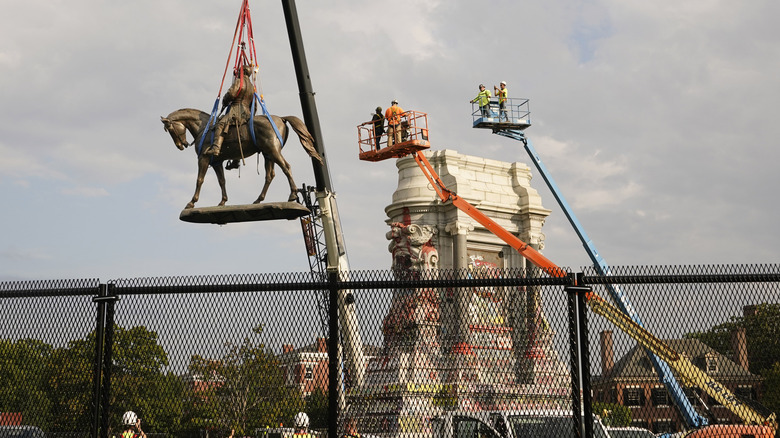 Pool/Getty Images
The time capsule was eventually found in a 2,000-pound block on December 17, and conservators with the Virginia Department of Historic Resources started working on opening it a few days later, according to the Associated Press (via WTVR). "We're trying to be cognizant of the fact that this box is also an artifact, so we don't want to just cut it open," explained Katie Ridgeway, the lead conservator. Virginia Governor Ralph Northam was on hand to lift the lid once the conservators finished opening the box (via WRIC). Three books, an envelope, and a coin were found inside. Sadly, all of the paper goods seem to have been damaged by water and moisture over the years. One book is clearly marked as an almanac from 1875, and another is "The Huguenot Lovers: A Tale of the Old Dominion" by Collinson Pierrepont Edwards Burgwyn (via ABC News). "It's an important day for the history of Richmond and Virginia," Governor Northam said.
After this trip into the past, Governor Northam has his sights set on the present. In a press release posted on his website, he announced that a new time capsule will be installed at the statue site. He asked Virginia residents to suggest what kind of artifacts should be included in the new time capsule. Speaking about the new time capsule, Northam said, "And one day, when future generations look back at this moment, they will be able to learn about the inclusive, welcoming Commonwealth that we're building together."