Tragic Details Found In Leon Wilkeson's Autopsy Report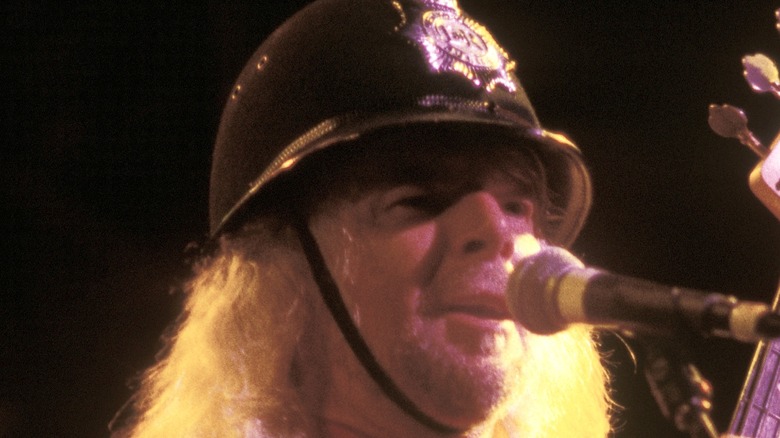 John Atashian/Getty Images
Leon Wilkeson, known as "The Mad Hatter of Southern Rock," was the bassist of the rock band Lynyrd Skynyrd. He was one of the survivors of the plane crash that took the lives of three band members — frontman Ronnie Van Zant, guitarist Steve Gaines, and backup vocalist Cassie Gaines — in 1977. The survivors had extensive injuries, and Wilkeson reportedly had a broken arm and leg, as well as internal trauma. While on the operating table, his heart stopped twice, but he was able to survive. Per Ultimate Classic Rock, Wilkeson's arm injury was so severe that amputation was considered at one point. After his recovery, he had to learn how to play the bass guitar a different way, as the range of motion on one arm was limited. Wilkeson and the remaining members of the band took a break from the spotlight to recuperate after the harrowing accident.
In 1987, Wilkeson reunited with Lynyrd Skynyrd band members. The revamped band was welcomed by fans, and they embarked on a tour. Tragedy struck again when guitarist Ed King found Wilkeson with his throat slit inside the tour bus, as reported by Rock and Roll Paradise. Fortunately, he was immediately rushed to the hospital to receive medical attention and was able to go back on tour with the band. However, to this day, no one knows what happened on the bus and who was responsible for cutting Wilkeson's throat.
Leon Wilkeson's death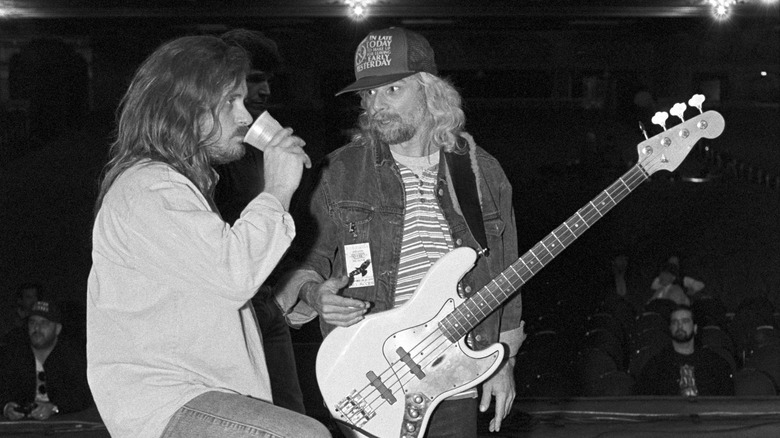 Tom Hill/Getty Images
In July 2001, Leon Wilkeson was in Florida attending to a DUI charge and taking a break from the band's tour. He was checked in at the Sawgrass Marriott Resort & Beach Club. It was there where he was found dead in his room on July 27. According to a Billboard report, he died of natural causes in his sleep. The medical examiner reported that Wilkeson suffered from liver and lung disease at the time of his death. Toxicology tests were also ordered to determine whether there were drugs in his system at the time.
Before his death, Lynyrd Skynyrd was scheduled to go on a tour. However, the performances were canceled due to Wilkeson's untimely death. He was only 49 years old. As reported by Rolling Stone, Wilkeson was buried at the Evergreen Cemetery in Jacksonville. His family requested supporters to make contributions to the Musician's Assistance Program instead of giving flowers. The program provides counseling about different issues including depression, stress, anxiety, and relationships.
After the plane crash in 1977 that killed Lynyrd Skynyrd band members, Ronnie Van Zant's widow allowed the band to still use the Lynyrd Skynyrd name as long as there were at least three original members that made up the group. However, Wilkeson's death left Lynyrd Skynyrd with only two long-time band members. After Wilkeson's death, Lynyrd Skynyrd continued to play with Ean Evans as the replacement bassist per All Music.
Details of the autopsy report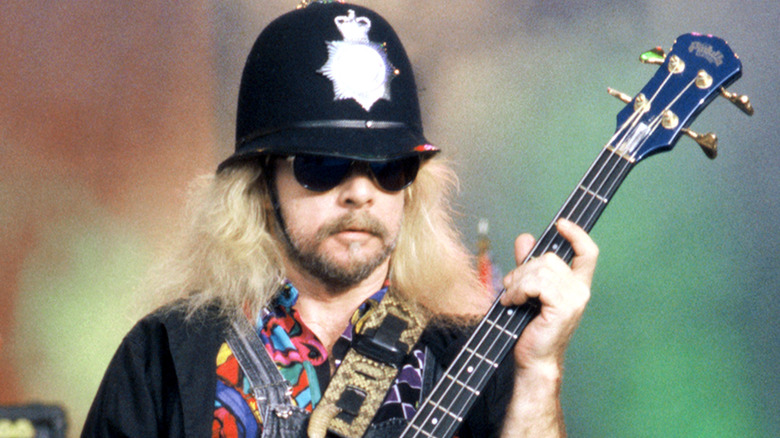 Tim Mosenfelder/Getty Images
When emergency responders arrived at the hotel room, they found Leon Wilkeson face down on his bed, and upon inspection, his death was confirmed. He was declared dead at the scene, and early signs of rigor mortis had already set in. Wilkeson had reportedly been complaining that he wasn't feeling well before he was found unresponsive.
According to the autopsy report, Wilkeson's death was accidental and the official cause of death was listed as "complications of emphysema associated with positional asphyxia" (via Autopsy Files). He also had severe cirrhosis of the liver, which was attributed to his years of drinking alcohol. The report also stated that Wilkeson was prescribed medication for insomnia, chronic pain, as well as anxiety. Although the manner of death was accidental and the cause of death was found to be natural, there are some who believe that Wilkeson was murdered.
One of the people who believe that Wilkeson died under suspicious circumstances is Dale Bowman, who was his close friend and manager. In 2005, Bowman released a book titled "The Unsolved Murder of Lynyrd Skynyrd Bassist Leon Wilkeson," wherein he chronicled his friendship with the musician. The book also shares information on Wilkeson's death, including the bassist's behavior before his untimely demise. Readers are encouraged to come up with their own conclusions regarding Wilkeson's death after reading all the facts that have been presented in the book. Lynyrd Skynyrd's studio album titled "Vicious Cycle," which was released in 2003, included a song titled "Mad Hatter." The song was a tribute to Wilkeson and has lines that go, "Mad hatter's movin' on yea he's moving on / Well I will see you again one way or another / And now that you're there yeah say 'Hello' to our brothers."