Mixed Team Snowboard Cross: Everything You Need To Know Before Watching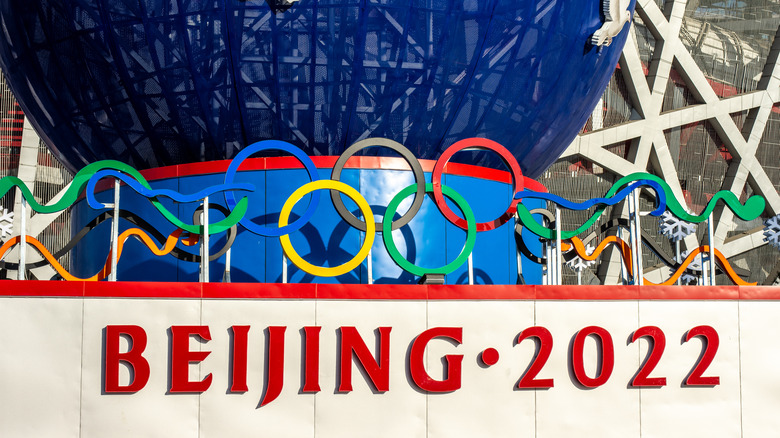 Mirko Kuzmanovic/Shutterstock
Officially, the Olympics come every two years, in four-year cycles. So, there will be a Summer Olympiad, followed two years later by the Winter Games, then two years later the Summer edition (back from its four-year cycle), and so on. This time around, however, the timing is slightly off thanks to the 2020 Summer Olympics having just been held a few months ago — delayed a year due to the Covid-19 pandemic.
Meanwhile, the world is gearing up for the 2022 Winter Olympics, scheduled to begin on February 4 (per the Olympiad's website). This year the event will include a new competition, which is not unusual for the Olympics. Over the decades, multiple sports have come and gone and even come back. The 2022 Winter Olympiad will see the introduction of a winter sport that has proved thrilling for fans and competitors in non-Olympic international events: Mixed Snowboard Cross, which has latched on to the already huge popularity of snowboarding-related events.
What even is mixed-snowboard cross?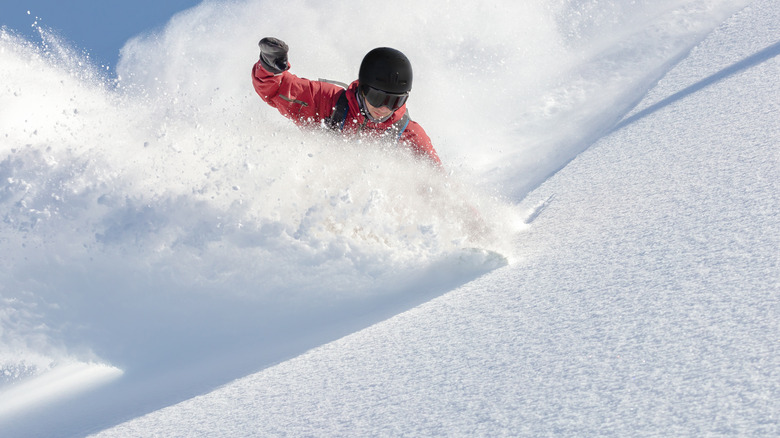 Wlad Go/Shutterstock
In most Olympics events, summer or winter, men and women compete in different divisions, and only in a few do they compete either directly against each other or as participants on the same team. Mixed snowboard cross, as FIS explains, is in the latter category: men and women participate on the same team, against other teams of mixed male and female competitors. According to U.S. Ski and Snowboard, the event is not unlike a relay race carried out on a track; one competitor launches from the starting gate, completes his or her portion of the race, and as soon as they cross the finish line, their teammate is released to finish the race. In this case, each team will consist of one male and one female competitor. Of course, it's not just a race down a hill or across a plain; expect big air from hills, high-banked turns, and multiple athletes all on the course at the same time, all vying for the best position, as explained on the Olympics website.
Whether or not this type of competition will be here to stay at the Olympics will be determined later, but a companion FIS report posits that Mixed Snowboard Cross is here to stay, if not necessarily at the Olympics, at other international winter sports events.
So far the Italians are looking good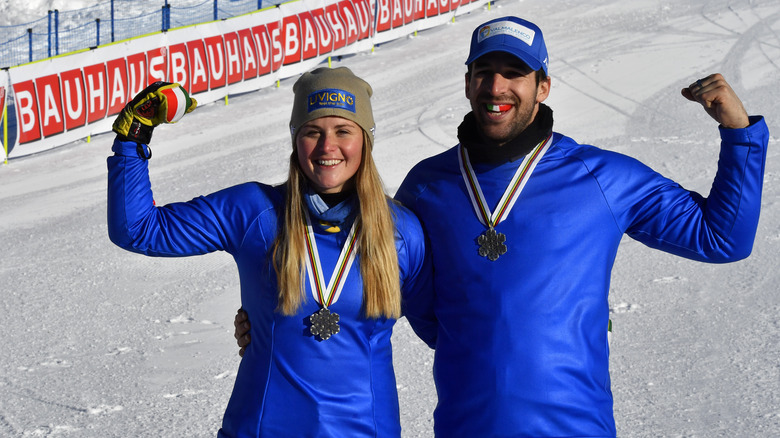 Nisse Schmidt/agence Zoom/Getty Images
As the event is so new, there hasn't really been time for any athlete, team, or nation to develop dominance in the sport, and as such, predicting who is in the best position to take home gold in Beijing is a bit of a fool's game at this point. However, as recently as a few weeks ago, an Italian team was looking like they have the goods. Specifically, as Inside the Games reports, Lorenzo Sommariva and Michela Moioli won the event at the 2021 season opener, held in December in Montafon, Austria. They had taken silver at the world championships.
As for the Americans, Team USA Snowboard cross Coach Peter Foley is optimistic. "We're in a good place. We won the Nation's Cup last season, which speaks to our depth ... Our riders are really progressing and are on their game. I'm excited about our chances ..." he said.