The Meaning Behind The 2022 Winter Olympic Slogan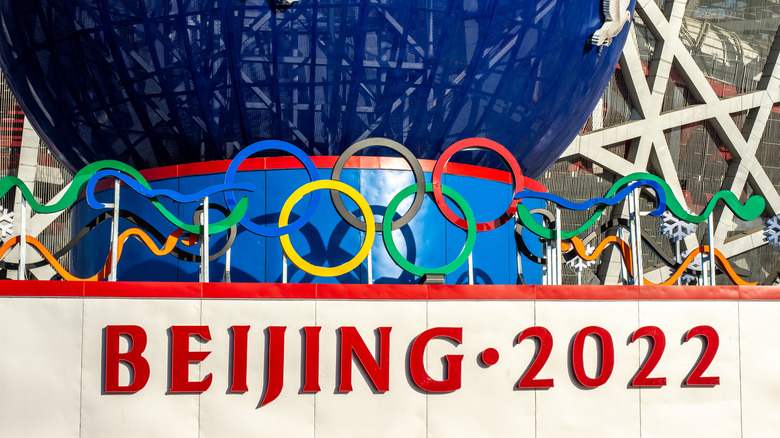 Mirko Kuzmanovic/Shutterstock
In September 2021, the Beijing 2022 Winter Olympics revealed its official slogan — "Together for a Shared Future" — in a ceremony that was held at the Capital Museum in Beijing. Choosing the perfect slogan that embodied the Winter Games was a long process that started in May 2021. In total, there were 79 slogan suggestions submitted, and it was reduced to 11. A panel of experts coming from different fields then selected the slogan that perfectly represents the spirit of the Olympics (via Olympics).
Beijing Mayor Chen Jining, who is also part of the Winter Olympics organizing committee, said this during the unveiling of the slogan, "At a trying time when the challenge of the COVID-19 pandemic is still upon us, the successful hosting of the Beijing 2022 Olympic and Paralympic Winter Games will encourage people from all the corners of the world to stand hand in hand to push collectively for a brighter future," per The State Council. According to the committee, the slogan was the best choice as it stands for the nations uniting amid trying times for the common goal of having a better future.
Beijing, China is the first dual Olympic city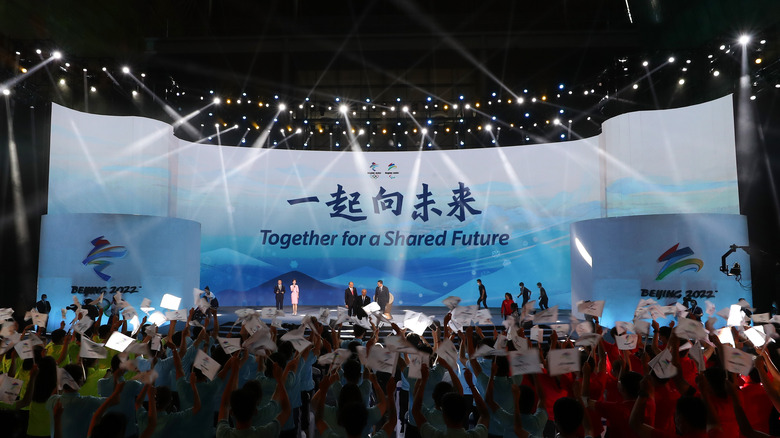 Emmanuel Wong/Getty Images
Beijing, China hosted the Summer Olympic Games in 2008, and with the upcoming Winter Olympics, it's the very first dual city to host both seasons, as reported by the Olympics. This fact was also taken into consideration when the slogan was chosen. In the 2008 Summer Olympic Games, the slogan was "One World, One Dream," and the Winter Olympic slogan "Together for a Shared Future" perfectly ties it up.
In addition to representing world unity, the slogan also encapsulates what the volunteers, organizers, and staff had to go through in order to prepare the city for the Winter Games during the pandemic. Liu Zhenghui, a 17-year-old Paralympian, said, "Inspired by the Olympic and Paralympic spirit, we will work together as a community with a shared future for mankind" (via Paralympic). The Winter Olympic slogan will be visible in all the game venues, as well as on the streets and Olympics merchandise in both English and Chinese.