Robert Durst's Death In Prison Explained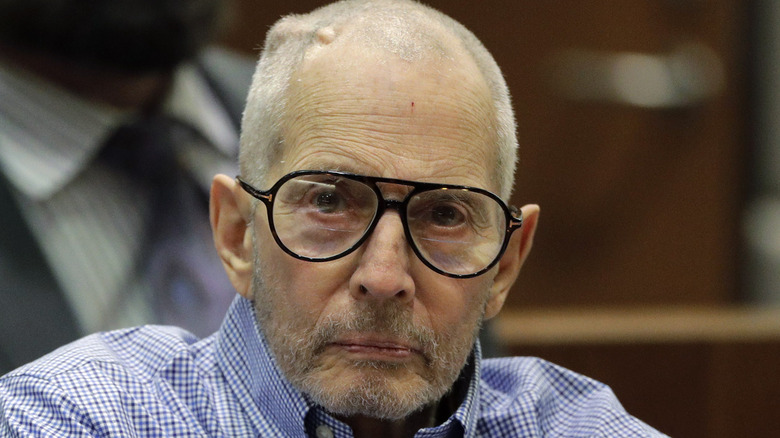 Pool/Getty Images
Disgraced tycoon Robert Durst has died at the age of 78 (via The New York Post). Born into a life of unimaginable wealth and privilege, he would later become a convicted killer. Durst's alleged criminal history began in 1982 when his wife, Kathie McCormack, disappeared. According to NBC News, the 29-year-old was three months shy of graduating from medical school when she up and vanished in New York. Although he admitted to marital problems, Durst always denied he had played a part in her disappearance. In 2017, her family declared her legally dead, and her body has never been found.
Nearly two decades after McCormack's disappearance, Durst's close friend and "confidante", Susan Berman, was found dead in December 2000 (per People). She had been shot execution style in the back of the head. Biography reports that investigators had been in touch with Berman regarding McCormack's case. Ultimately, it's believed Durst had murdered her over fears she would implicate him in his wife's disappearance.
Shortly after Berman's death, Durst was arrested for killing and dismembering his neighbor, Morris Black, in Galveston, Texas. He would be acquitted of the murder in 2003 under the pretext of self-defense. Though he continued to deny he had anything to do with Berman's death, he would be charged with her murder in 2015.
Robert Durst was serving a life sentence
Pool/Getty Images
In September 2021, People reported that Robert Durst was found guilty of first-degree murder in Susan Berman's killing. A month later, he was handed a life sentence for the crime (via the BBC). NPR writes that as a result, Durst was indicted for Kathie McCormack's murder in November 2021. The conviction in Berman's case had ultimately "reinvigorated" the investigation of her disappearance. His lawyer, Chip Lewis, later said he had doubts Durst would "make it" to trial as he had long been suffering from health issues while incarcerated.
This included being diagnosed with COVID-19 and bladder cancer (per The New York Post). Thus, Durst had been wheelchair bound for most of Berman's trial. Tragically, McCormack's family will never receive justice, as Robert Durst died in prison of "natural causes" on January 10, 2022. According to The Daily Beast, his lawyer confirmed the news and stated that there would be no further comments. Durst's brother, Douglas, made his own statement and said that Durst "lived a sad, painful, and tragic life" and hoped his death would "bring closure to the ones he hurt."