Inside Clark Gable's Friendship With David Niven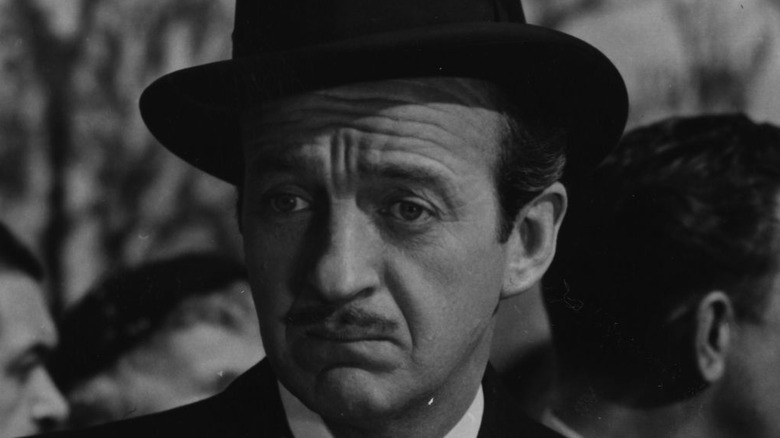 Hulton Archive/Getty Images
They were, and will always be, icons of Hollywood's golden age: David Niven (shown above), star of "The Pink Panther" and "The Bishop's Wife," the platonic ideal of the English gentleman, dapper and genial and often slightly confused; Clark Gable, immortalized in "Gone With the Wind" and "The Misfits," brawny and roguish with a commanding onscreen presence. Niven and Gable belonged to a fabled generation of actors, at a time when all the stars lived near each other in Los Angeles. All of them knew each other. But as The Music Hall reports, Niven and Gable were particularly good friends. 
Strangely, they didn't meet on a movie set. In 1934, Niven was still a relatively unknown actor, and to make ends meet he worked a variety of low-paid jobs between films. One of these was on a fishing charter, where he baited hooks for clients. (It wasn't his first unusual job. As The Guardian mentions, he had at one time tried to sell himself as a soldier of fortune in Cuba, only to be laughed out of the country.) When Gable came aboard one day, the two men got on famously. Gable encouraged the young unknown; Niven, for his part, stayed in touch, and when his big break came with the comedy "Raffles," the two stars and their wives became constant companions, playing golf, fishing, and partying with the likes of Humphrey Bogart, Vivien Leigh, Gary Cooper, and the rest.
Friends in grief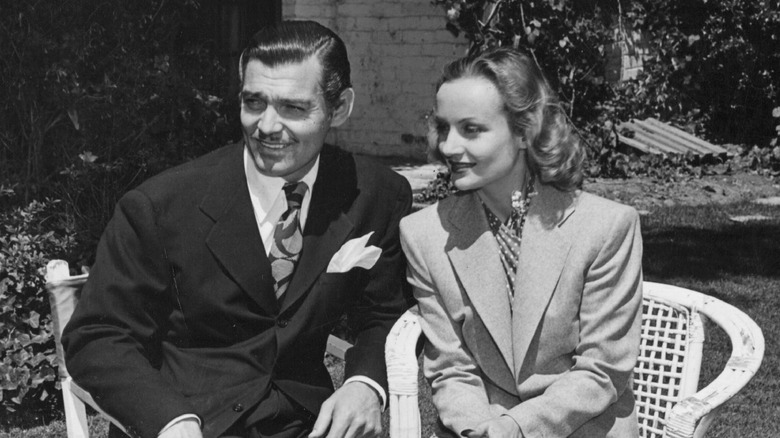 General Photographic Agency/Getty Images
But the strongest bond between Gable and Niven had nothing to do with acting or sport. Both men tragically lost their wives in the span of a few years, and relied on each other's emotional support to get through it.
At the time, Gable was married to actress and comedienne Carole Lombard (shown above). Lombard died in a plane crash in 1942, on her way home from an event in support of the U.S. war effort. Gable, reputedly, was overcome with grief. A few months after his wife's death, he joined the U.S. Army Air Corps himself, and in 1943 found himself stationed in England, quite close to where Niven — himself an officer in the British Army — was living with his wife, Primula Rollo.
"Primmie found him one evening on an upturned wheelbarrow in the garden," Niven would later write, "his head in his hands, weeping uncontrollably. She held the huge bear of a man in her arms and comforted him," relates The Music Hall. Three years later, at a party at Tyrone Powers' house, Rollo would take a wrong step during a game of "sardines," or hide-and-seek, tumbling down a staircase and damaging her brain. She died soon after. Gable reportedly stepped up to comfort his friend, as he had been comforted before.
The two widowed friends would quickly remarry, Niven in 1948 and Gable in 1949; neither marriage seemed as happy as the one that preceded it. A golden chapter in their lives had ended.