The Truth About The Longest Beard In History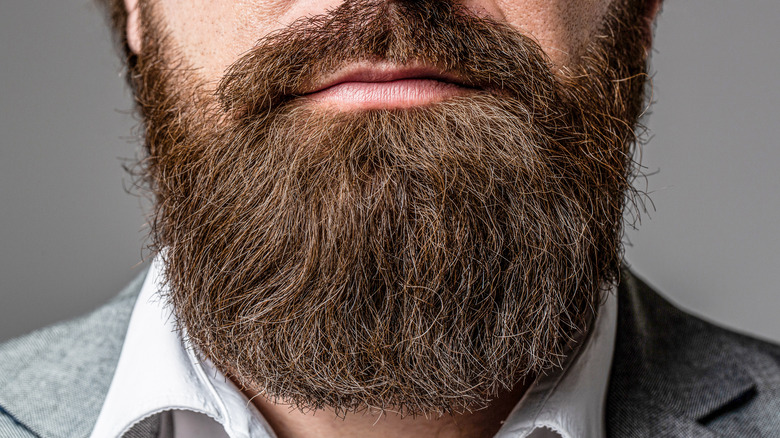 Body Stock/Shutterstock
Smithsonian's National Museum of Natural History houses millions of artifacts including minerals, fossils, and rocks. However, there are also some peculiar items in their collection, one of which is the longest beard in history. According to the Guinness World Records, the beard measures 17 feet, 6 inches. It was displayed for all to see at the museum's physical anthropology exhibit from 1967 up to 1991.
The longest beard in history belonged to a man named Hans Nilson Langseth, who was born in Norway in 1846 and emigrated to the United States together with his brothers. Langseth settled in a small city in Iowa called Kensett, which had a population of a few hundred people. According to ATI, Langseth decided to grow his beard out when he was just 19 years old in order to join a beard-growing contest, and he eventually stopped shaving. Langseth worked as a farmer, and when his wife died, he moved his family to Minnesota and continued his farming work. When he grew older, Langseth once attempted to cut off his long beard, but he stopped midway and decided that he couldn't let his effort go to waste (via Hans Langseth).
King Whiskers wins the title
Hans Langseth — also known as King Whiskers — was officially crowned the man with the longest beard in 1922. Back then, the group Sacramento Whiskers Club was established with the goal of honoring the California Gold Rush. Members of the club, who were known as Whiskerinos, dressed up in clothing to resemble gold miners and grew their beards, as reported by the Online Archive of California. The club held the contest for the longest beard, and Langseth was named the winner, with his beard measuring 17 feet; the second placer's beard measured only 12 feet. Along with the title, Langseth went home with a cash prize of $300, which is equivalent to almost $5,000 in today's money.
Although Langseth worked mostly as a farmer, there was also a time when he traveled with a circus to showcase his lengthy beard, but he eventually left after getting tired of people yanking it to test its authenticity (per Hans Langseth). Langseth died in 1927 and his final wish was to have his beard cut off and kept for posterity. When it was cut off, it reportedly reached 18 feet, but several inches were left on his chin. It was stored by the family for decades before his son donated it to the Smithsonian, where it is kept in storage to this day.