Dr. Dre Stole The Super Bowl Halftime Show In An Unexpected Way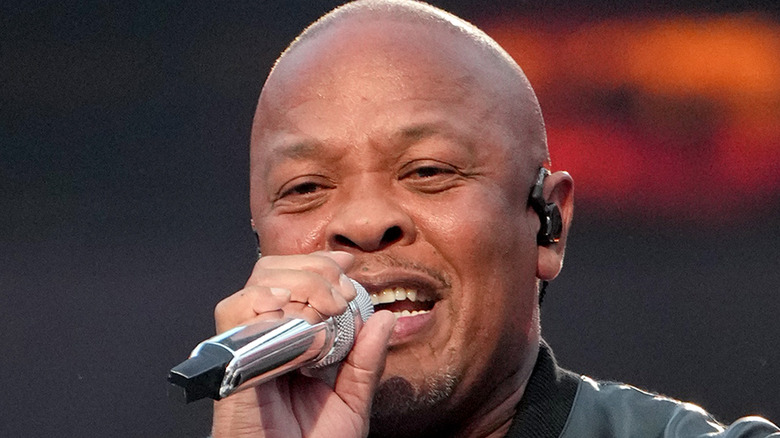 Kevin Mazur/Getty Images
Super Bowl LVI came down to the wire, ending with a victory for the Los Angeles Rams, the franchise's first Super Bowl victory while representing Los Angeles. Still, the part of the Super Bowl most people wanted to talk about the second the game went final — and even before that — happened without any players on the field. Well, except for Cincinnati Bengals kicker Evan McPherson, per The New York Post. 
The halftime performance during Super Bowl LVI was an unmissable event. The performance featured a lineup of big-name singers and rappers — Mary J. Blige, Kendrick Lamar, Eminem, and Snoop Dogg were among the star-powered Super Bowl halftime roster. Twitter lit up with opinions on the performance during and immediately after — because Super Bowl watchers definitely noticed that Dr. Dre did something really unexpected.
There were high expectations for the Super Bowl halftime show, arranged by producer and rapper Dr. Dre. Forbes reported that rapper Snoop Dogg was looking forward to a show full of living legends in 2022. "We've got the queen of R&B, we've got the king of hip-hop, we've got all of his protégés in the place. This is what it's about. This is what hip-hop and the NFL is supposed to be about: about representing, about change, about moving forward," he said at an NFL Press Conference a few days before the performance (via YouTube). As News Nation Now reports, Dr. Dre has produced or promoted almost all of the stars who performed.
Dr. Dre's short but heartfelt tribute
Gregory Shamus/Getty Images
In the lead up to the big game, there were rumors that the deceased musician Tupac Shakur would make an appearance at the Super Bowl 2022 halftime show via hologram. There was rampant speculation following an interview with radio hosts Sway Calloway and Heather B. on Access Hollywood (via Sports Illustrated). Calloway said, "There are some guaranteed surprises that are going to take place during this halftime. Dr. Dre has a connection to everyone."
It wouldn't be the first time that a hologram of Shakur was shown — the hologram performed in 2012 at Coachella, with Dr. Dre headlining that performance, reports Sports Illustrated. The performance sparked a heated debate about the ethical considerations of using hologram technology to display a deceased artist, as Billboard reports. In the years that followed, holograms of dead artists would be used in other performances including one of Michael Jackson at the 2014 Billboard Music Awards, while a hologram of heavy metal vocalist Ronnie James Dio would even go on a brief tour following its inaugural appearance at the 2017 Pollstar Awards.
So viewers everywhere were surprised when Dr. Dre played the opening bars of the Tupac Shakur song, "I Ain't Mad at Cha," during the 2022 Super Bowl halftime show performance. There was no hologram, just a quick piano segment. Dr. Dre instead stuck to musical performances with living artists, and performed some of his most crowd-pleasing hits, like "Still Dre" and "The Next Episode."
Dr. Dre's piano tribute was a surprise to some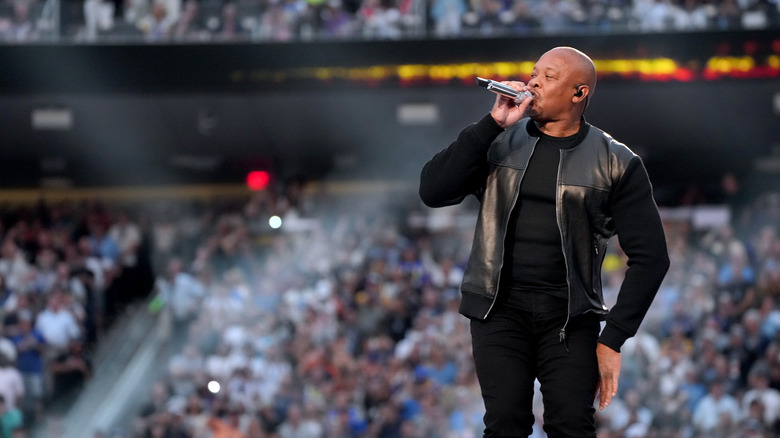 Kevin Mazur/Getty Images
Most musicians have a moment in time that they can point to as the one where they knew they wanted to become a musician. For some generations it was seeing The Beatles on "The Ed Sullivan Show," for others it was watching the video for Nirvana's "Smells Like Teen Spirit" on MTV. It seems as like the next generation of musicians may be able to point to the Super Bowl LVI Halftime Show with Dr. Dre sitting behind the keys as their moment of inspiration.
Actress Melanie Lynskey tweeted, "If my daughter becomes a piano prodigy, I'll be able to tell her that it all began when she pointed to Dr Dre during the Super Bowl halftime show and said 'I wish I could play pinano like this man!'" Another Twitter user, lilzoej, tweeted, "my son wants a piano because dr. Dre has one."
While many were surprised to see the legendary rapper and producer tickling the ivories, others pointed out that it really shouldn't have come as much of a surprise. Twitter user JDSugarbaker tweeted, "I want to be laughing at all the ignorant people saying 'Dr. Dre can play PIANO?' Like, the man is a multi talented genius ... but okay."
They're right. According to Biography Ninja, Dre's piano playing has been all over his work including in songs like "Overtime" and "Light Fluid." His instrumental abilities aren't limited to piano either, has he can reportedly play drums, guitar, synthesizer, and bass as well.