Fans Were Confused By Eminem's Appearance At The Super Bowl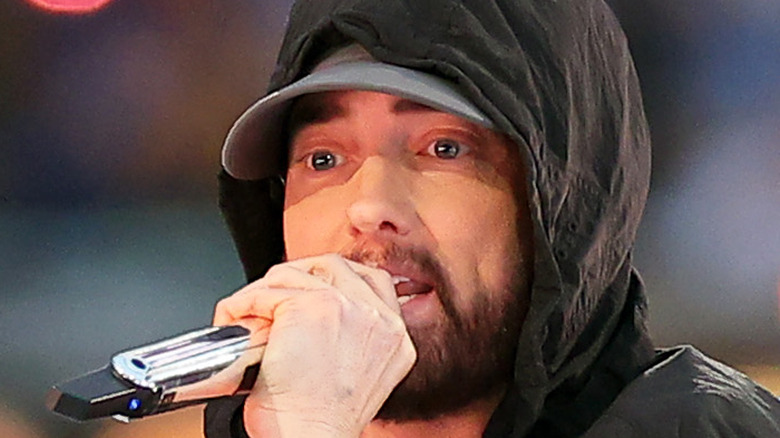 Kevin C. Cox/Getty Images
During Super Bowl LVI, as the Los Angeles Rams played the Cincinnati Bengals, top musicians took the stage for the much-anticipated halftime show. Rapper Eminem performed with other hip hop greats, including Mary J. Blige, Snoop Dogg, Dr. Dre, Kendrick Lamar, Anderson .Paak, and 50 Cent. He performed his now decades-old hit, "Lose Yourself," while Anderson .Paak played drums (via Billboard). 
While talking to radio host Sway Calloway, Eminem admitted that he was already nervous for the Super Bowl halftime show way before it even started. When Calloway asked how Eminem felt about performing on such a big stage, the rapper said in the interview on SiriusXM Radio (via YouTube), "I'm gonna tell you, it's f****** nerve-racking. This is like — to me, there's nothing more final than live TV." 
The halftime show was met with critical acclaim and featured a massive production with an elaborate set constructed in the middle of Los Angeles' SoFi Stadium. Still, the production values and immense star power on display weren't enough to draw some viewers' attention away from one little Eminem-related detail and, as Page Six reports, fans had a lot to say about the rapper's new look during his performance.
Fans can't agree on Eminem's newest look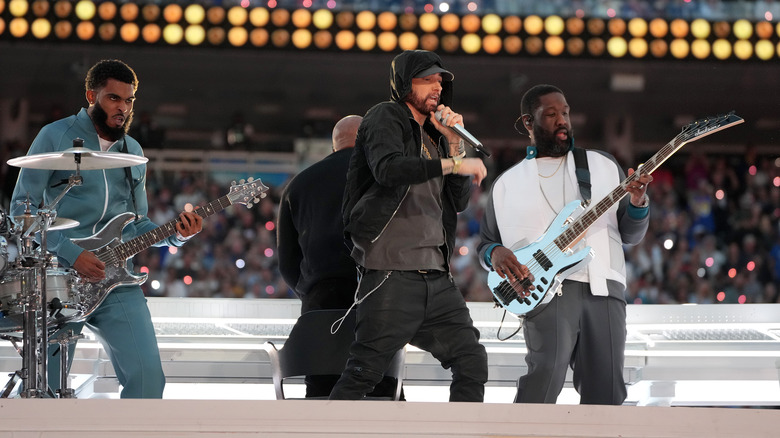 Kevin Mazur/Getty Images
Social media is always quick to respond in real-time to big events like the Super Bowl. Both social media users and news outlets alike quickly pointed out Eminem's prominent eyebrows, which could still be seen under the rapper's black hood and baseball cap. So folks on Twitter of course wanted to chime in on the performances and the fashion choices. As users celebrated Eminem's performance, some were intrigued by his newest look. One user speculated, "Omg he got his eyebrows microbladed!" Other tweets suggested the singer and rapper had simply used heavier makeup than usual. "Whoever filled in Eminem's eyebrows for the #HalfTimeShow used all of the eyebrow pencils in Ulta," said another user.
But fashion is subjective, and some fans really liked Eminem's new look — and complimented the darker brown shade of his beard, too. An Eminem fan Twitter account wrote, "I'm trying to figure out why #Eminem looks a little different and I think he tinted his eyebrows lol Man always looks fine!" One Twitter user said, "​​Eminem dying his eyebrows and beard dark brown ... a lewk!"
Others found themselves confused by the eyebrow confusion itself. In response to the Page Six article about Eminem's now heavily focused-on eyebrows, one Twitter user said, "Eye brows!? this was the most iconic homage to old school rap," before continuing, "Mary J Blige was so beautiful she sounded Amazing ! and people are worried about Eminem's eyebrows."
Eminem's eyebrows didn't overshadow his strong gesture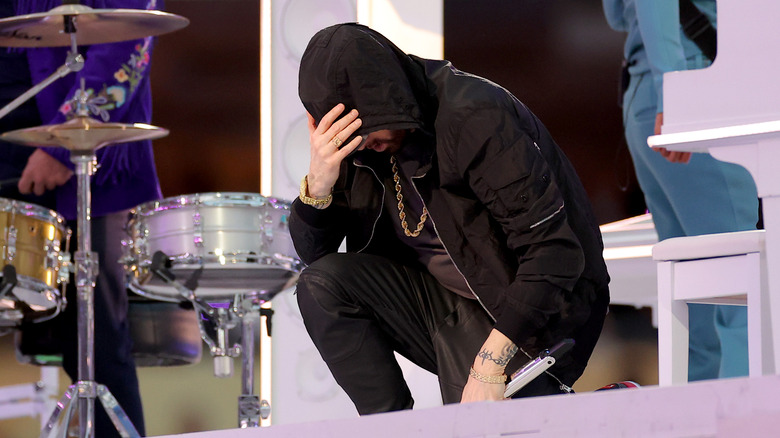 Kevin C. Cox/Getty Images
Even the fervor over the Detroit rapper's dark eyebrows wasn't enough to look past a strong message he made toward the end of his performance. After emerging from an upper-level of the halftime show set, Eminem launched into a blistering rendition of his iconic song "Lose Yourself." This was capped off by the rapper taking a knee as the focus shifted to Dr. Dre who was at this point seated behind a white piano.
Eminem taking a knee was an obvious nod to former NFL quarterback Colin Kaepernick, who was at the forefront of the movement to kneel during the United States national anthem as a form of protest against police brutality. According to The Detroit Free Press, this may have been done against the wishes of the National Football League. However, USA Today journalist Mike Freeman tweeted that he had been told by NFL spokesman Brian McCarthy that this notion was untrue, and that the league representatives had been at rehearsals where taking a knee was included in each run-through.