The Fashionable Way Buddy Holly Inspired Elton John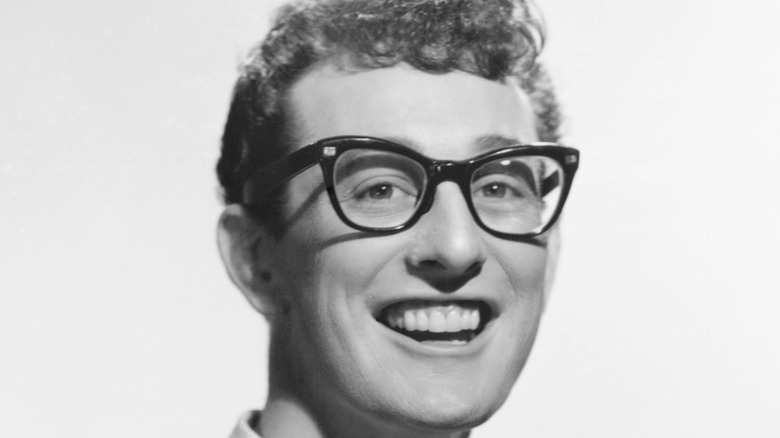 Michael Ochs Archives/Getty Images
British singer Elton John has been in the music industry for decades, and aside from his vocal chops and his amazing skills on the piano, he is also known for his flamboyant style that consists of vibrant colors, glitter, and feathers. Since his break into the music industry in the late 1960s, he has become a fashion icon, donning suits, jumpsuits, and costumes that not everyone appreciated. As reported by Ace Showbiz, John admitted that some of the clothes he wore were "ridiculous," but he didn't care what people thought. "In some of the costumes I wore, I probably did make a fool of myself," he stated.
One of the accessories that John is always seen wearing is a pair of glasses. According to the singer, he started wearing them when he was just 13 years old as a testament to one of his idols — Buddy Holly. Holly rose to stardom in the 1950s and was at the peak of his career when he tragically died in 1959 at 22 years old (via Biography). Holly's pair of black-rimmed eyeglasses became part of his style, but it was worn out of necessity. At first, the singer opted for contact lenses, but he had difficulty wearing them for more than an hour at a time. It was then that he decided to just stick with his prescription glasses in order to see the audience clearly when he performed, per Texas Monthly.
Elton John's countless pairs of eyeglasses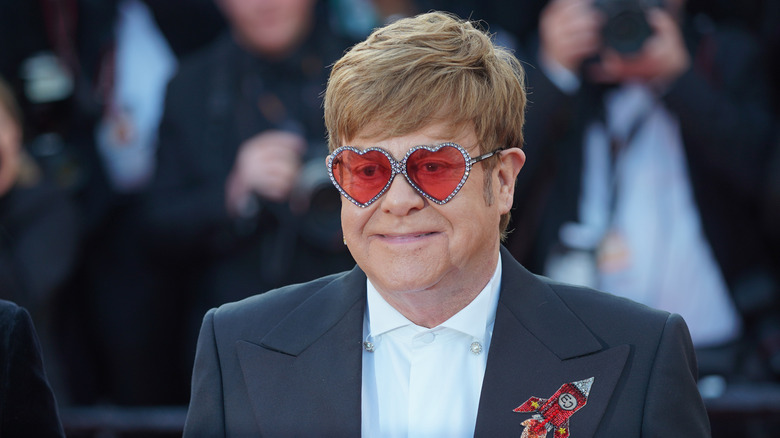 Denis Makarenko/Shutterstock
Elton John didn't have the need to wear eyeglasses at first, and he just wanted to be like Buddy Holly. However, as time passed, he soon realized that he could no longer see clearly without them. Through the years, John has been seen wearing different pairs of glasses with various shapes, designs, and colors. And just like Holly, it has become part of his persona. In an interview with BBC Radio 2, as reported by Music News, John admitted that he prefers spending on eyewear rather than gadgets. "I don't have an iPod or a mobile phone or a computer. I do have a quarter of a million pairs of glasses but I don't even have a mobile phone!" the singer shared.
In 2021, John released his own eyewear line in collaboration with Walmart and Sam's Club. Per Variety, four collections were released: The Foundations Collection, The Formative Years, The Working Musician, and The Master Collection. Each collection features several sunglasses, reading glasses, and prescription glasses that come in various styles. He stated that there's something for everyone in the collection. "It's not just about glasses, it's about changing the way people see themselves," John said in a statement.