The Expensive Promise Stevie Nicks Made To Herself After Joining Fleetwood Mac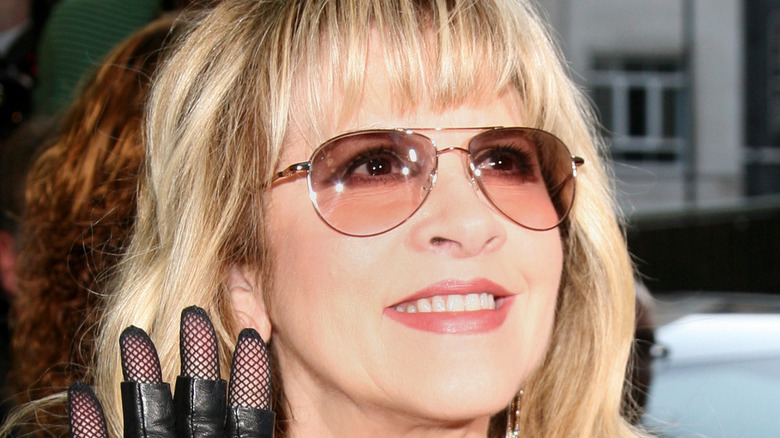 Featureflash Photo Agency/Shutterstock
Stevie Nicks became successful as the lead singer of the rock band Fleetwood Mac before finding a solo career. The American songstress, born on May 26, 1948 as Stephanie Lynn Nicks, readied for life on the road as a music star during her childhood, said Stevie Nicks Info. Her father relocated the family often, and they lived in Arizona, New Mexico, Texas, Utah, Illinois, and California. Those experiences infiltrated her future work in the song "Candlebright," from the 2001 "Trouble in Shangri-La" album: "Well, you know me, I'm a nomad. / I can't feel bad about the way I am. / I've been rolling around my whole life," sang Nicks.
Before becoming a member of Fleetwood Mac in 1975, Nicks worked various jobs — in customer service, as a waitress for Bob's Big Boy, and as a house cleaner. But music was her destiny. As a young girl she enjoyed singing and took guitar lessons, according to In Her Own Words. She wrote her first song on her 16th birthday. Her parents supported her passion. "My granddad was a country and western singer, and he left his family and took freight trains and traveled all over, playing in bars and supporting himself by playing pool," said Nicks to Interview, quoted by In Her Own Words. "So my mom and dad though, 'Well, there she goes. She's gonna walk down the same road as her grandfather.' And luckily, I became a bit more successful than he was." That success allowed Nicks to keep a promise to herself.
Finding fame and fortune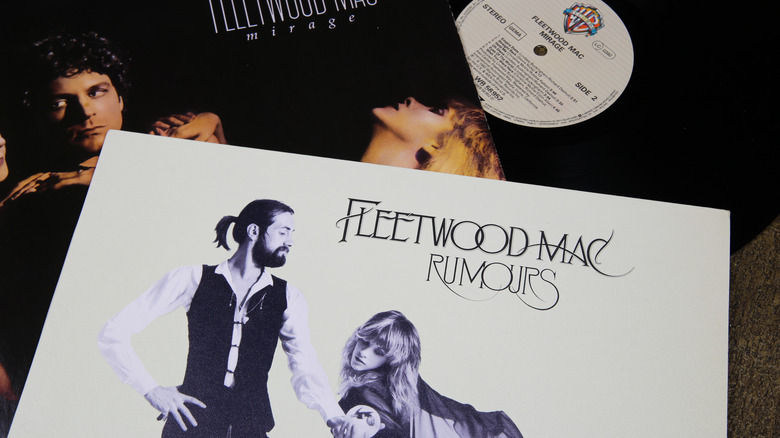 Ralf Liebhold/Shutterstock
Nicks, who is worth about $120 million, according to Celebrity Net Worth, made not only a fortune, but also a name for herself; she's the only woman invited to join the Rock & Roll Hall of Fame twice — as a member of Fleetwood Mac in 1998 and as a solo artist in 2019. As a songwriter, Nicks also succeeded: in December 2020, she received $80 million for an 80% interest for her music's copyrights.
Nicks worked with Lindsey Buckingham prior to joining Fleetwood Mac. The two met as students at Menlo-Atherton High School in California and also went to San Jose State University together. Nicks joined Buckingham's psychedelic rock band Fritz in the late 1960s, and the group opened for musicians such as Jimi Hendrix and Janis Joplin. The band ended in 1972, but Nicks and Buckingham's partnership continued. They created a 1973 album as Buckingham Nicks before joining Fleetwood Mac in 1975. The group's 1997 effort, "Rumours," became the year's best-selling album, selling about 40 million copies worldwide. It stayed number one on the American charts for 31 weeks, and won Album of the Year at the 1977 Grammy Awards. Five other albums followed.
Initially, when Buckingham and Nicks considered joining Fleetwood Mac, Buckingham was unsure. Nicks, tired of never having enough money, said, "Lindsey, we're starving to death here. If we don't like them we can always leave,'" according to Showbiz CheatSheet. Their new salary of $200 a week helped their relationship and finances.
Nicks never looked twice again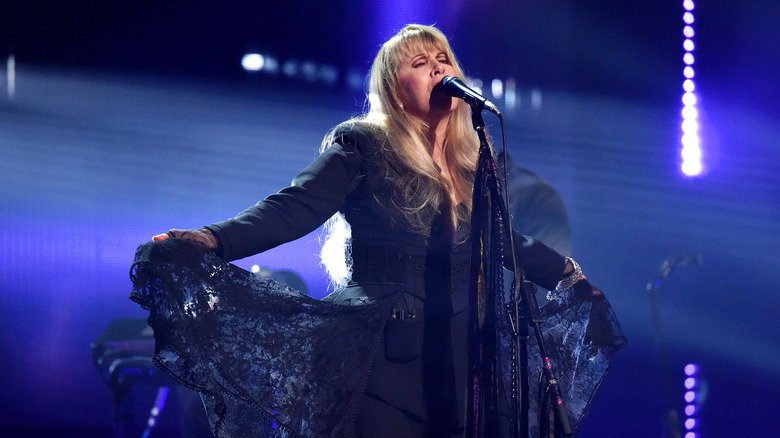 Kevin Mazur/Getty Images
Nicks and Buckingham, who were dating at the time, moved into an apartment on Hollywood Boulevard. "Things were better between us," said Nicks, quoted in Showbiz CheatSheet. "We weren't fighting about money, we had a really nice place, and we were going to work with these hysterically funny English people every day, making great music."
Suddenly the two had money — so much of it that they didn't know what to do with it all. "I had hundred dollar bills everywhere," Nicks said in "Gold Dust Woman: The Biography of Stevie Nicks," by Stephen Davis. "And since we hadn't spent any money in five years, we didn't even know how to spend money. I was putting hundred dollar bills through the wash and then finding them all crumpled and bleached out, and then hanging them on the line with the rest of our stuff."
It was then that Nicks made a promise to herself — that she'd never look at a price tag again. And she hasn't. While touring she got a taste for gourmet foods and drinks, only imbibing on certain vintages of champagne, said another another Showbiz CheatSheet article. Even today, she opts for high-end products. "I use Crème de la Mer at night. I can afford it," she said in the publication. Even in her 70s, Nicks remains a fashion icon, according to the The Guardian, still garbed in the shawls and top hats she popularized in the '70s and '80s ... and the price tags remain unimportant.