This Former Bandmate Says 98% Of Pam And Tommy Is A Lie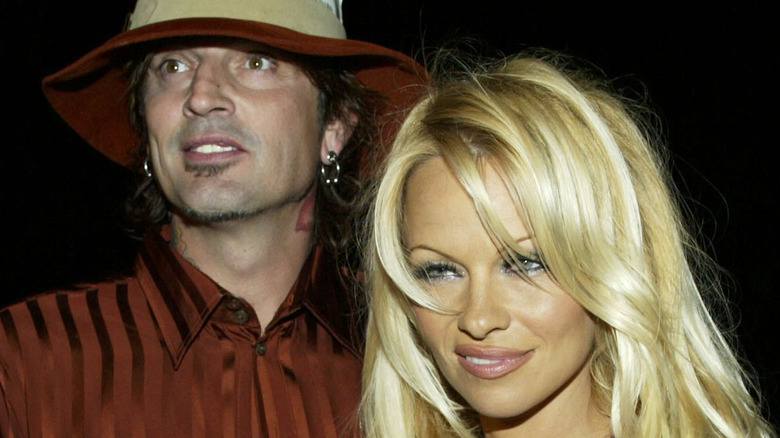 Frederick M. Brown/Getty Images
Hulu's "Pam & Tommy" miniseries is a dramatized retelling of the '90s-era sex tape scandal that turned the lives of then-married Mötley Crüe drummer Tommy Lee and Playboy model and actress Pamela Anderson upside down. Parts of the show stick close to the facts, such as how Lee and Anderson first met in Cancun, and the rest of their whirlwind courtship (Lee, for example, did lick Anderson's face before the couple were introduced, per Pop Sugar). But now, Mötley Crüe frontman John Corabi, the band's lead singer when the original frontman Vince Neil took a break in the mid-'90s, has declared that parts of the show are made up, via LoudWire.
The real Lee and Anderson sex tape was stolen by an electrician, Rand Gauthier, who was doing work on Tommy Lee's home at the time. Lee, played by Sebastian Stan, angered Gauthier by refusing to pay the bill for the project. In return, Gauthier, played by Seth Rogen, stole several personal belongings from Lee, including the infamous sex tape, according to USA Today. When Gauthier realized what he had, he brought the tape to the real-life porn producer Milton Owen Ingley, known as "Uncle Miltie," played by Nick Offerman. The notorious footage was then released on VHS tape before going viral online.
Up to that point the show sticks fairly close to the facts. But the presentation of Mötley Crüe's fading relevance in the '90s? That's where Corabi takes exception.
John Corabi didn't like The Dirt, either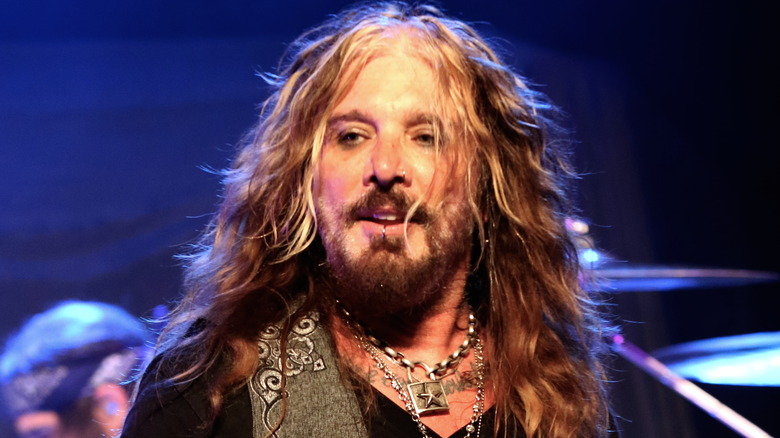 John Atashian/Getty Images
This isn't the first time that Corabi (above), who sang for Crüe from 1992 through 1996, has griped about how his former band is portrayed onscreen. In 2021, he had this to say on "The Metal Summit" podcast (posted on YouTube), referencing the Mötley Crüe biopic called "The Dirt": "The portrayal in the movie, it was pathetic. It really made it look like I was really pissed when [the band is seen] basically walking into a high school gymnasium to, like, eight people." Regardless of what the ticket sales were like while Corabi sang for Crüe, "[I]t was never that bad," Corabi continued. "So I just kind of took it as a little bit of back-handed compliment — not even a compliment; it was like an insult ... At the end of the day, I didn't appreciate it" (via Blabbermouth). 
Covering a similar period in time, Episode 5 of "Pam & Tommy" shows Stephan Jenkins from the '90s-era alternative rock band Third Eye Blind confronting Lee and the rest of his band in the studio, which Jenkins confirmed never happened (per Variety). "Mötley Crüe and I've never been in the same studio," Jenkins said, and in fact, at the time when the show "Pam & Tommy" takes place, he had never even heard of the band, nor had he ever watched "Baywatch," in which Anderson starred. Although the fictional Third Eye Blind-Mötley Crüe tiff effectively demonstrates the declining career of Corabi's band in the '90s, with his firsthand knowledge, Corabi thought it took things too far.
Pam and Tommy is '98%' fiction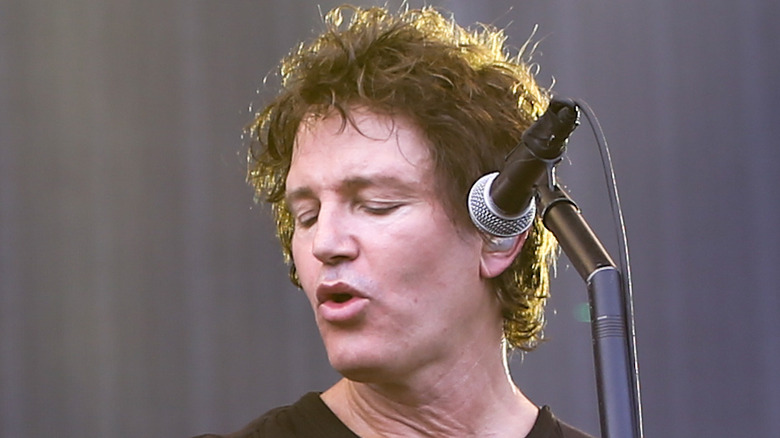 Debby Wong/Shutterstock
But it's not just the Third Eye Blind scene that sent former Mötley Crüe singer John Corabi to Twitter. (Third Eye Blind singer Stephan Jenkins is pictured above.) It was also the over-the-top performance of Sebastian Stan in the role of Tommy lee. "I shared 5 years of my life with Tommy and although it was at times INSANITY it's sooooo [sic] overblown in this S*** they call TV entertainment! Tommy never walked around in a Speedo, didn't act at all they way they portray him," Corabi tweeted. But it's really the fictionalized encounter with Third Eye Blind that sent the rock singer over the edge.
""Ok.... just my opinion here on something that's been bugging me. The Tommy And Pam miniseries on Hulu, is so full of b*******, it's ridiculous!!!! I can honestly say about 98% of this 'FICITIONAL' [sic] take on T&P's life is CRIMINAL," Corabi's Tweet began. Later he added, "I see that THIRD EYE BLIND 'bumps' us from a studio, because they're more relevant???? DID NOT HAPPEN...!!!," before he concluded, "Apparently, HULU, and all involved in this crock of s*** don't care about how Pam may feel to have to relive this. Or how Tommy's new wife may feel. Or how about Tommy's boys seeing this completely overblown story about their parents!!! Shame on EVERYONE involved," he concluded, signing off with middle finger emojis. Pamela Anderson doesn't approve of the show, either (via The Guardian).