The Touching Way Joe DiMaggio Paid Tribute To Marilyn Monroe After Her Death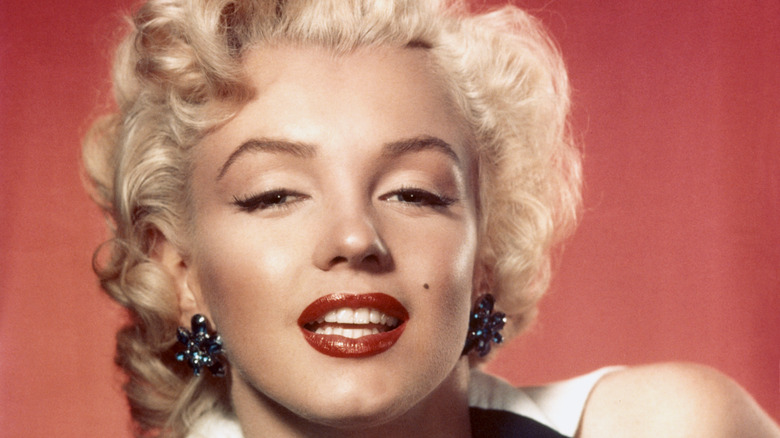 Michael Ochs Archives/Getty Images
According to History, in 1952, famed Yankees baseball player Joe DiMaggio and actress Marilyn Monroe were set up on a date by a mutual friend. Although they appeared to be from completely different worlds, the pair hit it off. According to Biography, Monroe later stated that she and DiMaggio had similar goals. Both wanted children and a happy home. DiMaggio had only recently retired from baseball and was ready to settle down. Monroe's career, however, was on the rise. Despite these differences, they married on January 14, 1954 in San Francisco, DiMaggio's hometown. The marriage would only last nine months (via Life).
Cracks began to appear on the couple's honeymoon in Japan when Monroe was asked to perform in Korea for American soldiers. The New York Post alleges that DiMaggio was controlling and physically abusive. He did not want his new wife to be a movie star; he wanted her to be a housewife. DiMaggio also vehemently disapproved of Monroe's sex bomb status.
PBS reports that the newlyweds violently argued as DiMaggio became provoked by jealousy. In the end, Monroe's iconic dress scene in "The Seven Year Itch" threw him over the edge. After an intense row, Monroe filed for divorce in October, 1954, citing mental cruelty. Nevertheless, this was not the end of DiMaggio and Monroe's relationship.
Joe DiMaggio planned Marilyn Monroe's funeral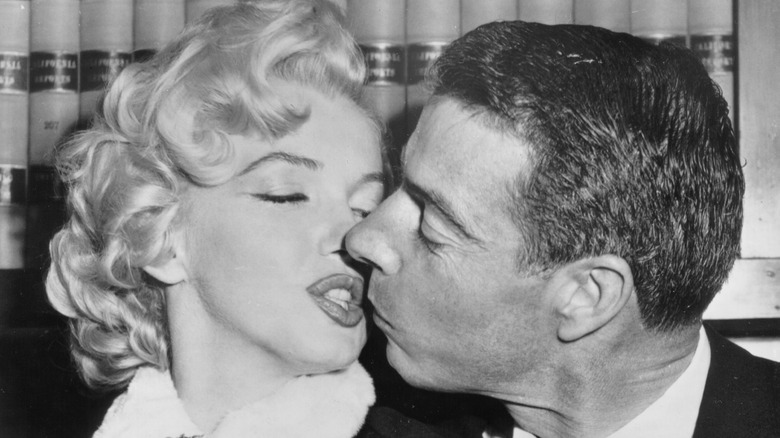 Michael Ochs Archives/Getty Images
After their divorce, Life writes that DiMaggio never remarried. Marilyn, however, quickly moved on and in 1956 she married playwright Arthur Miller (via Biography). Like her marriage to DiMaggio, the relationship was chaotic and short-lived (per History of Yesterday). Monroe and Miller divorced in 1961, leaving her in disarray. She was involuntarily admitted to a psychiatric hospital soon after, per New York Post. Monroe called none other than her ex-husband, DiMaggio, to secure her release. He attempted to provide her with stability as her life continued to spiral out of control. This prompted a reconciliation of sorts and the exes became good friends. 
According to PBS, DiMaggio told friends that he planned to remarry Monroe. Sadly, this never happened; Marilyn Monroe died at the age of 36 on August 5, 1962 from a drug overdose (via History). As she had no family, DiMaggio stepped in to plan her funeral. He identified her body and designed the plaque on her crypt. Ultimately, he prohibited Hollywood's elite from attending her modest funeral, as he blamed them for Monroe's downfall.
For the next two decades, DiMaggio sent roses to her grave twice a week, until his own death. Showbiz Cheatsheet explains that Monroe had allegedly told DiMaggio years before that she wanted him to deliver flowers weekly to her grave, as actor William Powell had for Jean Harlow.
DiMaggio died March 8, 1999. His last words were reportedly, "I'll finally get to see Marilyn."