How Many Times Has Hugh Grant Been Arrested?
Tinseltown/Shutterstock
Hugh Grant played a role in the 1980s and '90s formerly occupied by the likes of Tyrone Power and occasionally David Niven. That is, he played the dashing English gentleman, romantic with a dash of cold blood, in movies that seem vaguely exotic in the United States and other countries not intimately familiar with the soggy, sunless, anaphrodisiac island of Britain. Imperially slim with electric blue eyes and a crisp accent, Grant won a BAFTA for Best Actor in the 1994 comedy "Four Weddings and a Funeral," and has racked up accolades for other classics of the genre, like "Notting Hill" and "Bridget Jones' Diary" (via IMDb). He has also proved himself an able period-piece actor, starring in "The Remains of the Day" and an adaptation of "Sense and Sensibility," among others.
He seems, in short, the last person you'd expect to meet in the holding cell of your local police station. But Grant has been there twice, in two different countries.
Acts unbecoming a gentleman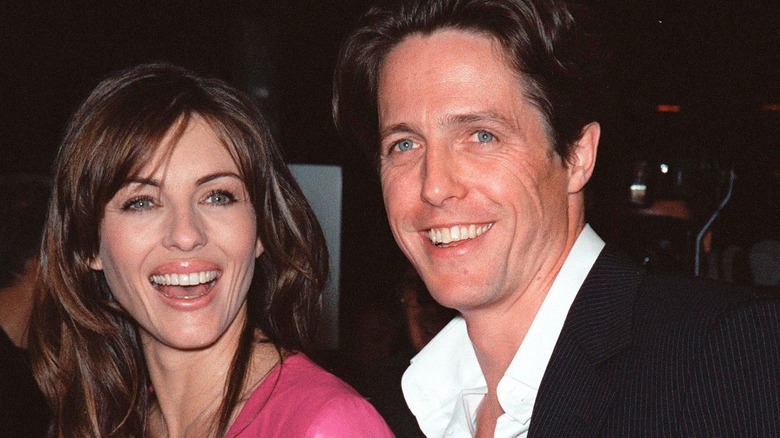 Featureflash Photo Agency/Shutterstock
In 1995, Hollywood tabloids ran wild with the news that Grant, in a relationship with Elizabeth Hurley (seen above) and adored by women everywhere, had been caught paying for sex. As the Guardian reports, Grant picked up a prostitute named Estella Thompson — otherwise known as Divine Brown — on Sunset Boulevard in Hollywood. He offered her $60 for oral sex in his car, an act interrupted by a policeman, who arrested the superstar for "lewd conduct." The maximum sentence for this misdemeanor was jail time, but a judge fined Grant $1,000 and ordered him to take an AIDS awareness course (the AIDS crisis was still raging).
Why did he do it? Apparently, he was so ashamed of his own performance in the comedy "Nine Months" that he drank too much at its first screening. Full of ugly emotions, and having drowned his better judgment, he went out looking for a suitably miserable encounter (via the Independent). He would tell Jay Leno that "I've done an abominable thing... [Elizabeth Hurley has] been very supportive, and we're going to try to work it out."
Crimes of passion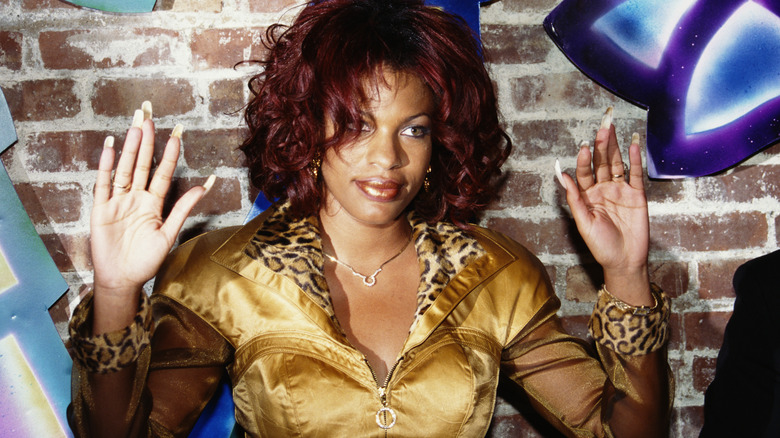 Michael Brennan/Getty Images
Divine Brown (shown above) took rather the opposite approach to her sudden fame, informing the press that Hugh Grant had confided his sexual fantasies to her, and generally gloating over her conquest. After a jail term for parole violations and a $100,000 check from a tabloid for the scoop, she would follow Grant to the U.K., and find some limited success in the world of TV soft porn, per the Guardian.
That rather squalid chapter of Grant's life finally ended, and he got on with his life. But the lewd conduct charge was not his final arrest. Reuters reports that Grant was arrested again in 2007 for a crime of passion of a different nature. A paparazzi photographer named Ian Whittaker went to Grant's West London house to try to snap a picture of him. Grant came outside enraged, kicking Whittaker and swearing before hurling a tub of baked beans at him. The "baked beans incident" earned him his second arrest.