What Was The Last Movie Richard Burton Starred In Before He Died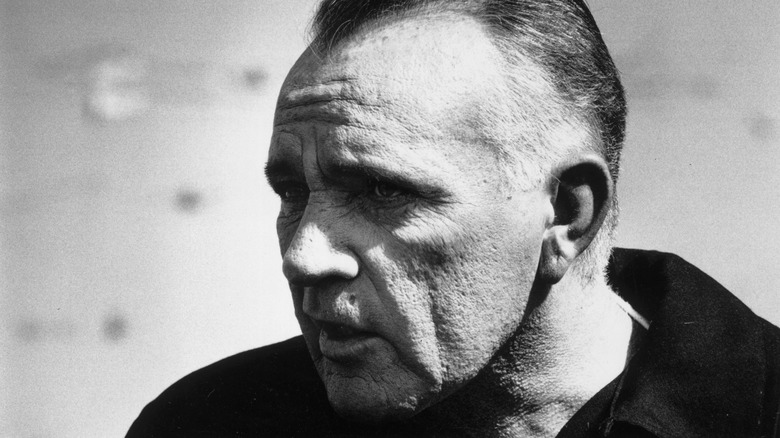 Len Trievnor/Getty Images
Richard Burton stood on equal footing to the likes of Marlon Brando, Sidney Poitier, and Paul Newman — becoming one of the most famous actors of the 1950s and '60s. However, Burton's unstable behavior (reportedly stemming from alcohol abuse) and his volatile relationship with actress Elizabeth Taylor became as much a part of his legacy as his acting achievements (via The Famous People).
Burton's self-destructive lifestyle finally caught up with him by 1984, when he was forced to move to Switzerland in a self-imposed tax exile. Married for the fifth time to make-up artist Sally Hay, Burton finally succumbed to a cerebral hemorrhage at the age of 58-years-old. The Washington Post called Burton, "one of the finest and most troubled actors of his generation."
His final film was an adaptation of George Orwell's dystopia novel, "1984," with co-stars John Hurt and Suzanna Hamilton. Hurt had actually been with Burton days before his death and told reporters the actor was in "good form" before his health deteriorated. Burton joined the production six weeks into shooting taking the role of O'Brien, after Sean Connery turned down the role, Rod Steiger's plastic surgery didn't go well, and Paul Scofield suffered a broken leg (via Den of Geek). Desperate, director Michael Radford asked Burton, who accepted. Radford crossed his fingers and hoped Burton's vices would not appear while filming.
Richard Burton's alcoholism led to other health issues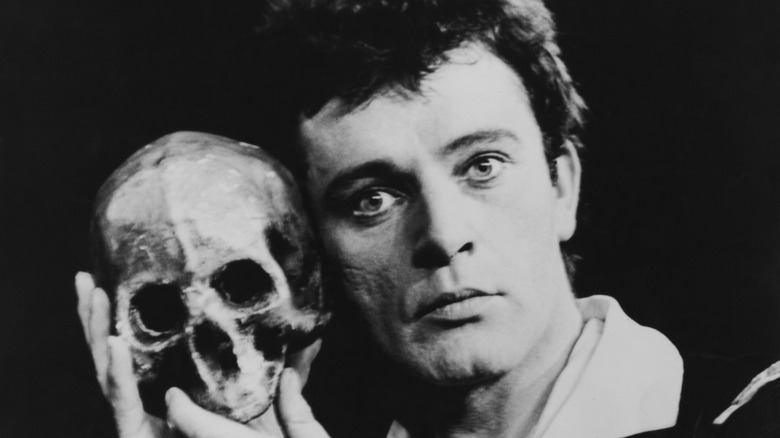 Keystone/Getty Images
The list of health issues that Richard Burton suffered from was enough to make Charles II look like Cal Ripken Jr. According to The Famous People, Burton suffered from arthritis, dermatitis, cirrhosis of the liver, and kidney disease — problems that were linked to his alcoholism. 
As The Washington Post reports, when Burton turned 50-years-old, he said, "I rather like my reputation, actually. That of a spoiled genius from the Welsh gutter, a drunk, a womanizer; it's rather an attractive image." It was this lifestyle that made director Michael Radford hesitant to cast him in "1984" (via Den of Geek). After numerous hospitalizations from his alcohol addiction, many close to him said that he had overcome his vice to the bottle, and during the filming of "1984," Radford said Burton mostly drank Diet Cokes while filming. His brother and journalist, Graham Jenkins, said the last time he saw his brother was two weeks prior to his death, and that he was "in tremendous form," (via The Washington Post).
Elizabeth Taylor still had feelings for Richard Burton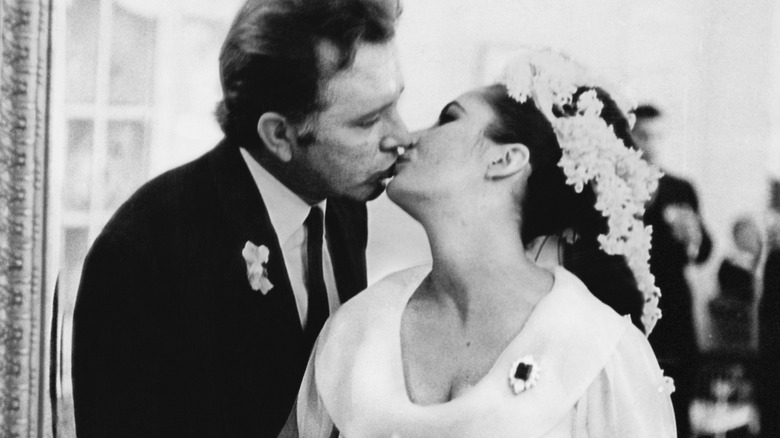 William Lovelace/Getty Images
In spite of all his acclaim and awards, Richard Burton's legacy as a pop culture icon is forever linked with his ex-wife, actress Elizabeth Taylor. According to Biography, the two stars met on the set of the film, "Cleopatra," where Taylor and Burton played Cleopatra and Mark Antony, respectively. Despite both being married when they met, the pair fell madly in love and divorced their spouses to be together, tying the knot in 1964.
The tabloids followed the couple's relationship as they continued to work together throughout their marriage. However, both actors were gripped with substance abuse issues and volatility. They divorced in 1974, only to remarry a year later, and then the second and final divorce came in 1976. In 1982, Burton attended Taylor's 50th birthday celebration, and the next year, they starred in the Broadway production of "Private Lives," playing a divorced couple that reconnects while on separate honeymoons, as The Washington Post reports. It was Burton's last theater performance. 
Taylor did not attend Burton's funeral or memorial. She claimed that Burton had written her a love letter shortly before his passing and told Vogue in 2000 that she still loved Burton when he died and she believed he still loved her (via Biography).