The Story Behind Moe's Surprising Childhood Haircut From The Three Stooges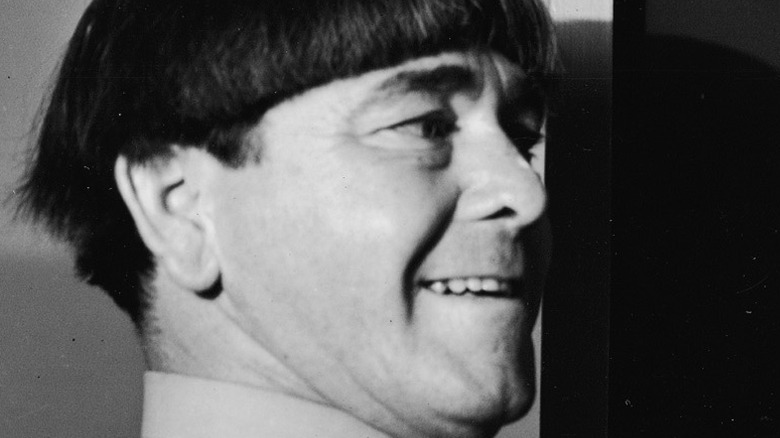 Hulton Archive/Getty Images
For decades, the "core" of the Three Stooges were Moe (Howard), Larry (Fine), and Curly (Howard), although over the years, other members would come and go. However, one man who was with the Stooges from its vaudeville beginnings until the bitter end in the TV era was Moe (real name: Moses Horowitz, per Britannica).
All of the Stooges had signature looks, in particular when it came to their hair. Curly was bald, Larry was bald in the front and on the top while sporting an unruly mop of curls on the sides and back, and Moe wore an unattractive bowl cut. Howard was so associated with that cut that he continued to wear it in later Three Stooges shorts, even in his 60s.
As it turns out, Moe's look wasn't a random choice he made when he went into show business. Rather, it was the result of a childhood incident that he carried with him into adulthood.
The bowl cut precedes Moe by centuries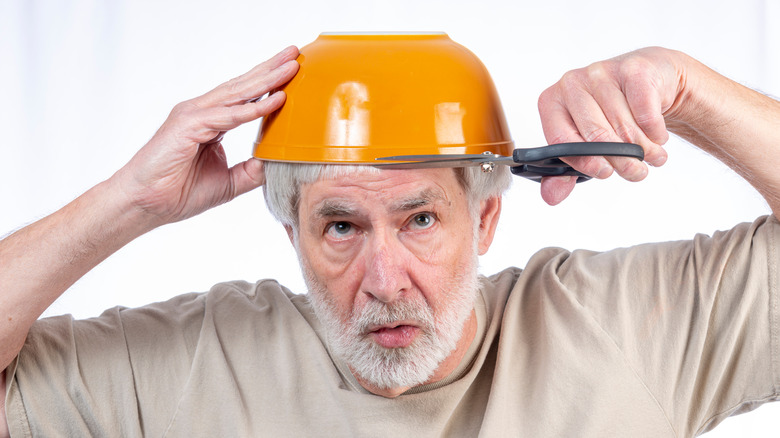 Carolyn Franks/Shutterstock
Moe Howard was neither the first nor the only person to wear a bowl cut. According to Fashion Encyclopedia, the style was big in Europe between the 12th and 15th centuries. It was done by simply placing a bowl on the cuttee's head and slicing around the rim. It worked for both the religiously pious, who didn't want to spend money on elaborate hairstyles, and for the poor, who couldn't afford to pay a barber.
The haircut's association with poverty meant that it eventually went out of style. To this day, people rarely wear it unless they absolutely have to. That, or they're wearing it ironically and/or for comedic purposes. For Moe, the haircut came out of a botched attempt at cutting his own hair as a small child, and it became part of his signature look when he went into show business.
The original Curly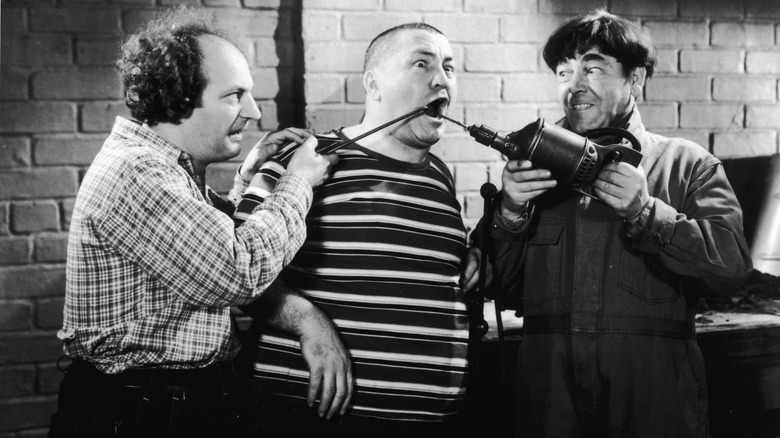 Hulton Archive/Getty Images
Although one of his comedy partners went by the stage name "Curly," Moses Horowitz himself was quite the curly-haired young lad, according to the book "The Three Stooges Scrapbook." His mother adored her son's long curls and had always wanted a girl. She let Moses' curly hair grow to shoulder length. Unfortunately for a boy in his time and place (which is to say, a hardscrabble Brooklyn neighborhood at the turn of the century), having shoulder-length curly hair wouldn't do, and he caught hell from the other boys in the neighborhood. "I used to fight my way to school, in school, and back home from school," he said of those days, via Closer.
Fed up with the teasing, one day Moe took a bowl and a pair of scissors to his head and, for better or for worse, his signature look was born. However, there was still the matter of dealing with his mother, but fortunately, it all worked out. As Cool Men's Hair explains, fearing the worst, young Moses hid out for a few hours, causing his parents to panic. When he did turn up, they were so relieved to see him safe and sound that they didn't mention his hatchet job on his hair.