Gilbert Gottfried's Relationship With George Takei Explained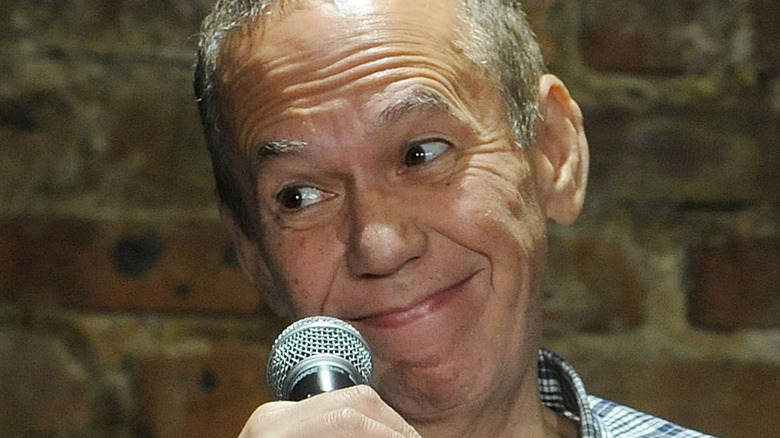 Bobby Bank/Getty Images
On April 12, it was announced that stand-up comedy legend Gilbert Gottfried had died after battling a long illness. His family released a statement on the late comedian's Twitter account: "We are heartbroken to announce the passing of our beloved Gilbert Gottfried after a long illness. In addition to being the most iconic voice in comedy, Gilbert was a wonderful husband, brother, friend and father to his two young children," the statement read. "Although today is a sad day for all of us, please keep laughing as loud as possible in Gilbert's honor." People was able to confirm through Gottfried's publicist that his official cause of death was Recurrent Ventricular Tachycardia due to Myotonic Dystrophy type II. It isn't clear when the comedian was diagnosed with the illness, but according to medical experts, it's a condition that progresses slowly, and symptoms typically begin showing between 20 to 30 years old. The illness causes an irregularity in the heartbeat, and it can also affect other muscles in the body. 
Gottfried was the latest comedian to die since the midway point of 2021, along with fellow comedians Norm Macdonald, Louie Anderson, and Gottfriend's close friend, Bob Saget. Gottfried's death took many fans, fellow comics, and friends by surprise, with many expressing their admiration for the notoriously blue comedian. Among those who posted about the comic on social media include Jason Alexander, Kathy Griffin, Jeff Ross, Jonathan Freeman, Mark Hamill, and "Star Trek" actor George Takei.
George Takei's career as an actor and activist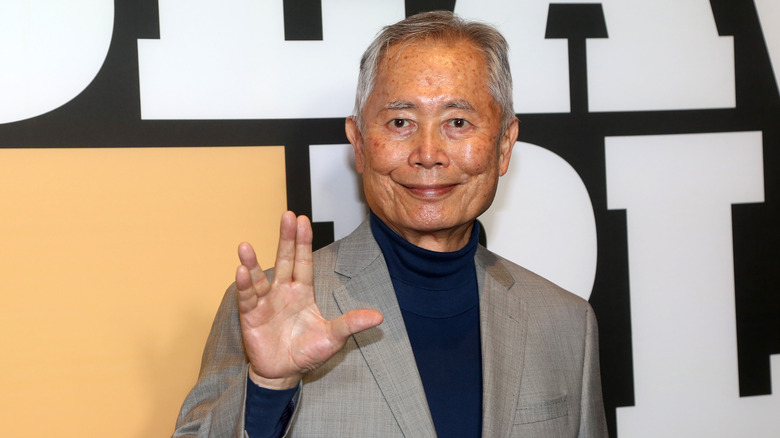 Bruce Glikas/Getty Images
George Takei is best known for his role as Lieutenant Hikaru Sulu among the cast of the science fiction TV series "Star Trek." Despite the original series' relatively short run, he was able to jump back into the role with the series of "Star Trek" films that included much of the original series cast. The first was released in 1979.
While Takei's acting career is what gained him notoriety, his activism and social media presence have made him a popular figure with younger generations who weren't even born when he took on his most famous role. According to Biography, Takei ran for a seat on the Los Angles City Council in 1973 and served on the Japan-United States Friendship Commission during President Bill Clinton's administration in the 1990s. In addition, Takei is also an active member of the Human Rights Campaign, which is the biggest lesbian, gay, bisexual, and transgender civil rights organization (via the California Museum). 
On social media, Takei's Twitter account has become very popular over the years, where his wit and sharp tongue have earned him over 3 million followers. His amusing comebacks to attacks against him and his beliefs have many people laughing and praising him. Those same qualities have made a semi-frequent presence on the dais at celebrity roasts, an area that was often frequented by Gilbert Gottfried as well.
Gilbert Gottfried and George Takei's relationship
Joe Corrigan/Getty Images
Gottfried and Takei both had their fair share of memorable moments at roasts, but not always on the same stage. However, Gottfried was one of the roasters when The Friars Club — a famous club for people in show business, especially comedians — held a roast of George Takei. Gottfried posted a tweet of himself at the podium while Takei looks on, laughing hysterically. In 2011, Gottfried posted a tweet mentioning Takei following him into the men's bathroom to do a sexual favor, and the "Star Trek" replied with a jab at the comedian's career and said that's the only thing that's "blown." Despite the savage remark, it was evident that the post was made in jest.
Gottfried had a podcast called "Gilbert Gottfried's Amazing Colossal Podcast" which he hosted alongside writer Frank Santopadre. On the show, Gilbert often expressed his fondness for classic films and TV — especially classic horror — and featured the two hosts' almost encyclopedic knowledge of actors from the era. Given his lengthy career in showbiz, Takei was a perfect guest, and he appeared on the show in 2016. In the episode, Takei talked about a wide range of subjects, from the internment of Japanese-Americans during World War II to his feud with Star Trek co-star William Shatner and even a run-in with comedy legend Jerry Lewis.
Upon Gottfried's death, Takei tweeted a tribute to the comedian, saying, "I shall miss you, my friend, my sometimes foil, my always pain in my side, usually from the belly laughs. The heavens are a great deal louder with you out there now, I'm sure. Keep 'em shaking their heads and smiling, Gilbert."