The Truth About Sophia Loren's Relationship With Cary Grant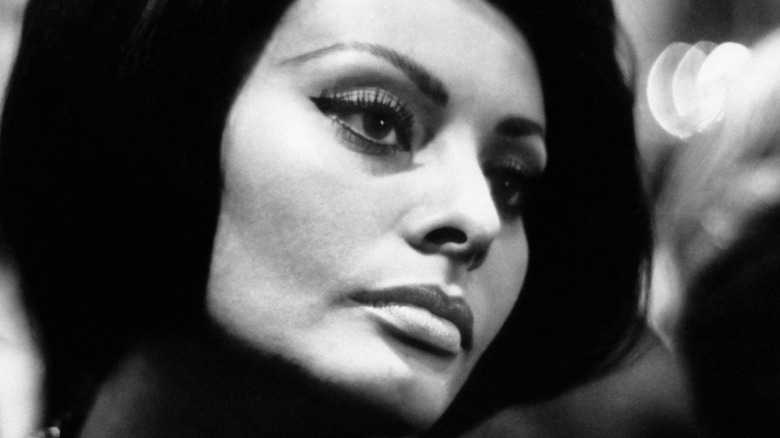 Express/Getty Images
Sophia Loren and Cary Grant are two of the most beautiful actors to ever grace the silver screen. When the two met in 1956 on the set of the film "The Pride and the Passion," sparks flew, as they so often do on movie sets. In a 2014 interview with Vanity Fair, just after the publication of her memoir "Yesterday, Today, and Tomorrow: My Life as a Fairy Tale," Loren opened up about what very nearly was with Grant and how her relationship with her eventual husband, producer Carlo Ponti, kept the two from consummating their love. 
Loren was born Sofia Scicolone in Rome, Italy on September 20, 1934. Her parents weren't married, which at the time was an enormous scandal for her mother, Romilda Villani, and cast a pall over the birth. Vallani moved in with her parents, aunt, and two uncles in Pozzuoli and went on to have a second child with Sofia's father. Sofia's mother poured all of her hopes and dreams into her child, and entered her in a beauty contest when Sofia was just 14, making a gown for her out of a discarded curtain. Sofia was crowned one of 12 princesses and earned a ticket back to her birthplace of Rome, where she began working as a model. She was eventually renamed Sophia Loren by the producer of one of her first movies. Carlo Ponti, a married producer 22 years her senior, spotted Loren in the audience of a beauty contest he was judging.
Sparks flew on the set of their movie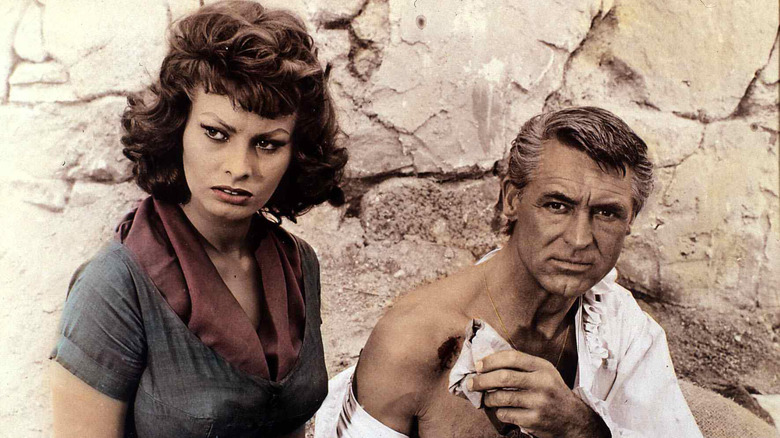 United Archives/Getty Images
Per Vanity Fair, Sophia Loren's break came when she appeared as Aida in a filmed version of the famous opera at the age of 19. That same year, she began a relationship with Carlo Ponti. She described their relationship as "father-daughter, man-woman, producer-actress, friends and conspirators." There was seemingly no possibility that Ponti could divorce his wife; it just wasn't done in the extremely Catholic atmosphere of Italy at that time. Ponti got Loren the lead in "The Pride and the Passion," costarring Cary Grant and Frank Sinatra. Grant had reportedly wanted Ava Gardner for the part, but he took a liking to Loren, despite their 30-year age difference and the fact that he was married to his third wife. He began sharing stories about his past and confiding in her. They started going out together each night after filming, and he went on to give her two gold bracelets, telling her, "these will keep you safe."
Loren, however, was secretly engaged to Ponti at this point. In a 2014 interview with The Sydney Morning Herald, Loren discussed choosing between the two men: "They were very different men. It was difficult ... Many times I needed help with the language and Cary would help me ... Cary belonged to another world in America. I felt that I would never fit in there ... I was scared to change completely in life without knowing if this relationship or quasi relationship was going on."
Sophia Loren chose her eventual husband over Cary Grant
Keystone/Getty Images
Cary Grant and Sophia Loren went on to appear in another movie together, 1958's "Houseboat," which, according to The Guardian, was a challenge for director Melville Shalvelson because of the sexual tension between the costars. Nevertheless, Loren chose to remain with Carlo Ponti; in 2012 she spoke about the decision, noting, "You know, I had to make a choice, Carlo was Italian; he belonged to my world. I know it was the right thing to do, for me." Ponti and Loren (shown above) married during the filming of "Houseboat" — sort of. As reported by Vanity Fair, Ponti had obtained a divorce from afar in a Mexican courtroom and two other people had then stood in for Ponti and Loren, making them married by proxy. In a bizarre twist, Loren and Grant still had to film the last scene of "Houseboat," in which their two characters married, which ended up being Loren's only opportunity to wear a traditional wedding dress and act out a marriage ceremony. She and Ponti remained together until his death in 2007.
In 2020, Loren addressed the rumors that Grant had actually proposed to her on the set of "The Pride and the Passion." As reported by The Guardian, Loren did an interview with the magazine Radio Times, in which she told the reporter, "Cary Grant was a very handsome man and a wonderful actor, but he didn't propose." They did, however, remain friends and continued exchanging letters and phone calls. Grant died in 1986.