Where These Famous Artists Are Buried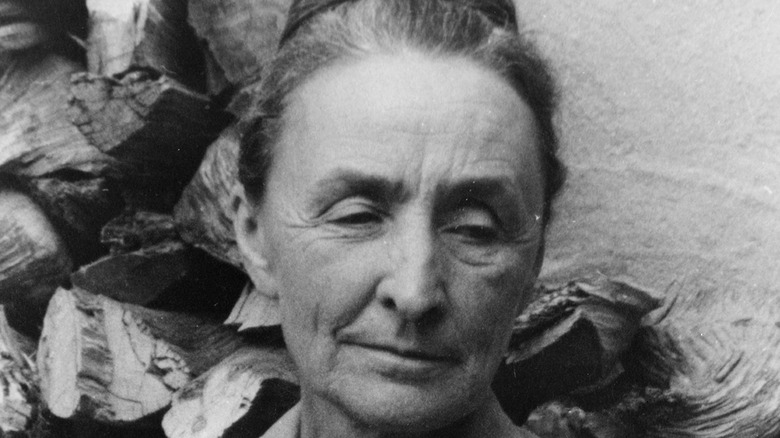 Donaldson Collection/Getty Images
Sensitive artistic souls tended to either immerse themselves in life fully or completely retreat from the public — the harsh realities of everyday living, including the ignorant tendencies of humanity, are hard to bear. Their position in society also reflected the times they lived in, from thriving in the times of Renaissance, being appreciated for their mastery in skills, to living in poverty due to barbaric circumstances such as war.
These artists' lives are full of unusual details, as they mostly strived towards higher forms of existence, at least when it came to creation. Many of them died as they lived, buried in spectacular tombs they built themselves, like Antonio Canova, or scattered in sacred spaces in nature, similar to Georgia O'Keeffe. If you are Frida Kahlo, your legacy is not just a grave, but the whole house full of wonders — or in the case of Sandro Botticelli, you are buried alongside your muse. Some graves are more modest, as those of Hilma af Klint or Edvard Munch; others rest under their greatest work, like Auguste Rodin.
Here is where these famous artists are buried.
Frida Kahlo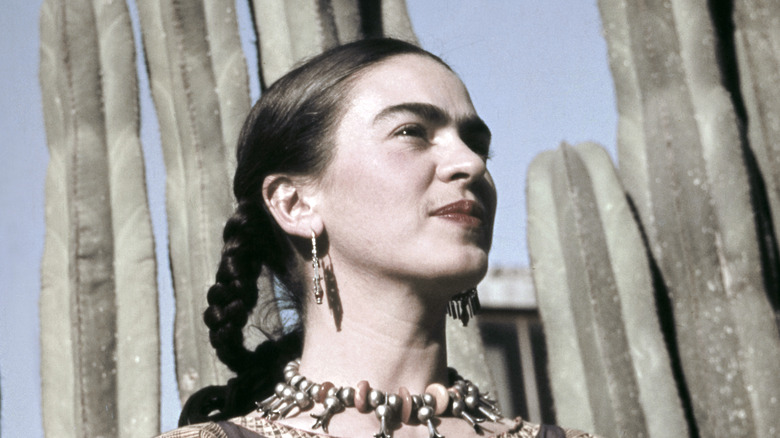 Michael Ochs Archives/Getty Images
Frida Kahlo was a powerhouse, despite her tragic story of pain, suffering, and persistence. Losing the ability to walk, along with her reproductive capabilities, tied her to beds and wheelchairs, but that didn't stop Kahlo (via Museo Frida Kahlo). She became a successful artist, hosting parties, lovers, and communists — all while having a passionate relationship with Diego Rivera, one of the most successful mural artists of his time.
This icon found her last resting place in a space where she spent most of her life — her ashes can be seen in Casa Azul in Mexico City, the house which she and Diego Rivera turned into an art gallery. It was Diego who organized a museum in Casa Azul after Kahlo died, while poet Carlos Pellicer described and classified the objects. Casa Azul opened in 1958 and since then, countless visitors flock to the Coyoacán neighborhood to get a glimpse of the life of the poignant painter. One can even see Kahlo's original art supplies exhibited in a place where she created her magic, along with hers and Diego's artworks, personal belongings, and indigenous artworks. The house itself is an exquisite piece of architecture, enclosed by a beautiful garden of tropical greenery and artistic interventions.
But Kahlo is not only present in spirit, as her remains are there as well: her ashes are resting in a frog-like indigenous-made urn. There is also her death mask, laying on her bed, a reminder of how tiny, but still eternal, she really was.
Man Ray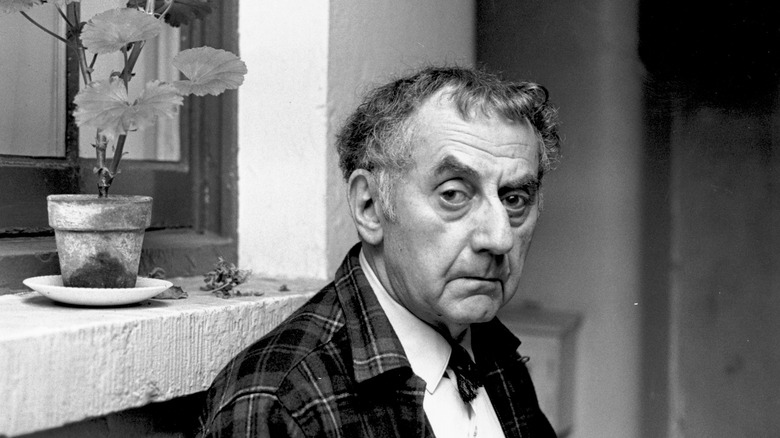 Mckeown/Getty Images
It's easy to recognise Man Ray's surrealist photos and films, exploring the medium through relationships between different objects and human faces, using different photography and camera techniques. The American artist was born in 1890 in Pennsylvania as Emmanuel Radnitzky but grew up and studied architecture and art in New York City. Working with Marcel Duchamp, together they paved the way for New York Dadaists, creating paintings and ready-made objects. Moving to Paris in 1921 allowed Ray to dive deeper in surrealism and photography, mostly photograms constructed without the use of a camera. In 1940, Ray eloped to Los Angeles to avoid the war but returned to Paris after (via Britannica). But during his time in LA, he married dancer Juliet Browner in a double wedding with painters Max Ernst and Dorothea Tanning. The two couples shared a studio and a house.
After his death in 1976, the "first Jewish avant-garde artist" was buried in Montparnasse cemetery, near other famous names, like feminist Simone de Beauvoir, existentialist writer Jean-Paul Sartre, philosopher Susan Sontag, poet Charles Baudelaire and many others. Ray had "Unconcerned but not indifferent" written on his gravestone, and he was joined by his wife in 1991, with the second gravestone and inscription "Together again." Unfortunately, the grave was desecrated in 2019, with both gravestones being knocked down and broken, and a man was taken in custody on suspicion of this crime, reports ATP (via The Guardian).
Rosa Bonheur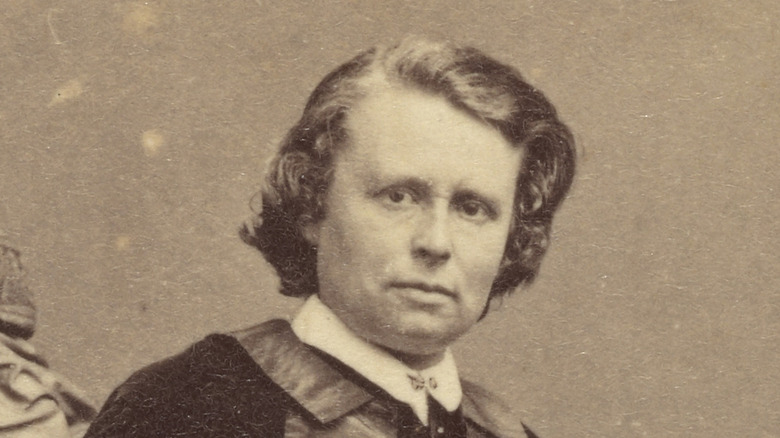 Heritage Images/Getty Images
The French painter was quite a stubborn child who taught herself how to paint. Her realistic portrayals of animals, landscapes, and Victorian scenery became popular all over Europe as well as the United States. She was also a proud feminist, firmly believing in female independence (via Art UK).
After her long-term partner, Nathalie Micas, died in 1889, she met another person who understood her well. This was an American artist Anna Klumpk, with whom she sustained a relationship through writing for years, until Klumpk moved in with Bonheur and stayed until Bonheur's death in 1899. According to her wishes, she was buried next to her beloved Nathalie at Pere Lachaise Cemetery in Paris. Klumpk then founded the Musee Rosa Bonheur and the Rosa Bonheur Memorial Art School in her memory. And when Klumpk died in 1945, she joined Micas and Bonheur in their resting place. Many years later, in 2017, Chateau de By, the place where Bonheur lived with her companions, was bought by Katherine Brault, who decided she would open the place to visitors, as the house still contains more than 50,000 artworks and personal objects, according to Seehafer News.
Additionally, in memory of Bonheur's admiration of animals, Rosa Bonheur Memorial Park pet cemetery in Elkridge was created. There are around 22,000 animals buried there, even including an elephant. But the pet cemetery found itself in several legal battles, where pet owners complained about lost ashes, unmarked graves, and technical problems, which caused electricity blackouts affecting freezers where dead pets were kept, reports The Baltimore Sun.
Edvard Munch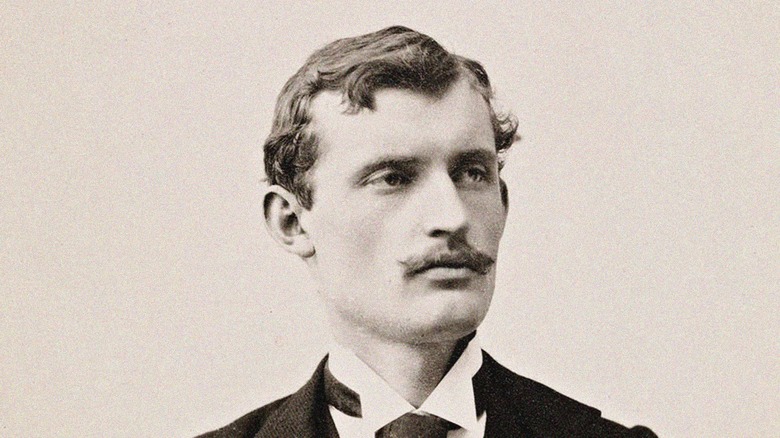 Heritage Images/Getty Images
The painter's most widely recognised painting, "The Scream," became the icon of anxiety and depression soon after it was created in 1895: the artist was "feeling unwell," art historian Giulia Bartrum explains, regarding the background of the artwork. The Norwegian Expressionist did suffer immensely during his lifetime, after losing his mother and sister to tuberculosis before he was 14 and battling illness himself: "Disease, insanity and death were the black angels that stood guard over my cradle and followed me throughout my life." But death and psychological decay weren't the only topic of his extensive opus; he frequently represented the intricate nature of intimate relationships, their emotional dependency, and a desperate need, explains Alex Morrison for the auction house Sotheby's.
Munch found his last resting place in Our Saviour's Cemetery in Oslo, Norway. The gravestone is minimalist, with clean lines and a simple inscription of his name. A tall pillar is crowned with Munch's bust, portraying the artist's somehow stoic facial expression (via Atlas Obscura).
But his real burial site should not be confused with the painting he created in 1927, titled "Munch's Grave in Rome," which is exhibited in the Munch Museum in Oslo. Per auction house Mutual Art, the artist depicted the grave of his uncle, professor Peter Andreas Munch, in the Protestant Cemetery in Rome while he was fascinated by its warm weather and lush Mediterranean vegetation. The graveyard is famous for having many famous foreign residents, including Romantic poets John Keats and Percy Bysshe Shelley.
Leonora Carrington
While Leonora Carrington might not be a well-known name, she was actually one of the most imaginative surrealist artists of her time — one of her paintings was sold as the most expensive piece of surrealist art in history. The artist was also a writer, further developing the topics she explored in visual art. Her only problem was she wasn't a man, a fact which consequently excluded her from surrealist circles as well as art history. But her otherworldly beings, whom she often depicted, survived, telling stories of different dimensions and forces unseen. Born into a traditional British family of high class, she frequently resisted social norms, retreating often into her own world. After she met much older Max Ernst, they shared knowledge, inspiration, life, and a studio in Paris. But the Second World War destroyed the bond, and Carrington ended up in Mexico City, fleeing the war, mental asylum, and her own past, explains Artnet News.
According to Find A Grave, she died in 2011 from pneumonia and was buried in Panteón Inglés, a well-known British cemetery in Mexico City, with "Like a strong, blinding light of imagination you came, and you left us," inscribed on her grave.
The cemetery built on a hill displays beautiful examples of typical Victorian architecture, with every grave on the cemetery (except one) positioned towards England (via Atlas Obscura).
Sandro Botticelli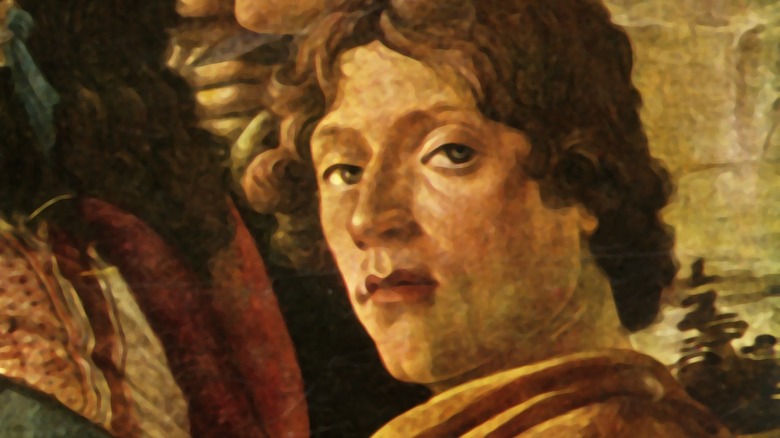 Print Collector/Getty Images
Alessandro di Mariano di Vanni Filipepi, as Sandro Botticelli was born, was one of the most respected Italian Renaissance painters and a visible member of the famous Florentine School. He started his art education as an apprentice with the master Fra Filippo Lippi, but he later traveled all around Europe to perfect his skills of fresco making. His good connections, alongside his talent, allowed him to receive commissions from the most influential families of that time, including the Medici family, who funded numerous projects around Tuscany, such as the façade of Cathedral in Florence. His expertise was noticed by Pope Sixtus IV, who invited him to participate in the painting of the Sistine Chapel in the Vatican.
The father of the famous "Primavera" and "The Birth of Venus" paintings never married — the sole idea of marriage was giving him nightmares, according to documents. But as a true artist, he found his muse in aristocrat lady Simonetta Vespucci. She was married to another, unfortunately, but some believe it was her whom he depicted as the Aphrodite, although she died before the artwork was finished. Botticelli expressed his desire to be buried at her feet in the Church of Ognissanti in Florence, and he was successful in that — his grave can be found at Vespucci's feet (via Sandro Botticelli official page).
Mary Cassatt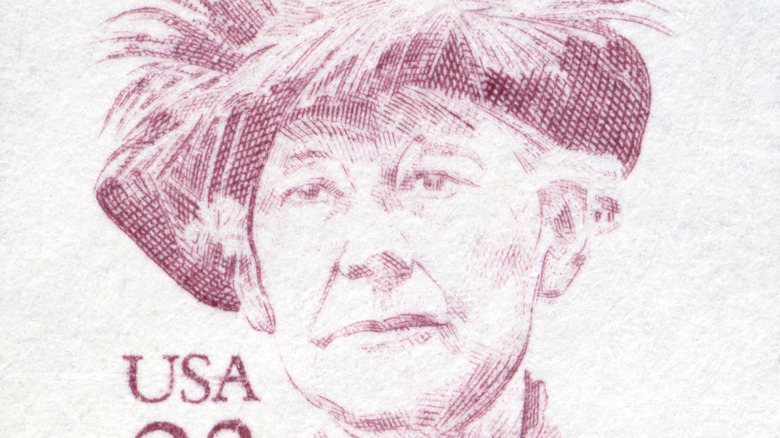 Olga Popova/Shutterstock
Mary Cassatt was an American painter, famous for her portraits of women in the domestic environment and children — topics male artists mostly ignored. She attended Philadelphia's Pennsylvania Academy of the Fine Arts as a teenager but was disappointed by the patronizing attitude she received as a woman, so she moved to Paris in 1866 to study the old masters on her own. Her beginnings were modest, until one of her portraits — submitted by the imaginary name Mary Stevenson — was accepted to the Paris Salon exhibition in 1868. Still, this wasn't enough for her father, who refused to finance her if she continued to paint. After much struggle, she finally received the commission which allowed her to return to Europe, where her career finally took off. At least, kind of, as she was continuously subjected to criticism for her unique artistic expression, inspired by fellow impressionist Edgar Degas. At the end of her life, diabetes caused her to lose her vision, so she spent her last 11 years in Beaufresne chateau in Le Mesnil-Théribus, France. She was broken-hearted, as she was unable to paint (via Biography).
Cassatt died in 1926 and is buried alongside her family at the local cemetery of Mesnil-Théribus in Northern France (via Les Amis de Mary Cassatt). In 1961, the Beaufresne chateau was inherited by Cassatt's niece, who donated it to the Moulin Vert organization, focused on child protection — the subject close to Cassatt's heart (via Les Amis de Mary Cassatt).
Antonio Canova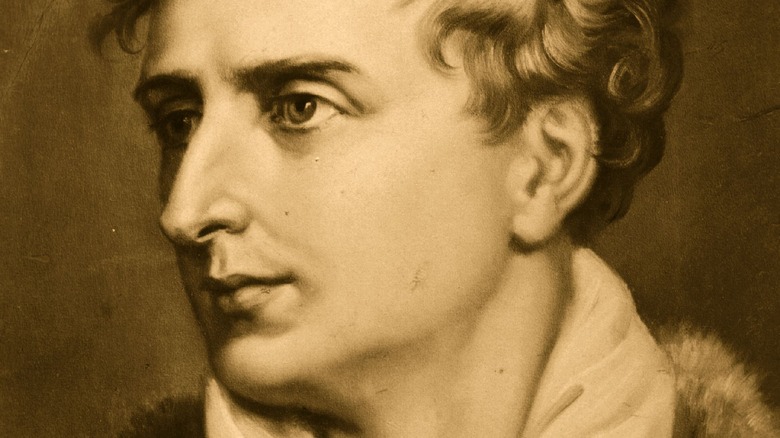 Hulton Archive/Getty Images
The famous renaissance sculptor, the author of the "Psyche Revived by Cupid's Kiss" statue and other mythological marbles, was known far and wide all across Europe, catering commissions of aristocracy and even the pope (via The Art Story).
His burial arrangements are interesting ones — first, he wanted to be buried in the Pantheon in Rome, but his wish was denied. He built his own temple instead, Temple of Canova in Possagno, but only his body is buried there. One hand is preserved at the Accademia di Belle Arti in Venice, while his heart rests in the Church of Santa Maria Gloriosa dei Frari, also in Venice (via Find A Grave).
Canova planned his tombstone himself, taking inspiration directly from the Roman Pantheon. It took him several years of work to create the architectural plans for Tempio Canoviano, a piece of exquisite neoclassical architecture, consisting of different architectural achievements — the classical Greek proportions, a rotunda with a Roman-styled dome, and an early Christian apse. Due to the length of the project, Canova didn't ever see it finished, as he died in 1822. The construction of the temple fell on his stepbrother Giovanni Battista Sartori's shoulders, who finished it in 1832. The remains of both are stored inside two sarcophaguses in the temple, one keeping some of Canova's remains and other Sartori's. There is also a bronze sphere with the print of Canova's hand (via Atlas Obscura).
Hilma af Klint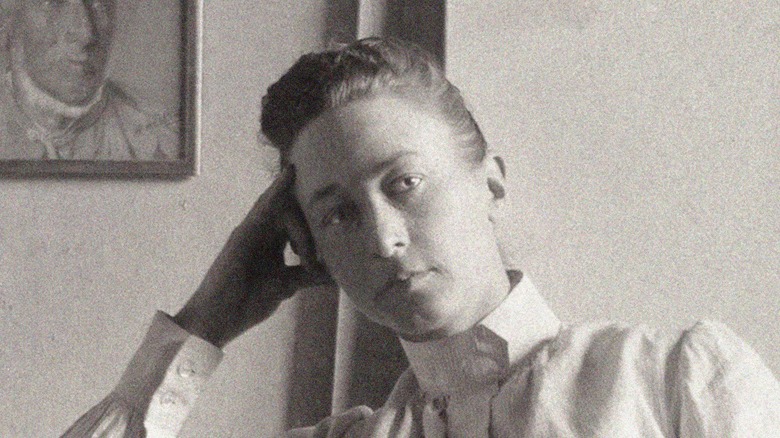 Heritage Images/Getty Images
It is not strange if you never heard of Hilma af Klint, the artist who died without ever participating in an exhibition — but, discovered much later, she is now credited as one of the first abstract artists of our time. Born in Sweden in 1862, she grew up in a Protestant family, but not much is known about her life. She studied art at the Royal Academy of Arts in Stockholm, where she did exceptionally well as a landscape painter, earning a scholarship after her graduation. With four other female artists, she established The Five (de Fem), a group that experimented with an intuitive approach to creating — decades before the surrealists "invented" the process. Firmly sourcing her inspiration from spiritual realms, being a medium as well, Klint channeled various shapes and colors, possibly depicting different dimensions. She created a collection of over 1000 paintings, but, due to the sensitive nature of her work, many conditions were attached to them — in her will, Klint declared that the artworks should not be exhibited for at least 20 years after her death, and they should never be sold separately (via Art Story).
Klint is buried in Djurgarden, a tiny island in the middle of Stockholm. Her grave lies in a small cemetery, the Naval Cemetery, behind the Nordic Museum, alongside her parents in their family grave. The gravestone is modest, just as her family was, while the art world continues to discover her legacy, according to Art Daily.
Auguste Rodin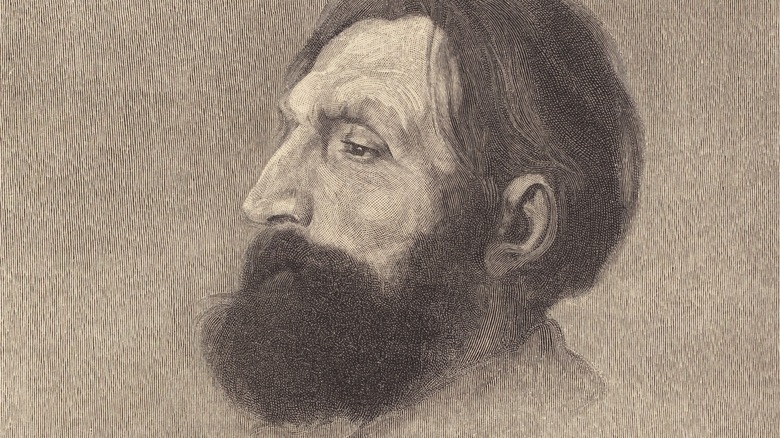 Heritage Images/Getty Images
His full name was François-Auguste-René Rodin, and he is one of the most acclaimed sculptors of them all. His massive realistic portrayals of men were too much for those who preferred stylised allegorical statues of the past, but nevertheless, he achieved glory, dominating the French sculpting scene. He had many famous admirers, including Isadora Duncan, Oscar Wilde, Rainer Maria Rilke, and Klimt — Rilke even assisted him with administrative work for a while, writing his biography after.
According to the Mahler Foundation, Rodin spent 53 years with Rose Beuret, but they didn't marry until two weeks before her death in 1917. She died in February, and Rodin followed her in November, due to complicated influenza and lung congestion. He died in their home, a villa in Meudon in Paris.
The Villa des Brillants is now a part of Rodin Museum, reconstructed from the period photographs and other material. One can observe how the artist lived and worked in his studio while also admiring numerous original plasters produced by Rodin — even the famous ones, such as the Balzac portrait, the Victor Hugo monument, and the huge "The Gates of Hell" and "The Burghers of Calais" sculptures. But the sculptures aren't the only remains of Rodin at The Villa des Brillants. In the surrounding garden, there is "The Thinker" statue, the most recognizable statue in the world. Underneath, there is a tomb where Rodin and his wife Rose are buried, joined together in eternity (via Visit Paris Region).
Georgia O'Keeffe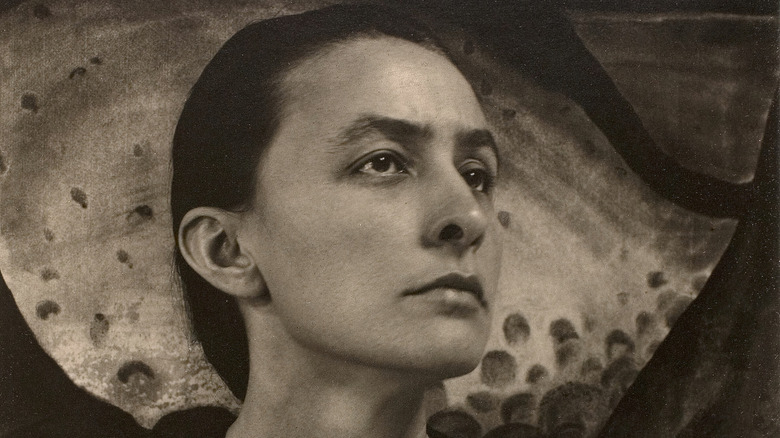 Heritage Images/Getty Images
Known for paintings of landscapes, flowers, and skulls, Georgia O'Keeffe is one of the most recognizable American artists. "The mother of American Modernism" studied art in Chicago and in New York. She developed a close (and intimate) relationship with photographer Alfred Stieglitz and married him. After visiting New Mexico in 1929, she was captivated by its intense shades and vibrant folkloric traditions of Native American and Mexican indigenous people. She moved there after Stieglitz died in 1949 and continued to paint on her own until 1972, aged 85. Battling muscular dystrophy and bad sight, she created work with the help of assistants, who painted what she still saw in her mind. She died in Santa Fe in 1986, per the O'Keeffe Museum.
Visitors can take a tour of The Georgia O'Keeffe Museum, including the artist's studio and a house where she lived. The museum accommodates the largest permanent exhibition of her work, and it's one of a kind — the first U.S. museum which is solely focused on one female artist (via the Washington Post). But O'Keefe's remains are impossible to find, as her ashes were scattered at the Cerro Pedernal in New Mexico (via Find A Grave).
The flat peak is the most recognizable geological formation in the region. O'Keeffe often depicted it in her paintings, and she felt a special bond with the place, often visited by Native American tribes in the past: "It's my private mountain. It belongs to me. God told me if I painted it enough, I could have it" (via Atlas Obscura).