Keith Moon Babysat The Who's Eventual Replacement For Him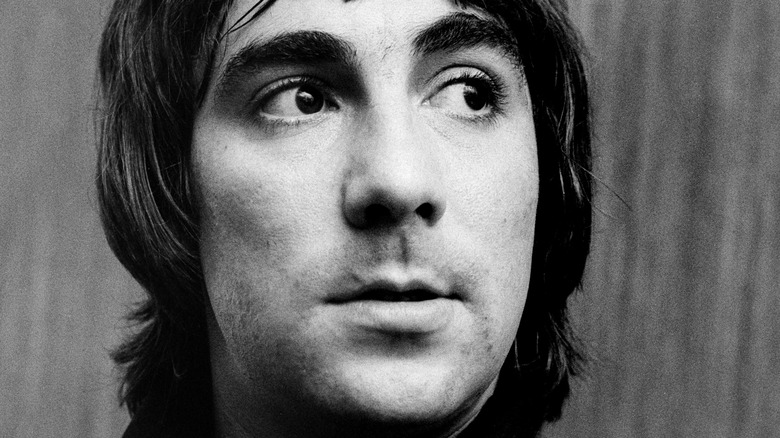 George Wilkes Archive/Getty Images
Rock 'n' roll is a family-run business. When it comes time to pass the torch, who better than blood to accept it? Well, in the case of Keith Moon's successor, blood didn't have anything to do with it, but he saw his protégé as family all the same. The legendary drummer of The Who died on September 7, 1978. Ultimate Classic Rock reports that he had ingested over 30 prescription pills and suffered a massive overdose. The tragedy instilled the late Moon into the annals of music history as one of the greatest drummers to ever live. 
All the same, the show must go on, and when it came time to choose a replacement for Keith Moon years later, all eyes turned to Zak Starkey, son of legendary Beatles drummer Ringo Starr. As it turned out, their relationship stretched back long before Zak ever even picked up a pair of drum sticks, and without his "Uncle Keith" hanging around when he was a child, he probably never would have, as Showbiz Cheat Sheet writes.
Keith Moon used to babysit for Zak Starkey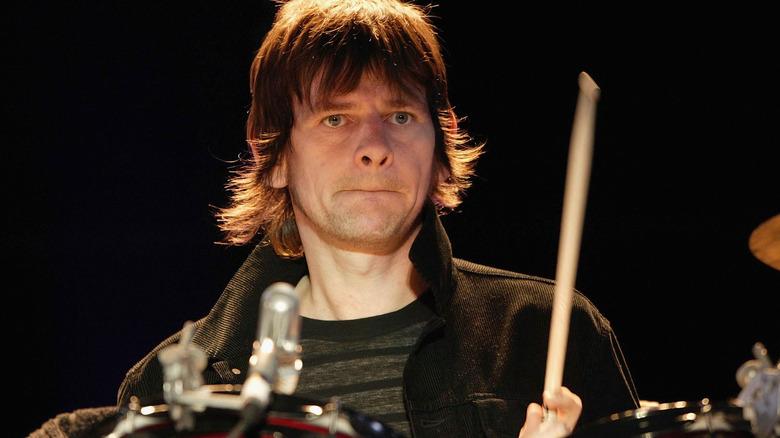 Dave Hogan/Getty Images
"I found a Who record in my parents' record collection, and I made this connection between the guy on the cover and a guy that was always 'round at our house," Starkey shared years later. It's a remarkable idea to imagine finding out that one of your idols has been a regular dinner guest in your home for years. "This guy used to come and hang out with me and my brother and play Monopoly and feed the hamsters and stuff like that," Showbiz Cheat Sheet writes.
Initially, Zak opted for a concentration in guitar after seeing the band T. Rex with his father when he was only six years old. However, after he discovered The Who in his parents' record arsenal he fell in love with Moon's frenetic powerhouse drumming style on "Meaty Beaty Big and Bouncy." There was no turning him away from the drum kit after that. He then found out that his favorite drummer and muse also happened to be his babysitter, so it seemed all too perfect to classify as anything but serendipity (via Modern Drummer). 
Zak Sharkey's Amazing Journey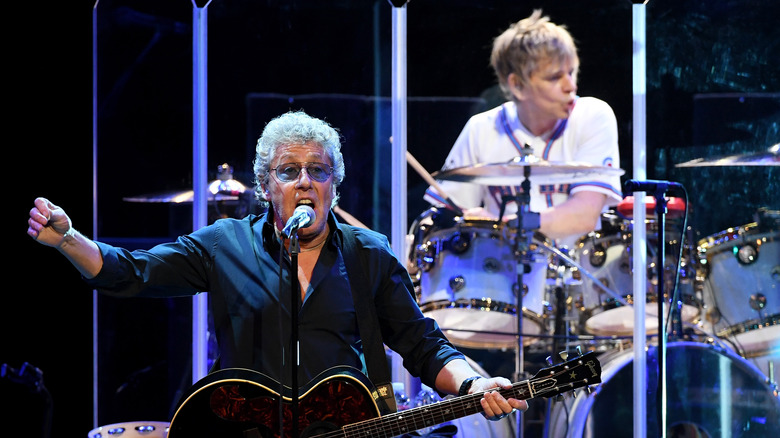 Ethan Miller/Getty Images
After  Keith Moon's death (1978), it would be quite a while before Zak Starkey would sit on his hero's drum throne. He wasn't even considered for the role until bassist John Entwistle (1944-2002) heard him play in a pub in the early 1990s, according to Drumming Review. Starkey joined up with The Who in 1996 and has held the title of their official drummer ever since.
However, picking up where Moon left off wasn't exactly a seamless task. Moon had a thunderous drumming ability that was hard to match, so it took some getting used to for Sharkey. "When I first played with The Who we did 'Quadrophenia.' There were certain things that had to be in there, certain fills that had to be exactly the same because they are so 'Quadrophenia,' if you know what I mean," he shared while reflecting upon his debut with the legendary British rock band, as Modern Drummer notes.