How WC Handy Gave The World Bessie Smith's Only Film Appearance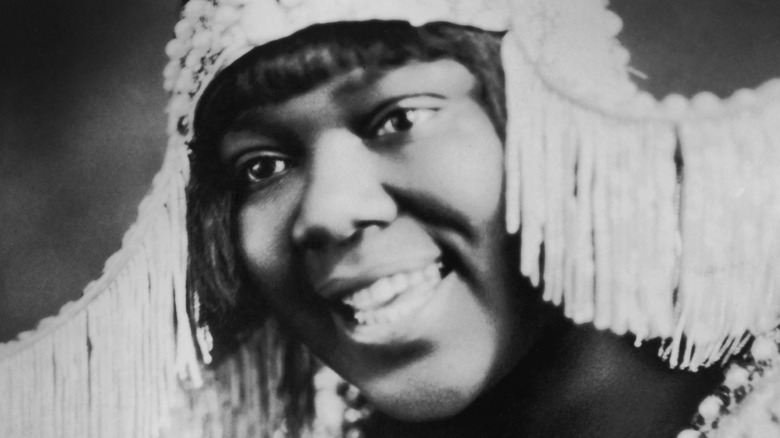 Michael Ochs Archives/Getty Images
Known as the "Empress of the Blues," Bessie Smith had a rich and bold voice that shimmered with emotional intensity. She started her career when she was only 8 or 9 years old and toured with blues legend Ma Rainey early on (via Britannica). She poured her heart into such tunes as "Down Hearted Blues," which was her first hit in 1923. She worked with some of the top performers of her day, including Louis Armstrong and Benny Goodman.
While Smith made approximately 160 recordings during her all-too-short life, there does appear to be one of her performances caught on film (via YouTube). She starred in the 1929 short film "St. Louis Blues," an adaptation of the W. C. Handy song of the same name. This composition is perhaps one of the most widely recorded blues songs ever, and yet Smith managed to make the tune her own with her 1925 version of it (via the Blues Foundation). This rendition simply featured Smith's vocals accompanied by Louis Armstrong on trumpet and Fred Longshaw on pump organ.
W. C. Handy's wrote the popular song St. Louis Blues
Donaldson Collection/Getty Images
W. C. Handy first published the song "St. Louis Blues" in 1914, according to the Memphis Music Hall of Fame. He had been burned by selling the rights to the hit "Memphis Blues" two years earlier to the printer for $50. Another source, the Tennessee State Museum, stated that Handy sold the rights for $100. In any case, he learned his lesson from his experience. And, when he penned the song inspired in part by his time in St. Louis, he made sure to hold on to the rights.
As he wrote the song, Handy remembered a woman he had encountered while he was a struggling musician in St. Louis, according to American Songwriter. She was suffering from a broken heart, and her lament over her romantic woes inspired the line "My man's got a heart like a rock cast in de sea." "St. Louis Blues" tells the story of one woman's anguish over losing her man to another woman. Handy created this song in 1914, but it took more than a decade for it to make it to the big screen.
Bessie Smith starred in the film version of St. Louis Blues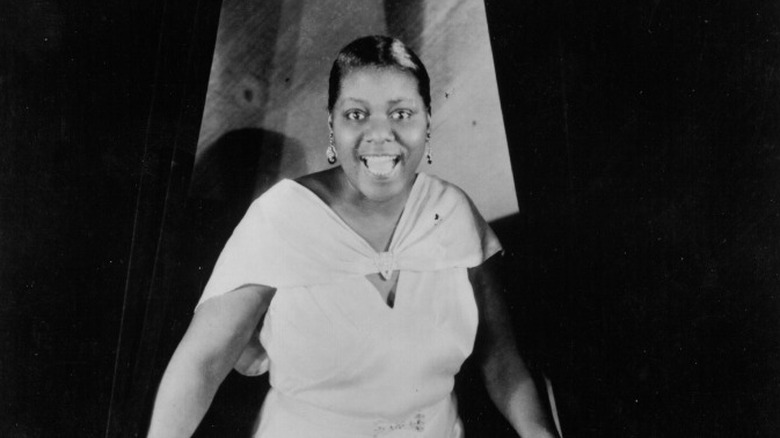 Michael Ochs Archives/Getty Images
W. C. Handy's song "St. Louis Blues" provided the basic outline for the 1929 short film by the same name, according to an essay by Mark Cantor written for the Library of Congress. One of the most notable things about this short film is that it featured an all-African American cast, which was very unusual for this time period. Smith played the wronged woman in the song. Her character, also named Bessie, discovers her lover Jimmy (played by Jimmy Mordecai) with another woman (played by Isabel Washington), per IMDb. Jimmy lashes out at Bessie and leaves. She ends up singing the title song in a speakeasy, accompanied by such talented musicians as James P. Johnson on piano and Bernard Addison on guitar.
Standing by the bar, Bessie tries to drink her sorrows away while giving a riveting performance of "St. Louis Blues." This time around, unlike her earlier and more spare version of the song, she is accompanied by a choir who acts as the fellow speakeasy patrons. This film came out around a few years before Smith's last recordings in 1933, according to NPR. While her career ebbed in the years that followed, she still had her devoted fans. Thousands of them turned out to say goodbye after Smith died in 1937 due to an auto accident in Mississippi.