How The Goo Goo Dolls Got Their Name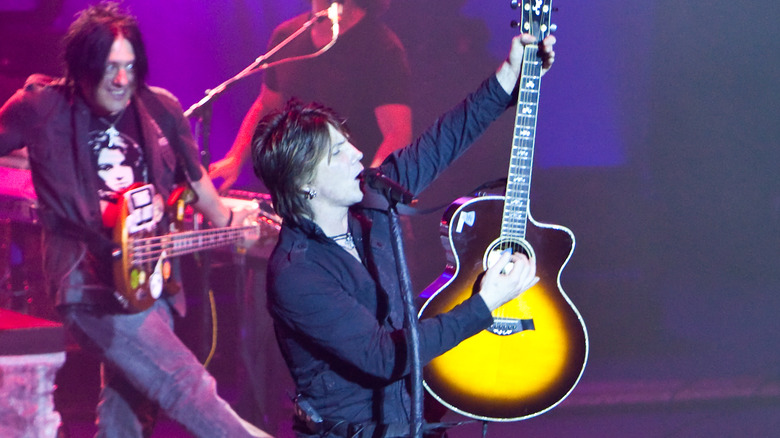 Jeff Schultes/Shutterstock
Think about some of your favorite bands. You've seen their names so often and bellowed their songs for so many years, you've probably forgotten how weird a few of those titles really sound. For instance, how and why did the name "Def Leppard" occur to Joe Elliot and his troupe of glam rockers? According to Ultimate Classic Rock, the moniker was inspired by a high school English project that Elliot had carried out as a boy. What about Led Zeppelin? Apparently, the name started as a scathing gesture in retort to certain remarks made by a few members of The Who when they declared that the quartet of would-be rock stars would drop like a "lead balloon" as soon as they hit the airwaves. As fate would have it, the name stuck, and Zeppelin's ascent into the rock n' roll ether skyrocketed without hinderance.
The list goes on and on, and somewhere down that list, we inevitably encounter The Goo Goo Dolls. Honestly ... where did that name come from?
The Goo Goo Dolls got their name from a magazine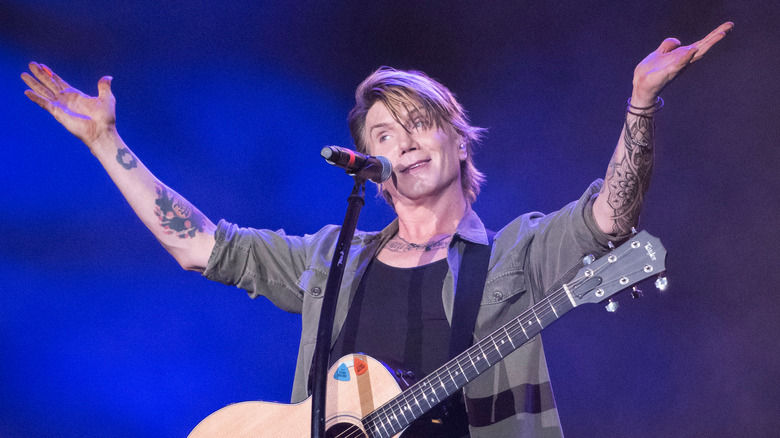 Delmiro Junior/Shutterstock
While flipping through a True Detective magazine (no affiliation with the HBO series to come years later), John Rzeznik (guitar/vocals), Robby Takac (bass), and George Tutuska (drums) stumbled upon an advertisement for something called a "goo go doll," Famuse reports. Apparently, the toy's quirky name caught the appeal of trio and they decided to label themselves after it. 
Few people who attend their concerts to this day and bellow the words to "Iris" in unison with thousands of others around them know that the rugged-looking rockers traversing the stage were named after a children's toy. For whatever reason, the name resonated with the Buffalo, New York-based group, though it actually wasn't their first choice. Before they were The Goo Goo Dolls, they bore a name that was a little too obscene to splash across an album cover (via Forbes).
The Goo Goo Dolls were originally The Sex Maggots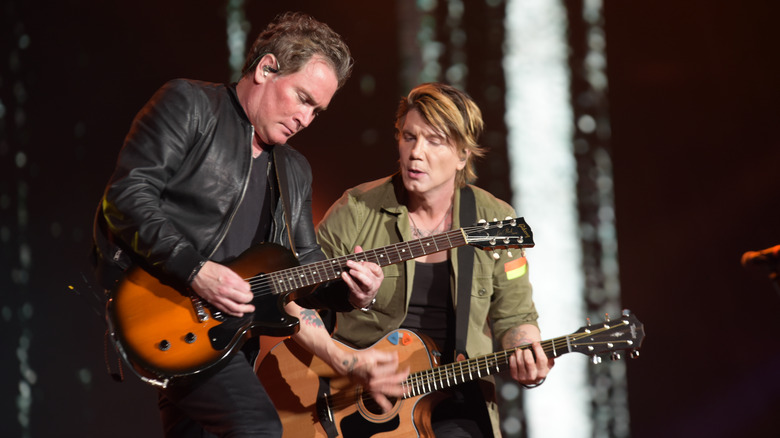 Photocarioca/Shutterstock
Yes, you read that correctly. Before they were The Goo Goo Dolls, the feather-haired heartthrobs went by The Sex Maggots. It's almost enough to make the most debaucherous of punk rock provocateurs grimace. Apparently, after a club owner refused to let them perform under the obscene and gratuitously disquieting name, they were forced to take on something else in the nick of time. Lucky for them, fate had placed some casual reading nearby that contained the title of their band's future within its pages (per Forbes). 
"That's how the folklore goes," Robby Takac shared years later. "The first name was bad, so we moved on to another bad name, got 15,000 fans, and were afraid to change it ... At the time, we thought [the name] was just really inappropriate for what we were doing in that post-punk era that we were sort of wallowing around in" (via Forbes).