The Unexpected Reason Humphrey Bogart Stood On A Box While Filming Casablanca
The 1942 film "Casablanca" is among those hallowed titles that resonate still with movie buffs and casual film fans alike. The film garnered eight Academy Award nominations and bagged three of them, including best picture, during the 16th Oscar ceremony in 1944. The film was based on a play called "Everybody Comes to Rick's" by Murray Burnett and Joan Alison which Warner Bros bought for a record-breaking $20,000, as CBC notes.
Despite having numerous films already under his belt, Humphrey Bogart's turn as playing bar-owner Rick Blaine — opposite Ingrid Bergman's Ilsa Lund — would be the actor's first romantic lead role. Filming of the epic began with trepidation as Bergman hadn't cracked her character yet and the script was still being written, as The Washington Post notes. However, the film went on to become one of the most-watched films of all time because, as film historian Noah Isenberg said, "The stars aligned."
However, there were some stars that didn't align — and were never going to align — without a bit of help. Those two stars happened to be the film's lead actors, who had different, shall we say, vertical challenges.
Humphrey bogart and Ingrid Bergman didn't get along on set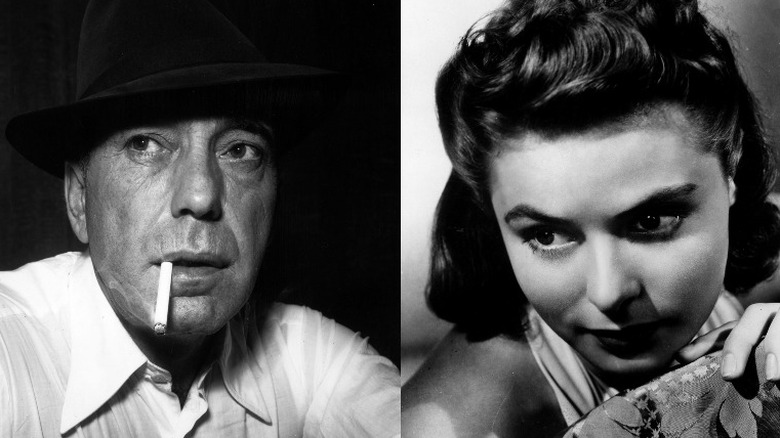 Michael Ochs Archives/Getty Images, Mitchell/Getty Images
Humphrey "Bogie" Bogart had always been cast as a smoldering grimace-faced hard-man before taking the role of Rick Blaine in "Casablanca," according to Britannica. After cutting his proverbial acting teeth on the stage, in light comedies, he broke through to the big screen in the 1928 short "The Dancing Town," (via IMDb). This would be the first of a whopping 84 acting credits to his name before his death in 1957, aged 57.
On the other hand, Swedish native Ingrid Bergman only had a few acting credits before her turn as Ilsa Lund in "Casablanca." Bergman, noted for her charm and intelligence, made her Hollywood debut in the 1939 remake of "Intermezzo" — as well as starring in the Swedish original — and due to its box-office success, Hollywood producers started taking note, according to Britannica. Offers for roles in major motion pictures soon followed, including, of course, "Casablanca."
The two stars reportedly did not get along during filming of the Moroccan-set wartime film. Reports abound of Bogie ignoring Bergman behind the scenes and even snubbing a dinner offer from the Swedish actress, choosing instead to play chess with himself and drink in his trailer (via Express). There may have been another reason for Bogie's bogus behavior. He was reportedly two inches shorter than Bergman and had to stand on a box during filming.
Standing on an Apple Box Gave Bogie extra height
Getting the right shot in a film is not easy as there are a multitude of factors that go into creating the perfect mise-en-scène. As is often the case in Hollywood movies, the male lead is taller than the female lead — a practice that once saw Minne Driver put into a ditch so her scene parter would appear taller to which Driver said was "so obnoxious and stupid"(via Daily Mail).
Standing at around 5 feet 8 inches, Humphrey Bogart wasn't the tallest lead actor at the time (nor shortest as James Cagney stood was 5 feet and 4 inches). However, Ingrid Bergman was two inches taller than him, standing at 5 feet 10 inches (via Celeb Height Wiki and Reel Rundown). 
Roll in the Apple Box. These handy tools are used for a variety of on-set tasks including bumping up an actor's vertical footage (via No Film School). Coming in four sizes – full, half, quarter, and pancake – they are placed under a performer who is slightly shorter than their scene partner, according to Ocean Studio. Bogie had to stand on one to appear taller than Bergman resulting in the Swede having to look up at her counterpart when they were standing next to each other (as pictured).
Commenting on his sudden sex appeal after the film's release, NPR notes Bogie saying, "When Ingrid Bergman looks at you, you have sex appeal." Well, when she looks at you standing on an Apple Box, that is.