Does Congress Have The Ability To Protect Abortion Rights After The Dobbs V Jackson Ruling?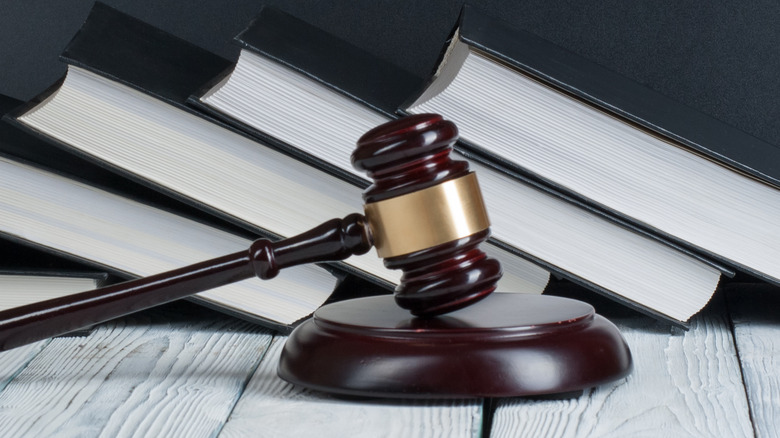 Lana U/Shutterstock
On June 24, CNBC writes, the Supreme Court overturned Roe v. Wade in a 5-4 decision. As Al Jazeera explains, this landmark case from 1973 established that abortion was a protected constitutional right in the country. According to the Guttmacher Institute, one in four women in the U.S. will get an abortion in their lifetime. However, this new ruling means that abortion rights will now be heavily restricted and even prohibited. Per NBC News, abortion in 23 states, including Alabama, Oklahoma, and Texas, will be banned now that Roe v. Wade has been overturned. Justice Samuel Alito wrote the majority opinion and stated, "It is time to heed the Constitution and return the issue of abortion to the people's elected representatives" (via CNBC).
A dissent written by Justices Stephen Breyer, Sonia Sotomayor, and Elena Kagan read, "Today's Court, that is, does not think there is anything of constitutional significance attached to a woman's control of her body and the path of her life" (per CNBC). Although overturning Roe v. Wade does not make abortions illegal in the U.S., another article from NBC News reports that it now gives the power to each and every state to make up its own laws regarding the issue.
Julie Rikelman, an attorney at the Center for Reproductive Rights, told NPR that this will lead to "legal chaos." With so much uncertainty, the question (via PBS) now is: Can Congress pass a law that makes abortion legal nationwide? This is easier said than done.
The chances of Congress making abortion legal in every state are slim
Traci Hahn/Shutterstock
As the BBC explains, Congress can absolutely pass a law to make abortion legal in every state. Enacting this law, however, is a grueling feat. PBS states that the Democratic Party has been attempting to do so in light of Roe v. Wade's possible (and now definite) overturning. In June 2021, The Washington Post wrote that the Women's Health Protection Act was introduced into congress. The act sought "to put an end to harmful restrictions, to federally protect access to abortion services for everyone regardless of where they live, and to protect the ability of health care providers to provide these services in a safe and accessible manner."
In other words, this would ensure that Roe v. Wade lived on. Although Slate reports that the act was passed in September, they noted that it would never become a law for several reasons. Ultimately, the Supreme Court would argue that Congress doesn't have the power to authorize this law. Additionally, they expressed that the act was unlikely to make it through a filibuster. Sadly, the publication was right; as the New York Post writes, a filibuster blocked it.
Per PBS, the act needed 60 votes to become a bill. It only received 48. Moreover, not all Democrats were on board with the law, including West Virginia senator Joe Manchin. Some, like Senator Bernie Sanders, argued that it should only take 50 votes to become a bill (via the New York Post). Even so, experts believe that it's unlikely to pass unless the filibuster was changed (per PBS).
What can be expected now that Roe v Wade has been overturned?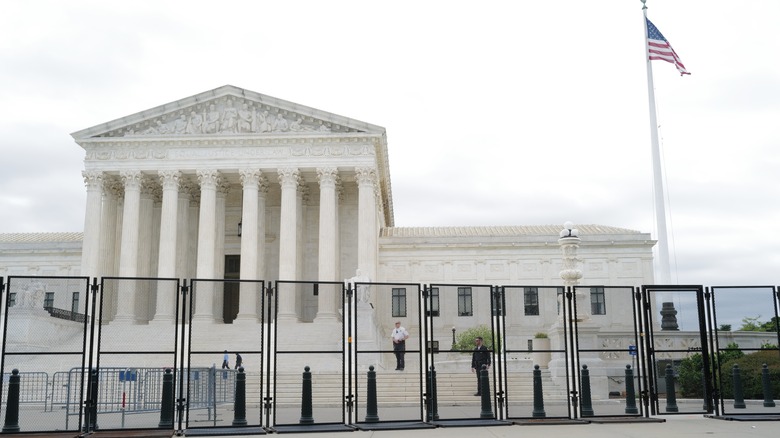 Phil Pasquini/Shutterstock
NPR writes that if the Women's Health Protection Act became a law, then the Supreme Court could not nullify it. As the act is not a law yet and Roe v. Wade has been overturned, the BBC states that a woman's right to have an abortion now lies in the hands of each state's elected officials. The Guttmacher Institute reports that 58% of women of reproductive age in the country live in states that are averse to abortion rights. As another article from NPR explains, the overturning of Roe v. Wade means that so-called trigger laws have made abortions in certain states illegal immediately, while in other states, it will only take 30 days for abortions to be banned outright.
According to AP News, minority women will suffer the most from the restriction and limitations on abortions. That being said, the Center for Reproductive Rights reports that it's likely that half of the states in the country will have access to abortions while the other half will not. This means that a majority of women located in the South or Midwest will have to travel to these "safe" states that are now being referred to as abortion havens to seek care. With news of Roe v. Wade's overturning, the Office of California Governor Gavin Newsom announced a multi-state commitment that meant California, Oregon, and Washington will all become abortion havens. Other states, like Colorado and New Jersey, have also vowed to be abortion havens (via NPR).