What We Know About Ghislaine Maxwell's Criminal Family Ties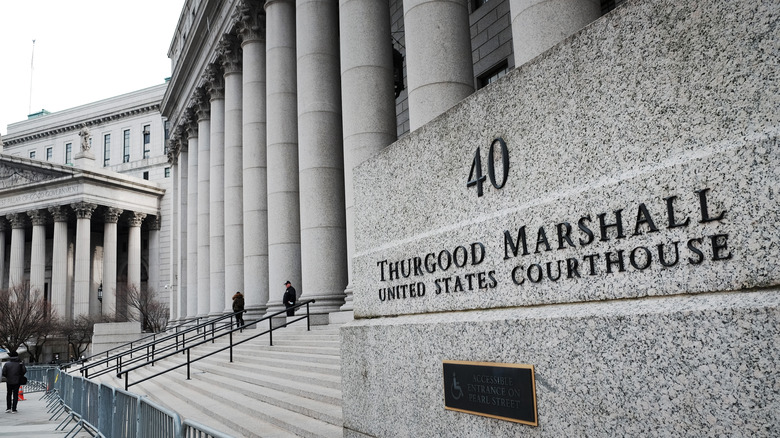 Spencer Platt/Getty Images
Ghislaine Maxwell, longtime partner of sex offender Jeffrey Epstein, has been sentenced to 20 years in prison (per The Guardian). According to CNN, it's believed that she assisted Epstein in sexually abusing underage girls from 1994 to 2004. In 2019, Epstein killed himself in his jail cell while awaiting trial on federal sex trafficking charges. Prior to his death, numerous women came forward will allegations that they had been groomed and sexually abused (via AP News).
The victims all said that Maxwell, a former British socialite, had scouted them. Per CNN, U.S. Attorney Damian Williams exclaimed, "This sentence sends a strong message that no one is above the law and it is never too late for justice." The BBC reports that Maxwell was born into a life of luxury. Her father, Robert Maxwell, was a media mogul. Throughout her life, Maxwell has mingled with celebrities and politicians. By all accounts, Maxwell, who is the youngest of nine children, was her father's favorite and he lavished attention on her.
Roy Greenslade, the author of "Maxwell: The Rise and Fall of Robert Maxwell and his Empire," stated, "He was a monstrous father" but added that he "treated her (Ghislaine) more leniently than any of them" (via a different article from CNN). In 1991, Maxwell's life was turned upside down when her beloved father died under mysterious circumstances (per the BBC). Weeks later, it was discovered that Robert Maxwell had stolen money out of his company's pension funds.
Her father, Robert Maxwell, committed fraud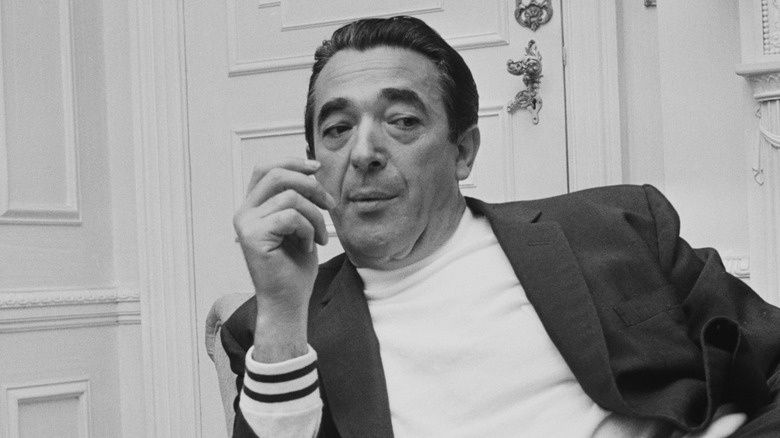 Express/Getty Images
According to Radio Times, Robert Maxwell was a Holocaust survivor who went on to be a media tycoon and a Member of Parliament. Britannica reports that he owned the Mirror Group, which published several newspapers, including the Daily Mirror. In 1991, he purchased the New York Daily News. Maxwell, who was a powerful figure in England, was known for his extravagant lifestyle. He owned private jets, sports teams, and a yacht that was named the Lady Ghislaine (via The Guardian). However, as MoneyWeek explains, Maxwell was also in severe debt. Per the Financial Times, this was due to purchasing Macmillan, a publishing company, and Official Airline Guides.
These companies ended up being financial failures, which resulted in Maxwell taking over $500 million from the Mirror Group's pension fund to make up for the losses (per The Times of Israel). He did this to prevent his media empire from crashing and burning. In November 1991, Robert Maxwell was on the Lady Ghislaine in the Canary Islands when he fell to his death. CNN states that he had a heart attack and drowned. Despite this, many believe that Maxwell knew he was eventually going to be caught for his fraudulent scheme and opted to kill himself instead.
Shortly after, the BBC states that news came to light that Maxwell had drained $583 million from his 32,000 employees. In 1992, Ghislaine Maxwell told Vanity Fair that she refused to believe this story and that her father "wasn't a crook." As she put it, "A thief to me is somebody who steals money. Do I think that my father did that? No."
The aftermath of Robert Maxwell's fraud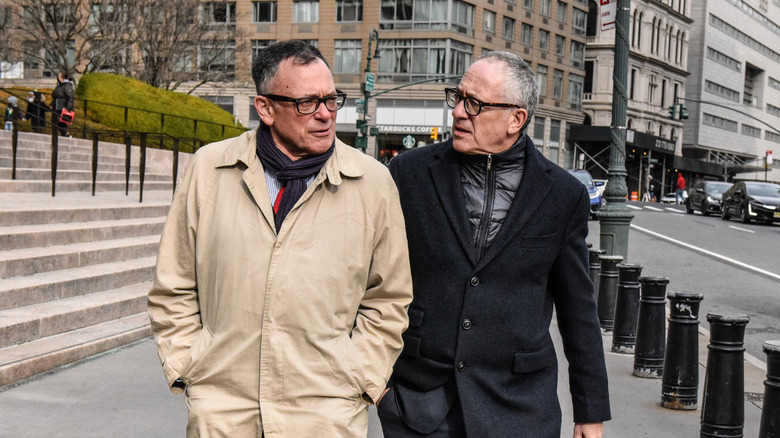 Bloomberg/Getty Images
Due to Robert Maxwell's scheme and his subsequent death, the BBC explains that the British government was forced to make a bailout plan for his employees. Ultimately, they created a $132 million fund. Per France 24, Maxwell's sons and Ghislaine's brothers, Ian and Kevin (above), quickly became the prime focus of the scheme's investigation. Both of them worked with their father and in June 1992, they were arrested and charged with fraud. In addition, MoneyWeek writes that they had to declare bankruptcy and disband Maxwell's companies. Business Insurance states that the brothers were each accused of siphoning millions from the pension funds for their father.
After a lengthy eight-month trial, Ian and Kevin were acquitted of the charges (via UPI). Kevin promptly declared, "Anyone who wishes to discover my attitude to the events leading to the collapse of my father's group has only to read a transcript of my evidence. I have nothing to add to it" (per The Independent). This, however, was not the end of the brothers' financial issues. In 2016, the Daily Mail reported that they were once again facing bankruptcy.
A recent investigation by the Miami Herald claims that Ian and Kevin moved money into offshore accounts after their father's death. Documents also show that there is evidence of tax evasion. William K. Black, from the University of Missouri Kansas City, notes, "These (the documents) all have obvious, super-well-known badges of fraud" (via Miami Herald). Even so, Ghislaine Maxwell is currently the only convicted criminal in the Maxwell family.