Travis Barker Spent Time With Another Band Before Joining Blink-182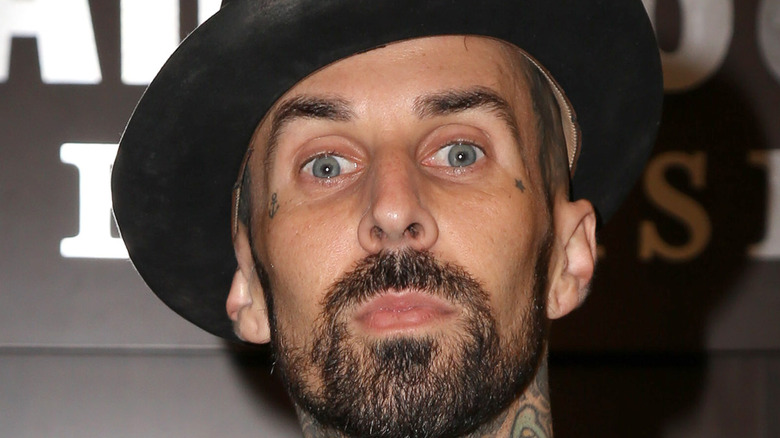 Kathy Hutchins/Shutterstock
Travis Barker is best known for being the drummer of pop-punk band Blink-182. The trio, which initially went by just Blink, released their first album in 1993, but it wasn't until their third album — "Enema of the State" — that they reached monumental success. Barker wasn't part of the original group, which consisted of Mark Hoppus, Tom DeLonge, and Scott Raynor. It was in 1998, per All Music, when Raynor left Blink-182 and was replaced by Barker on the drums.
Blink-182 was one of the popular bands from the late 1990s up to the early 2000s. "Enema of the State" debuted on the No. 9 spot on the Billboard albums chart, and it consisted of the band's best hits including "All the Small Things," "What's My Age Again?" and "Mutt." In 2005, the band took a hiatus after stating that the members wanted to focus on their personal lives (via Rolling Stone). The trio reunited in 2009, and DeLonge departed from the group in 2015 and was replaced by Matt Skiba.
Travis Barker before Blink-182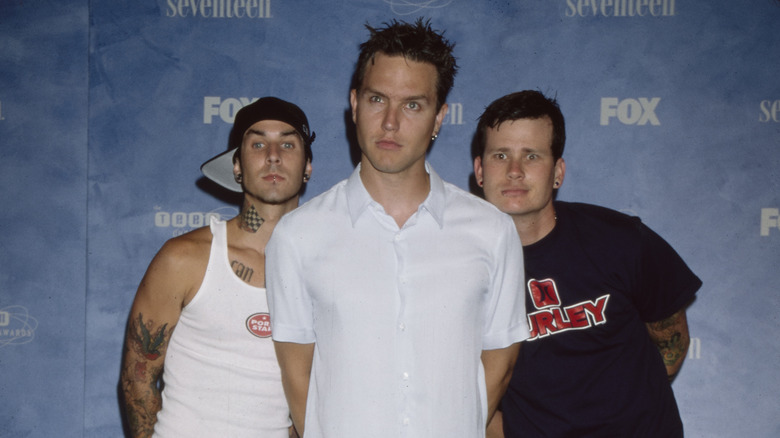 Michael Ochs Archives/Getty Images
Prior to joining Blink-182 in 1998, Travis Barker was part of another band called The Aquabats, who describe themselves as "the world's greatest superhero rock band." They are known for performing in superhero costumes and masks with matching identities. Barker — known as The Baron Von Tito — joined as the band's drummer in 1994. As reported by Loudwire, Blink-182 and The Aquabats crossed paths in 1997 when they toured together. During that time, Blink-182's members had ongoing issues that escalated into a fight.
According to Drum Magazine, Scott Raynor had an alcohol addiction that affected the band's performances. He was urged by his bandmates to go to rehab to help him with his alcoholism, which he did, but he was ultimately let go from the band. According to Raynor, it was the best decision for Blink-182 at that time. He left while Blink-182 was in the middle of a tour, and they needed a replacement immediately. Barker replaced Raynor for the tour and was able to learn the setlist in less than an hour (via Planet Radio). He left The Aquabats and officially joined Blink-182 soon afterward.
Travis Barker's reunion with The Aquabats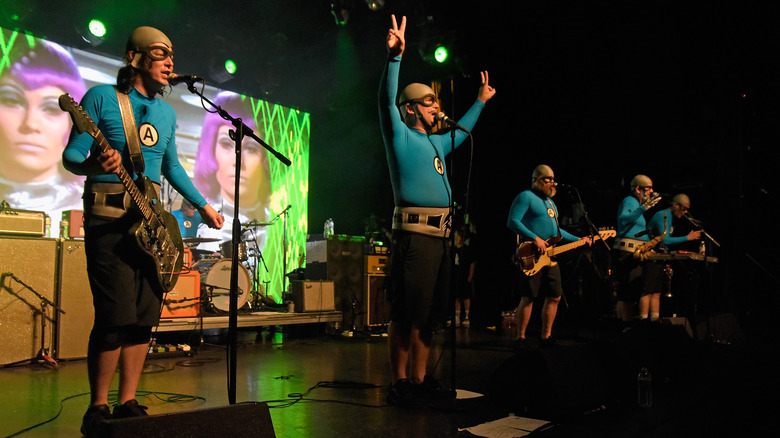 Michael Tullberg/Getty Images
In 2018, Travis Barker joined his former bandmates onstage on the 20th anniversary of their second studio album titled "The Fury of the Aquabats." Barker was still with the band when the album was recorded and released in 1997. As reported by Boston Ska, Barker — in costume — joined The Aquabats while they performed a few of their songs during their second set of the night at the Fonda Theatre.
Apart from being the drummer of Blink-182, Barker has collaborated with other well-known artists including Machine Gun Kelly, Yungblud, Lil Nas X, and Pharrell Williams, just to name a few (via Nylon). In addition, Barker has his own record label named DTA Records and a clothing line, Famous Stars and Straps. Barker has been busy with multiple projects in various fields, and in 2019, he released his memoir titled "Can I Say: Living Large, Cheating Death, and Drums, Drums, Drums."