Elvis Had An Incredibly Unusual Way Of Drinking Out Of Cups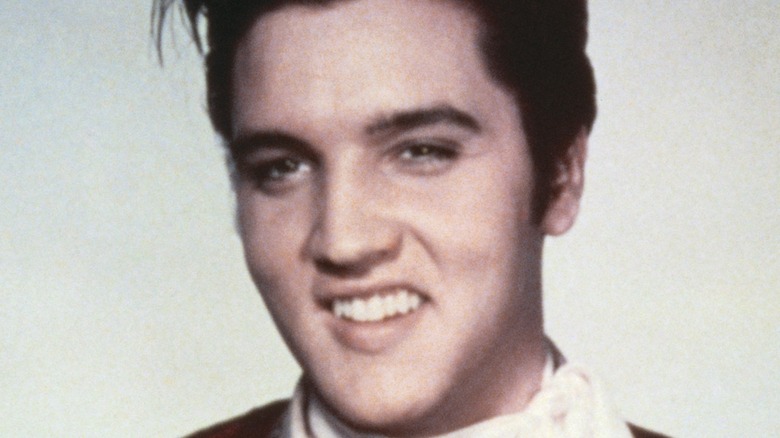 Michael Ochs Archives/Getty Images
At this point, it would be natural to feel like we know all there is to know about an artist as beloved as Elvis Presley, who is one of, if not the best-selling recording artist, in history, per Insider. Elvis' hair wasn't really black, for example, but more like sandy blonde, (via Express), and the so-called King of Rock 'n' Roll also kept a chimpanzee for a pet, according to the official Graceland website. As recently as 2015, though, Priscilla Presley — who was married to Elvis from 1967 to 1973, and the mother to his only daughter, Lisa Marie Presley (per Country Living) — proved on the "Jonathan Ross Show," (via YouTube) there's still more to learn about the star. 
As Priscilla revealed on the U.K. talk show, Elvis had a very unusual manner of drinking from cups. That was true both in his own home and while in public, as Priscilla explained. And, though this might at first seem like an irrelevant bit of information, it's a sign of a much bigger and otherwise little-known aspect of the singer's personality, as Priscilla went on to note.
Elvis used his own set of silverware
Pascal Le Segretain/Getty Images
In addition to the unusual way by which Elvis drank from cups, Priscilla Presley also told Jonathan Ross that Elvis also carried his own silverware, both to a dinner party at someone else's home, and while dining out at a restaurant. Elvis died at age 42 from heart failure likely linked to drug use (via Biography). Priscilla met Elvis when she was just 14 years old, and she married him at the age of 21, as TIME explains.
As Priscilla went on to explain to Ross on his show, Elvis was a bit of a germaphobe (via Daily Mail). "He never liked to go to people's homes to eat because he didn't like eating with other people's silverware, so he would take his own silverware," she said. What made Elvis squeamish, according to Priscilla, was putting his mouth somewhere someone else's mouth had been, or something in his own mouth that someone had previously stuck inside their own. This fact also relates to how Presley drank from cups, as Priscilla explained.
The King always drank handle-side first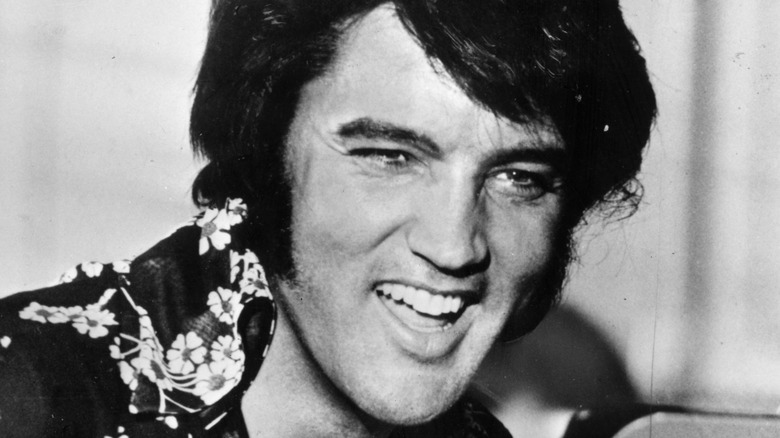 Keystone/Getty Images
As Priscilla went on to note in a 2015 interview with Jonathan Ross, due to Elvis' alleged "germophobia" (scientific name: mysophobia, according to Cleveland Clinic) he always drank from cups where the handle sits, instead of the side of the cup where someone would normally put their mouth, as the Daily Mail goes on to report. This type of behavior was also part of the rock singer's life from a young age, according to Priscilla.
Perhaps most notably for Elvis fans, though, Priscilla also told Ross that — in her opinion — if the singer who would have been 80 years old in 2015 were alive, he'd still be making music (via Express). The star's personal idiosyncrasies aside, Elvis' legacy lives on in the 2022 Baz Luhrmann biopic "Elvis," starring Austin Butler as the singer and Tom Hanks as his long-time manager, Colonel Tom Parker. A trailer for "Elvis" is available to watch now on YouTube.