Bruce Springsteen Thought No One Could Match The Voice Of This Early Rock Pioneer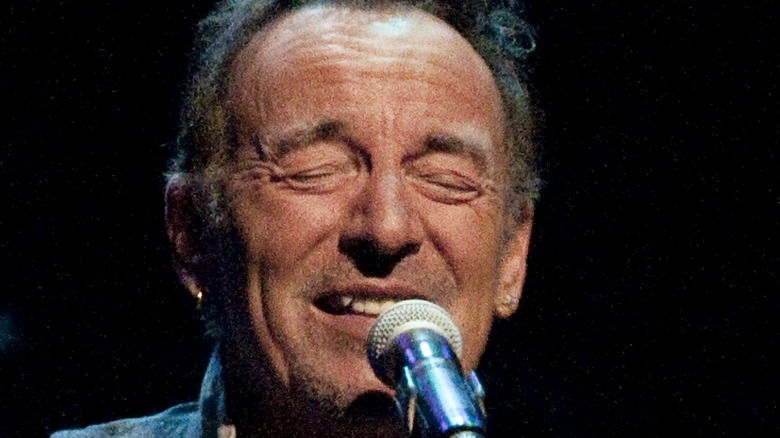 Jack Fordyce/Shutterstock
Have you ever wondered who your hero's heroes are? No matter what somebody has single-handedly constructed in their own lifetime, the inspiration to do so resides somewhere at the unseen core of it all. Mr. Bruce Springsteen is one man who can claim a musical legacy that's hard to match, with Rolling Stone Magazine once naming him the fourth-greatest songwriter of all time (right behind Bob Dylan, John Lennon, and Paul McCartney). 
The New Jersey-born rock titan once publicly declared that one of his highly-esteemed predecessors had a voice and a charisma that none of his contemporaries nor successors could equal. In 1987, Bruce Springsteen humbly stood before a bedazzled crowd at the Rock N' Roll Hall of Fame in Cleveland, Ohio to induct one of his long time heroes and a paragon of musical excellence; a man whom he once said he always wanted to sing like, according to Good Morning Britain: Mr. Roy Orbison (via Far Out Magazine). 
Roy Orbison was Bruce Springsteen's idol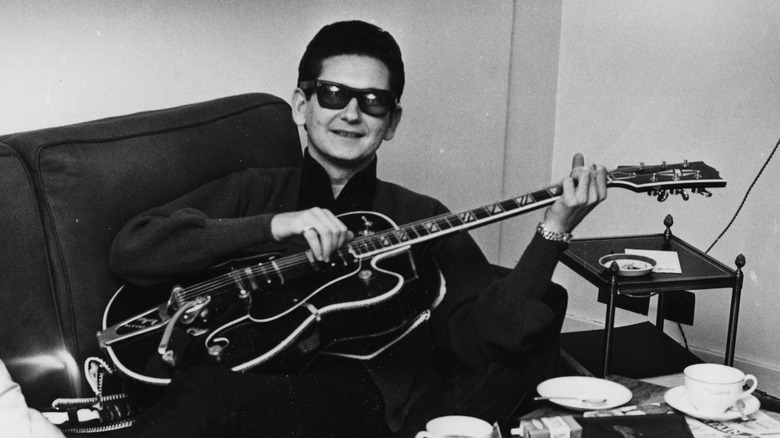 Evening Standard/Getty Images
"Roy was the coolest, uncool loser you'd ever seen," Bruce Springsteen once said of the late Country/Rock singer. "With his Coke bottle black glasses, his three–octave range, he seemed to take joy sticking his knife deep into the hot belly of your teenage insecurities. The Boss admittedly saw something nostalgic and ghostly in Roy Orbison's aura, noting his supreme vocal abilities, melodic austerity, and unparalleled devotion to exhuming raw emotion through his music (per Far Out Magazine). 
There's a remarkable moment during one of Bruce's older interviews when he nearly gets chokes up recalling the first time he ever saw Orbison perform in Nashville, Tennessee when he was only 19 years old. The "stillness," "operatic voice," "purity," and "loneliness" radiating from the man on stage who seemed larger than life in that moment left an irrevocable mark upon Springsteen's spirit that has followed him and shaped his musical prospects ever since.  
Bruce Springsteen and Roy Orbison once performed together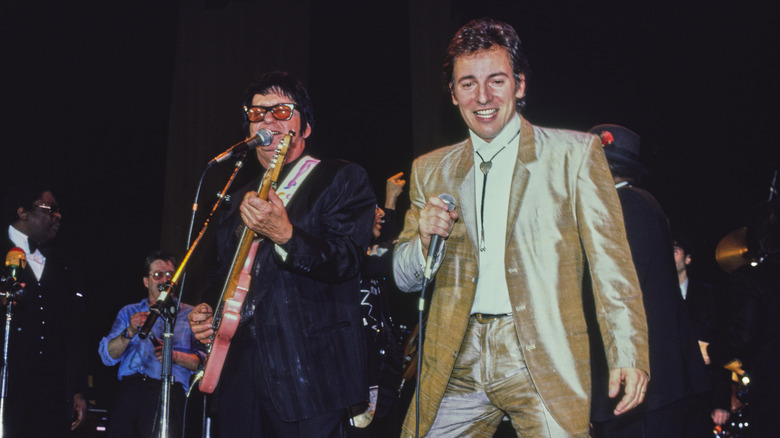 Michael Ochs Archives/Getty Images
Following his iconic induction into the Rock N' Roll Hall of Fame, Roy Orbison took to the stage alongside Bruce Springsteen to deliver a live rendition of his timeless hit, "Pretty Woman." It's tough to say what shined brighter — Bruce's gilded suit or the mile-long grin he sported throughout the entirety of the performance. It seemed to be a pinnacle moment for both The Boss and Mr. Orbison, and it remains one of the most commemorative, electric moments in Hall of Fame history. 
"Roy's ballads were always best when you were alone in the dark....They were scary. His voice was unearthly," Bruce Springsteen shared during the induction speech leading up to the performance with his long time idol. Roy Orbison passed away from a heart attack on December 6, 1988 in Hendersonville, Tennessee. He was 56 years old, according to Britannica.