Wade Boggs' Strange Pregame Tradition Is A Real Eye-Opener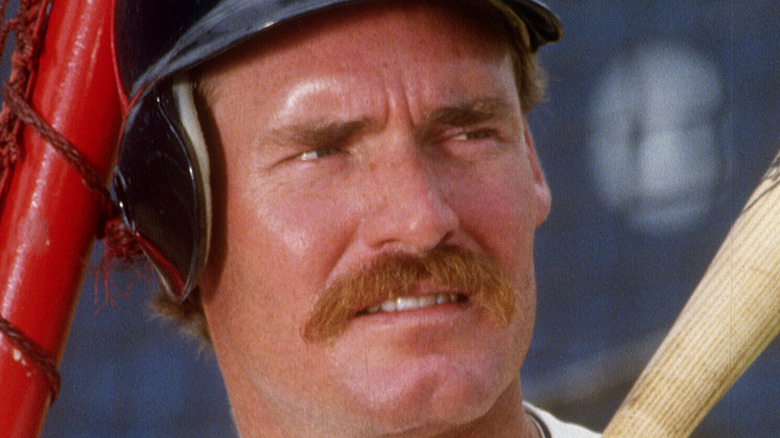 Focus On Sport/Getty Images
It's pretty common for athletes to be particular about what they eat before games. Sometimes it's to get a competitive advantage by giving their body the fuel it needs to perform at the highest level, while for others it's more of a superstition. Take Wayne Gretzky, for instance. Gretzky was known for a surprising pregame diet. While he's undeniably the greatest hockey player to ever lace up a pair of skates, his pregame meals toward the end of his career when he was a member of the New York Rangers comprised of four hot dogs and a Diet Coke (via Sportscasting). He still put up 249 points during that time, per Hockey Reference.
Wade Boggs was another athlete whose pregame meal became extremely well-known. Only, instead of being just a footnote, or fun fact to throw out to your friends, he became virtually synonymous with his meal of choice: chicken.
While chicken is a fairly common pregame meal, some, like University of Michigan football coach Jim Harbaugh, may denounce eating chicken; he once told his players he didn't want them eating a "nervous bird" (per Sports Illustrated). Boggs saw it differently. Not only did he chow down on chicken before every game, he earned the nickname "Chicken Man."
Wade Boggs' career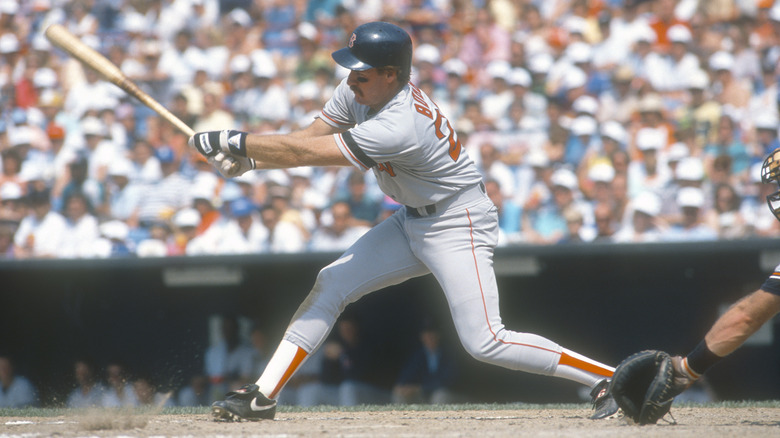 Focus On Sport/Getty Images
According to the Society for American Baseball Research (SABR), the legend goes that Boggs' trajectory to the Major Leagues was apparent from an early age. Baseball legend Ted Williams was allegedly shown a picture of an 18-month-old Boggs and remarked, "That kid's got a hell of a stance! Everything's perfect! He ought to become a great hitter!" Boggs was born in Omaha, Nebraska in 1958, but spent a good chunk of his childhood in Tampa, Florida, where he and his family moved once his father had retired from the military.
Boggs was taken by the Boston Red Sox in the seventh round of the 1976 amateur draft. After he was signed he went to the minor leagues, where he spent the first few seasons of his professional baseball career. He made his big league debut in 1982 with the Boston Red Sox, and finished third in Rookie of the Year voting, per Baseball Reference. Boggs went on to play in the Majors until his retirement 1999. Over the course of his career — which was spent with the Red Sox, New York Yankees, and finally, the Tampa Bay Devil Rays (now known simply as the Tampa Bay Rays) — Boggs earned a reputation as one of baseball's best hitters, and gave him a spot at the Baseball Hall of Fame in Cooperstown.
Wade Boggs and chicken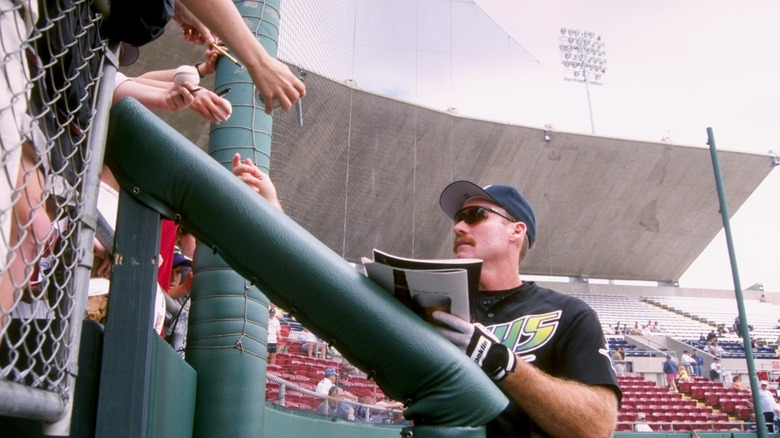 David Seelig/Getty Images
Boggs' appetite for chicken started early in his professional career, but it wasn't a choice meant to help him on the diamond. Instead, it was meant to alleviate some pressure on his wallet, but it turned out to have some added benefits. He told The Christian Science Monitor in 1985 about how he started eating chicken because it was cheap and an easy way to feed his growing family, "Chicken was cheap and I really felt better eating lighter food rather than a lot of heavy meat and gravy," Boggs said. "Then I noticed my batting average going up. Ever since I've been a 'chicketarian."'
This habit became known throughout baseball and garnered Boggs the nickname "Chicken Man," which he embraces to this day with his Twitter handle, @ChickenMan3010. He even publish a cookbook full of — what else? — chicken recipes. According to MLB, a friend of his in Tampa was the one who suggested the idea, and it became a reality with the 1984 release of "Fowl Tips: My Favorite Chicken Recipes."
While his preference for chicken was one of Boggs' most well-known idiosyncrasies, it wasn't his only one. According to MLB, Boggs used to draw the Hebrew "chai" symbol into the dirt with his bat when he stepped up to the plate, even though he wasn't Jewish. He is also know for claiming to have downed 107 beers in a single day while flying across the country, a feat lampooned in an episode of "It's Always Sunny In Philadelphia" in which Boggs made an appearance, per Fox Sports.